Hubby and I have talked about looking at beds.  We need a new one.   Why?
I've had my current mattress for 10 years.
During my first (poor) year out of college, I inherited said mattress from a friend.
The friend inherited the mattress from another friend.
The other friend inherited the bed from his dead parents.  (true story)
The pillow-top mattress is now longer "pillowy." (Probably because it's around 25 years old. Ugh.)
My big preggo belly and Hubby's (smallish) belly fight for space on our bed

every

night.
For the past two years, despite my protests, the Little Lady has crawled into our bed

every

night.
For the past week, since switching to a "Big Boy Bed," Mr. Boy has crawled into our bed

most

nights.
This ol' bed just wasn't made to hold 2 parents, 2 kidlets, and 1 preggo belly.
I get crabby sharing my old, old, old bed.  (really crabby)
The time has come for change . . . a change in my mattress situation.
('Cause, really, the more I think about it — it's really disgusting).
I'd also like to change my sleeping partners out for a SINGLE bed-mate (preferably Hubby) . . . but, unless I just get mean and strict with the kidlets, that's probably not going to happen.
(Sigh)
I can't wait for the day I have a GROWN-UP room — a beautiful, serene room — free of kidlet toys, blankies, and footed pajamas.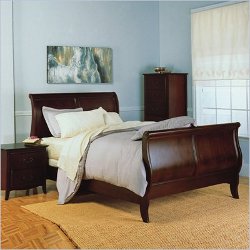 A room that's a sanctuary.  My haven.  An escape from the chaos of leaking sippy cups, diaper changes, and preschool tantrums.
I would choose from my favorite sleigh beds in king and queen sizes.  I'd love a plush, roomy ENORMOUS bed, although Hubby would rather I choose a cheap, queen sized bed for space and budgetary reasons.
(Budgets are such a joykill)
Either way  — to have the room to stretch out in any direction and not. touch. anybody?
B-L-I-S-S.