Oh, Target, we used to be so close.
Under the guise of needing hairspray, shampoo, or eyeliner, I'd sneak off to see you, breathlessly waiting for the moment I'd walk through your automatic doors and smell the scent of stale popcorn and floor cleaner.
I thought we were made for each other.
You had cute shoes, stylish clothes, and all kinds of little things that (as soon as I saw them) I realized I couldn't live without.
I had the money to spend.
When the Little Lady came into our lives, a whole new world emerged: baby girl clothing.  My little shopping trips turned into afternoon-long excursions as I spent HOURS browsing through onesies, ruffled-butt dresses, and the teeny-tiniest shoes.
You were one store, but I could shop for both Mommy clothes and baby clothes.  It was heaven.
Then, somewhere along the past few years, things began to change.
As married weight, mama weight, and pregnancy weight began to pile up, your clothing selection started to diminish.  I couldn't get my fix of trendy attire.  I couldn't shop on the racks closest to the entrance.
No.  I had to walk to the back of the store.
The VERY back — where only men's clothing, maternity, and plus-sized clothing existed.
Target, did you know there are only about 4 racks of plus-sized clothing available for those of us who no longer weigh what we did the night of our high school graduation?  Did you know that?  FOUR RACKS.
Four racks of trendy clothes?   Not hardly.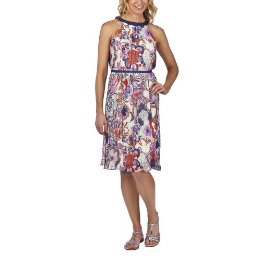 The skinny girls in the world got to relish in the glorious vintage prints of your recent Liberty of London line.
Adorable spring dresses.
Flirty tops.
Coordinating shoes, scarves, and bags.
The skinny girls got it all.
Me?  What did I get?
Oh, just the stunning big geometric prints and matronly styles that every designer assumes I want to wear just because there's a big ol' "W" beside my dress size.
Being plus-sized at Target means you get dresses and shirts like these:
Um, I do NOT want to wear these.  Ever.
I'm not a matronly looking woman — I just have big hips and a little extra weight.  Why do I have to look frumpy?  Why does every outfit have to make my shoulders look heavy and rounded?  WHY DO I ONLY HAVE FOUR RACKS OF CLOTHING FROM WHICH TO SHOP?
OH . . . and WHY do those four measly racks have to be RIGHT NEXT to the dressing rooms?  Not only is my selection limited, but every little girl, her arms loaded with cute dresses and shorts, gets to see me — shopping in the big girls' section and trying to pretend I'm in love with geometric, bold prints and tent-like dresses.  Good job making me feel even more conspicuous.
You don't care about me anymore, Target, and I'm tired of feeling frumpy every time I come to see you.
Yeah.  I'm divorcing you; my lawyer will draw up the papers this afternoon.
We're through.