Less than two weeks.  That's it.  That's all the time we Mamas have left to get Halloween costumes in the house, both for our children and ourselves.
Are you done or are you slightly panicked like me?
The Little Lady wants to be "Doc McStuffins," Mr. Boy wants to be Spiderman/Woody/The Hulk/a Ninja, and Baby Barney is just along for the ride.
And, then there are adult costumes to be procured.
(sigh)
Adult party invitations have started coming and it's been a looooong time since I dressed up for Halloween.  In fact, the last time was during my pre-kids, pre-wedding days when I was trying to catch the Husband's eye and get a first date out of the boy.
(p.s. I succeeded, in case anyone was wondering.)
This year, when the Kidlets learned that Mommy needed a Halloween costume, they demanded their voice be heard.  And so, we hopped online to peruse through a parade of adult Halloween costumes.
Be BACON!  (thank you, Mr. Boy)
Be Doc McStuffins like me!  (thank you, Little Lady)
Be SPIDERMAN!!  (guess who?)
Oooo — Mommy!  Be a cupcake!  It's PINK!  (of course, Little Lady)
NO!  Be a Tato Head! A Tato Head!!  A TATO HEAD!!!!!!!  (Mr. Boy again)
And, just like that the fate of my costume choice was sealed.  I am to be a Tato Head, AKA Mrs. Potato Head, for Halloween.
Mrs. Potato Head.  Bossy, always losing her eyes and purse, always looking out for her kids and nit-picking her husband.
That doesn't sound like anyone *I* know.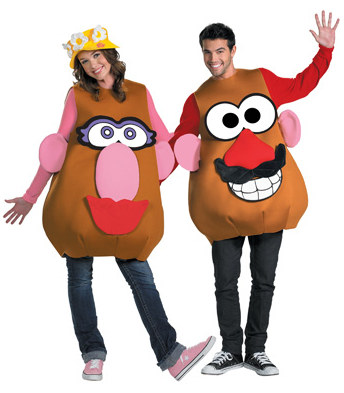 My costume, from halloweencostumes.com, arrived this week (just a few days after it was ordered for me — super fast shipping!).  And the Kidlets quickly clamored for me to try it on.  A big brown shell with both Mr. AND Mrs. Potato Head face parts.
So, yeah, I can save this for future use, when my Tato Head lovin' boy grows up and wants to be Mr. Potato Head himself.
Two costumes in one.  I'm liking that idea.
It's lightweight (a very nice factor here in Texas which is STILL having ridiculously warm days) and comfortable — perfect over a t-shirt and jeans.  And, it makes the Kidlets smile to see Mommy with Mrs. Potato head lips.  In my mind, if you have to dress up for Halloween, why not do something that makes your Kidlets giggle?
Need your own Mrs. Potato Head outfit? Check out the costume here, as well as hundreds of other adult and kidlet costumes.  And, yes, they really do have a bacon costume.
Just in case you need it.
p.s.: Yes, I am prepared to offer photographic evidence of me in a potato costume … as soon as I finish up the Kidlet's costumes.  'Cause they need to be in the picture too – – just in case I ever need future blackmail material.
disclosure: I was provided the costume in exchange for the purpose of this post.  Any and all opinions expressed are my own.