I hate shopping for clothes . . . for me anyway.  I mean, it's just depressing.  Try something on — grimace in the mirror — struggle with taking it off (the whole while trying to stay quiet so no one knows how much effort this whole fiasco is taking).
Heaven forbid you have kidlets in the dressing room with you.  If they're present, then you also get the fun of making sure they aren't opening the door, crawling out UNDER the door, or playing a one-sided game of "Peekaboo" with the lady changing in the next stall.
Sigh . . . yeah, I pretty much hate clothes shopping.
But, shopping for kidlets, parties, or my home?  Yeah, I'm ALL over that.
Yesterday, I spent ALL day researching Wizard of Oz party ideas and purchasing supplies, decorations, and party favors for that party.
(too bad, Little Lady, if you change your mind… you are HAVING a Wizard of Oz party now)
As I stared aghast at some of the AMAZING Oz parties out there . . .
I realized that I'm missing a VERY important thing for hosting our outdoor Wizard of Oz birthday party.
Outdoor furniture.
How can I have such cute tablescapes without a table in my backyard?  'Tis impossible!
Of course, I recently hinted to Hubby that I would like patio furniture, but now the situation has become urgent.  I don't just WANT an vivah vista outdoor table set . . . I NEEEEEEED one.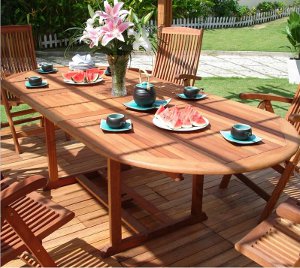 Seriously, how adorable would this gorgeous set be with sunflowers, hay bales, blue gingham, and ruby slippers on it?  Maybe even some "Melted Wicked Witch" punch?
And with extra chairs for guests — like these outdoor interieors eucalyptus folding side chairs . . .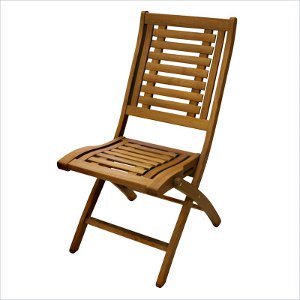 everyone would be perfectly comfortable while their kidlets ran around looking for poppies, making lollipops, and trying to melt the Wicked Witch.
(just a few of the games we're going to play)
So . . .yeah.  This type of stuff I'll shop for all. day. long.
Clothes?  Um, only when I absolutely have to.