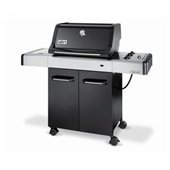 There's just something about guys and grills.
Maybe it's the lure of fire and flirting with danger (which in Hubby's case has resulted in the loss of eyebrows at least once.  Not kidding).
Maybe it hearkens back to primal instincts . . . ancient urges to kill and roast wild beasts
Whatever it is, Hubby is drawn to his piece of outdoor cookery and is always looking for reasons to turn on his propane grill.  His recent deep-sea fishing adventure was no exception.  As soon as he could, Hubby was cooking up his shark steaks.
(Mama didn't eat them… Mr. Boy refused to look at them … and the Little Lady said she only cared about the shark's head.  Yes, he brought it home.  Ugh)
In addition to being baffled by the fascination of grilling, there's something else I just don't get.  In the world of grills, bigger is always better.  But, why?  I mean — fire is fire, right?  To me, Hubby's grill is big, adequate, and serves its purpose perfectly.
To Hubby?  Well, every time we're in a home goods/outdoor living store, his eyes glaze over as he takes in the gleaming grills lined up along the aisle.  The shiny metal sings its siren song and within minutes, Hubby is over in front of the biggest, flashiest Napoleon grills he can find.
It's like he's addicted.
While I don't "get it," I'm certainly not going to stage an intervention and discourage Hubby from his desire to play with fire — especially since it means I don't have to stand over the stove or in front of the oven to prepare meals.  Hello!  I'm pregnant, cranky, and always hot.  Cooking isn't my best friend these days.
So, whether it's charcoal, propane, or natural gas grills, I'll let Hubby have his plaything  . . . even if it means he ends up missing eye-bows or arm-hair every now and then.
(I really need to share that story someday . . . it's CLASSIC)