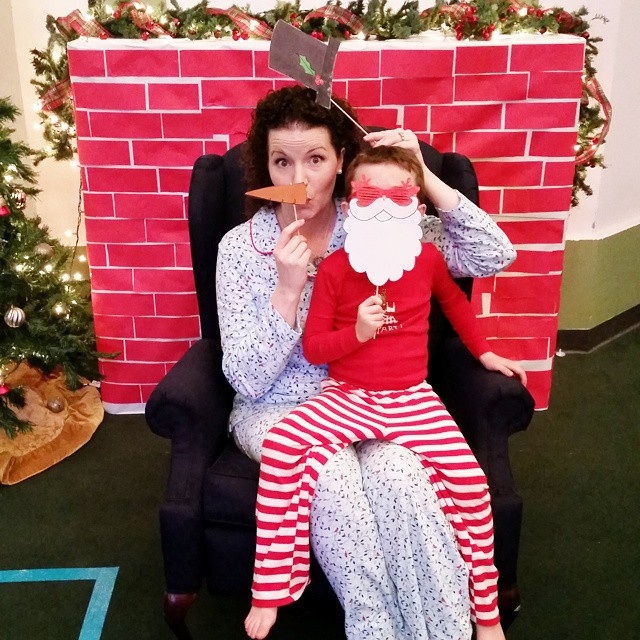 (Silly Selfies with Mr. Boy)
Last week was nearly my undoing … physically, emotionally, and mentally.
I put in nearly 50 hours at my 20-hour-a-week job, all leading up to my first children's ministry event on Saturday.  I averaged three hours of sleep each night.  There were multiple parent-teacher conferences all over Mr. Boy's antics in kindergarten.  And, on Friday, I learned some news about extended family that left me reeling and sobbing — in fact, I continued to break down nearly every hour the rest of the day.
By Sunday afternoon, I was crashed on my couch.  My brain and body had given up and chosen to take a break from the stress.
There is laundry everywhere from a week where house-hold chores took a backseat.  All three children went to school this morning with mismatched socks.  And I have put myself in time-out at home.  A day free from the office where I can breathe, enjoy the quiet, and try to wrap my mind and emotions around everything that last week brought my way.
The past few months, I've written a few times on the subject of being "Unstoppable."  I've talked about needing to get "me-time" in … and I shared my list-making and planning tips for keeping it all together during the busy holidays.
But, today, as I think back over the year, I'm honestly questioning how I applied that word to my life.
Unstoppable.
Maybe I defined that word a little too literally as I took it on to be a "solo project."  Maybe I didn't follow my own advice and allow myself some grace.  Perhaps thinking myself completely "unstoppable" was part of my downfall last week.  I tried to do everything alone.  Juggling work and family responsibilities alone.  Taking on the brunt of an emotional situation alone.
You can't always be unstoppable on your own … that's a truth I discovered last week during this final month of 2014.
I need my village — coworkers, friends, the Husband and even the Kidlets — to live this crazy life.  I'm need to lean on the other mothers and sister and girlfriends in my life.  Even with my highly introverted personality, I've learned this past week that I need My People to keep from collapsing on the floor.  To be — not necessarily unstoppable — but able to keep going.  That's a different mindset from unstoppable, a word that became a Goal of Perfectionism.  But, to keep going?  That is an Attainable Reality that gives me grace.   It means I am able to laugh and take silly photos with my Christmas-loving children… am able to prioritize tasks and lean on my friends and family when I need them.  It means I am able to keep being a strong and healthy me.
No, I'm not unstoppable.  But I am able to keep going.  And going.  And going.
Unstoppable Moms from MOTRIN®
The makers of Children's MOTRIN® are inspired by all the things Moms do, from quick family meals to keeping the kids entertained on rainy days. We may not always realize it, but we are ALL amazing in so many ways … on call day and night and full of unique knowledge that can really help other moms.
Share Your Unstoppable Mom Tips
The makers of Children's MOTRIN® are asking all of us Moms to post our tips and tricks to the MOTRIN® Facebook page under each week's Kelly Ripa question video. These can be your own tips or those from moms you know, and can be about everything from how you create quick meals for your family to how you keep the kids entertained on a long drive. For every post, Children's MOTRIN® will donate $1 to Safe Kids Worldwide, a global nonprofit that provides moms with the tips they need to help keep their children safe.
Psssst … Moms could even win weekly giveaways of $100 gift cards just for posting.*
*NO PURCHASE NECESSARY, OPEN TO LEGAL RESIDENTS OF THE 50 UNITED STATES & D.C., 18 AND OLDER. VOID WHERE PROHIBITED. Promotion ends 11:59p.m. ET 12/28/14.  Sponsor will donate $1 for each approved Submission made as part of the promotion, with a minimum donation of $30,000 and a maximum donation of $50,000.  For Official Rules, and complete details, visit www.unstoppablemoms.com. Sponsor: McNeil Consumer Healthcare Division of McNEIL-PPC, Inc.  To learn more about Safe Kids Worldwide visit safekids.org.
I wrote this post as part of my participation in a blog tour for The Motherhood on behalf of the makers of Children's MOTRIN® and received compensation to thank me for taking the time to participate. However, all opinions expressed are my own.