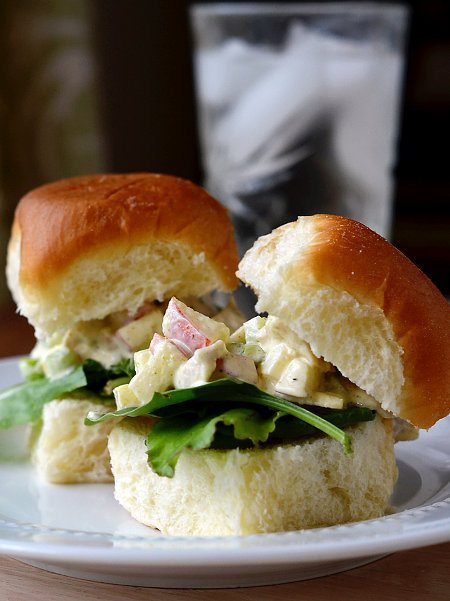 Last week was one of those crazy weeks that left me with a glimpse into my "mom-future:" rushing around all day, running here and there, gulping down early dinners before driving the Little Lady across the city for "Sports Camp."  After a few days, I realized this is how moms with school-age kids feel.  Harried, hurried, and surprised to discover your son has chosen to wear Hello Kitty underwear (out. in. public.) and you never realized until it was too late.
That's what rushing around from activity to activity will do to you.  And your son.  (sigh)
Adding heat indexes of 100+ degrees into the mix didn't make our busy life any better — it only left me wanting to stay OUT of the kitchen.  But that isn't an option when you have a bunch of hungry mouths to feed.  Little tummies (and, in the case of the Husband, big tummies) still need and want to be fed.
Enter the Curry Chicken Salad Slider.
Easy. Easy. Easy. And, oh,yeah — addicting.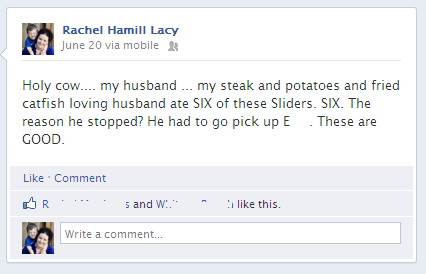 And, by the way, I miscounted in the above status update…. he ate at least 8.
How do I know?  Well, the King's Hawaiian Rolls I used helped me keep track of his gluttony.  12 Rolls in a package.  I had two.  Mr. Boy had one.  There was one left over.  Hence …. my Greedy Gus of a husband had eight.
He was still talking about these sandwiches the next day . . .and again this weekend on our way home from a camping trip (yes, I camped but that's a whole other story).  Guess I need to make these sandwiches again — and soon.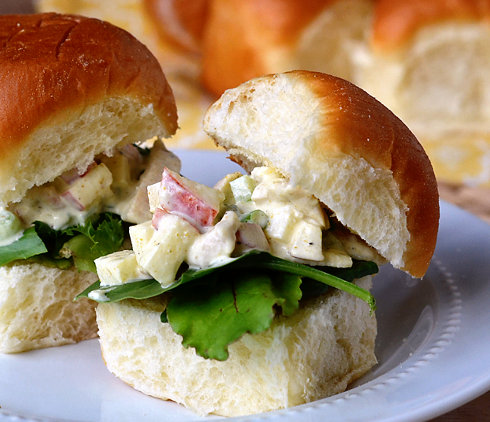 There wasn't one component that could be taken away from this slider.  Everything from the curry to the apples to the lettuce to the sweet rolls all worked together resulting in the perfect, creamy but crunchy, sweet but spiced, yummy bite.
Oh, yeah — the curry.  If the idea is new to you, don't be afraid of it.  Embrace it.  Your tummy will thank you.  The addition of curry knocks a normal chicken salad recipe out of the park.  For years I veered far, far away from anything with the word "Curry" in it.  But, after a few bites at some of my favorite local restaurants, I was angry at myself for waiting so long.  Curry. Is. Delicious.
Share Your Favorite Family Meal for a chance to Win!
This is a sponsored conversation written by me on behalf of Kings Hawaiian. The opinions and text are all mine. Official Sweepstakes Rules.