Slowly but surely, I'm wrapping up my "Grill It Up" grill recipes that have been the theme each Friday in June.  Of course, thanks to my camping trip last weekend, I'm a little behind in sharing my recipes, but they are coming!
Before I continue on with my Grilled Bacon & Blue Burger recipe and my Grilled Sweet-n-Sour Kabobs, I want to share a few "official" (i.e. came from a real chef and not just my pyromaniac husband) tips for grilling "surf and turf."
The Red Lobster Chefs and Grill Masters (who use the famous Red Lobster wood fire grills) have put pen to paper and compiled their best tips and tricks for grilling fantastic fresh fish, steak and chicken.
(and, it look like they had someone draw the tips too.  I wish I was that talented)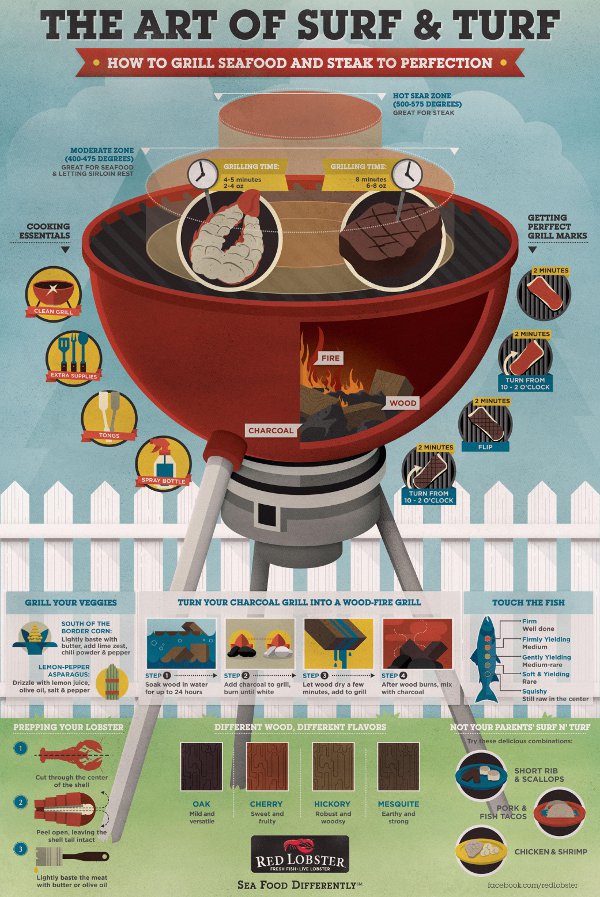 If you prefer the "in plain words" approach, below are a few "insider" tips from Chef Michael LaDuke, the Senior Director of Culinary Development at Red Lobster:
Grilling Basics
Whether grilling fish, steak or chicken, a clean grill is a MUST!  Start by scraping the grill with a wire-bristled brush to remove any remnants form previous grilling.  Then, using a non-aerosol product such as a towel, coat the grill grates with a light coat of vegetable or olive oil to prevent food from sticking.
Select healthy, lean proteins to throw on the grill. By using leaner proteins it's a virtual guarantee against flame flare-ups and makes cleanup easier.
Don't be Shy with Seasoning.
Whether you're using a dry rub or wet marinade, don't be bashful when it comes to the amount you layer on.
Let your meat marinate in the refrigerator for up to two hours before cooking to infuse the flavor.   Set aside extra marinade just for basting while cooking to avoid spreading any bacteria.
For even cooking, place thicker foods at the center of the grill, smaller pieces toward the edges and leave one inch of space between each piece of food.
Steak, fish and chicken do not have to be grilled at different temperatures, but do have to be grilled for different times. Grilling time averages per side: four minutes for steak, five minutes for fish and six to seven minutes for chicken.
Hopefully these tips come in handy as we approach the 4th of July weekend; I'm sure there will be LOTS of grilling around the country.

What's your favorite food to grill?
disclosure: I was given a gift-card as compensation for sharing these timely tips.