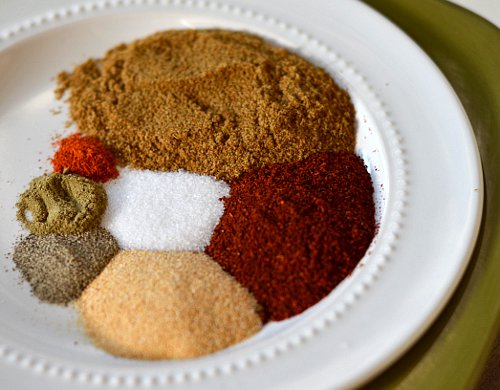 There's no two ways about it: Tex-Mex flavor is bold.  (sometimes) Spicy.  Layered.  Yet, when it comes down to the heart of Tex-Mex, it is so simple and so right on the palate. It's a combination of various regional Mexican dishes with a bit of good ol' Southern "love" thrown in.
It's comfort food for the majority of us south of the Red River.
How To Season Tex-Mex Food
For fresh flavor, there are a handful of ingredients that are used in everything from salsa and pico de gallo to enchiladas and fajitas:
Cilantro (a must in Tex-Mex salsa; this stuff is so ridiculously cheap here in our grocery stores)
Red Onion (great for either a fresh topping or used during the cooking process for chicken, beef, etc .)
Tomatoes (fresh is best for topping any recipe — diced, paste and stewed tomatoes are used in a lot of other recipes, including Spanish Rice)
Lime Juice (most marinades use lime juice and it's delicious squeezed over carnitas and street tacos)
Peppers (nearly any variety — the habanero and jalepeno are most famous in Tex-Mex fare)
When it comes to stocking your spice cabinet for a Tex-Mex recipes, here are the primary spices to have on hand:
Chili Powder (which is typically a blend of dried and ground peppers — it is a MUST for any good chili recipe)
Cumin (this is a smoky spice that has been used world-wide for centuries; it is prominent in Northern Mexican dishes, the dominant Mexican region influencing Tex-Mex cuisine)
Salt
Pepper
Garlic Powder
Cayenne Pepper Ground Powder (a very, VERY intense spice — a little goes a long way to heat things up!)
It really doesn't take much to prepare amazing tacos, tostadas, enchiladas, fajitas and all that Tex-Mex is known for.
Even DIY Taco Seasoning is a piece of cake to make AND, since it doesn't require a ton of hard-to-find or expensive spices, it's very inexpensive to have your own Taco Seasoning ready for Taco Tuesday (which is the Little Lady's favorite night of the week).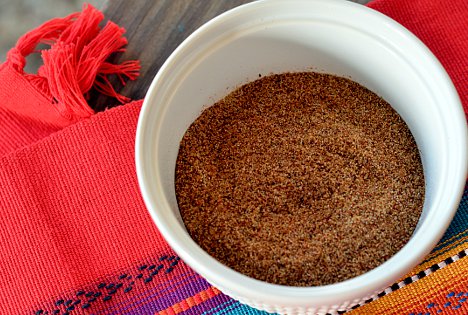 My Taco Spice blend didn't happen over-night; it took a few months of trial and error to get what I consider the PERFECT seasoning blend.  It makes the most mouth-watering, delicious beef or chicken tacos and, while there is a slight kick, it is friendly to a Kidlet's picky palate.
And, now that I'm posting it here . . . I can get rid of the little torn piece of paper that has lived on my fridge for a year, reminding me what I like in my taco seasoning.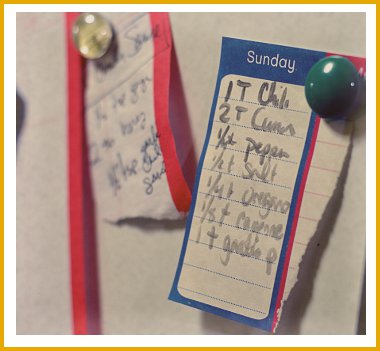 (maybe, eventually, all of my recipe scribbled notes will be off the fridge and on the blog.  someday.)
This recipe is the first in my April recipe series focusing on Tex-Mex recipes. You can also visit my co-host, Lori from My Kinda Rain, for more family-friendly recipes!

Have a Tex-Mex inspired dish you'd like to share?
Link up and let us all come drool over the yumminess in your kitchen!

'); // ]]>