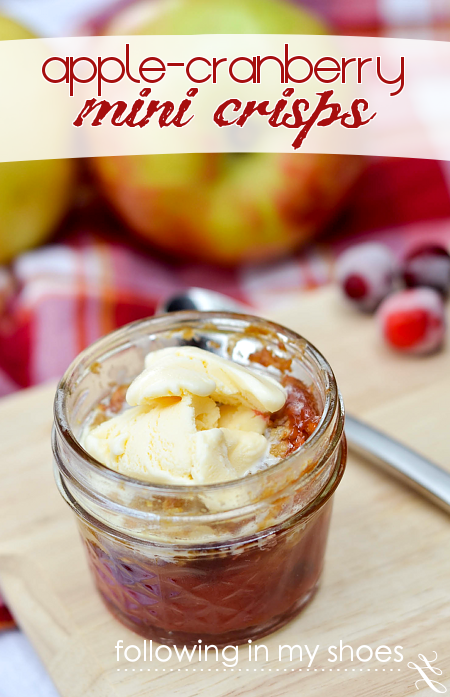 I absolutely love cranberries.  Each fall, when those clear plastic bags of berries start showing up in the produce section, my heart begins to race.  Finally.  Finally.  They are here.
The past few years, I've been trying to experiment more with these fresh berries, harnessing their tartness and bringing out their bright, robust flavor.  This Apple-Cranberry Crisp is my latest success.
Yes, I said "success."
This dessert deserves some diva-attitude … not modesty.
Fresh, ruby-red cranberries.  Perfectly ripe honeycrisp apples.  Butter (don't you roll your eyes at that butter … this is dessert).  And, Whisky.
Yup, whisky.
The result is a fantastic, perfectly balanced bite of rich and sweet … and bright tartness to keep the butter and apples from becoming cloying.
Since these desserts are baked in 4 oz jars, they are the perfect little, "guilt-free" taste after dinner.
Or, for breakfast the next day.  Whatever makes your Mama-Heart happy.