Yesterday was a horrible, rotten, no-good, terrible kind of day.
The Kidlets were (are) still recovering from the effects of nearly two weeks with doting Grandparents.  No one took naps.  I was out of coffee for my Keurig.  And I had a million errands to run.
Not enjoyable.
I rushed all morning, changing diapers, finding shoes and shepherding kidlets out the door.  As I buckled Barney Kneeknuckles in his infant seat, I heard a boisterous voice shout, "Don't worry, Mommy!  I'm gonna "sabe" da DAY!!!!"
A red and blue blur whirled around our old Suburban, light-up tennis shoes glowing red with each step.
Super Boy had arrived.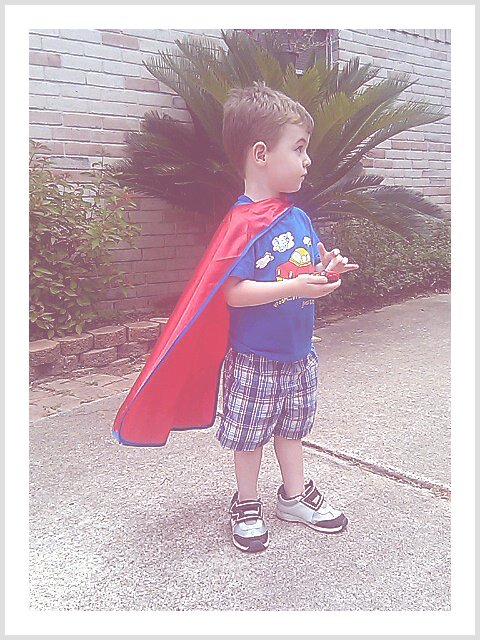 He wore his cape into each and every store we visited, going up to strangers and shouting, "I here to rescue you!"
Little old ladies giggled at him — grandpas patted his head and chuckled.
Everyone that passed our sideshow in a shopping cart laughed and smiled. . . at a little boy above the mundane world of errands.  At a little boy making his own joy.
Later at home, the Kidlets, Super Boy included, asked to help me in the kitchen.  I suspect their eagerness to assist had less to do with true philanthropy and more to do with the piles of berries I was putting on the kitchen counter.
Nevertheless, instead of brushing them aside with "just go play" commands, I let them don aprons and join me.  Flour was scattered.  More than one pinch of dough was stolen and hurriedly eaten.  And a few berries met an early death, squished under jumping feet.
But, we spent time together, me showing them how to fold over the puff pastry dough . . . they showing me how to make my own joy.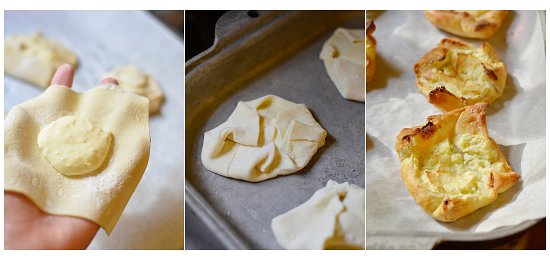 After we pulled the hot danishes out of the oven, it was all my little Super Boy and Co. could do to wait as they cooled . . . and as I took pictures.
Oh, the TORTURE of waiting for Mommy to take pictures.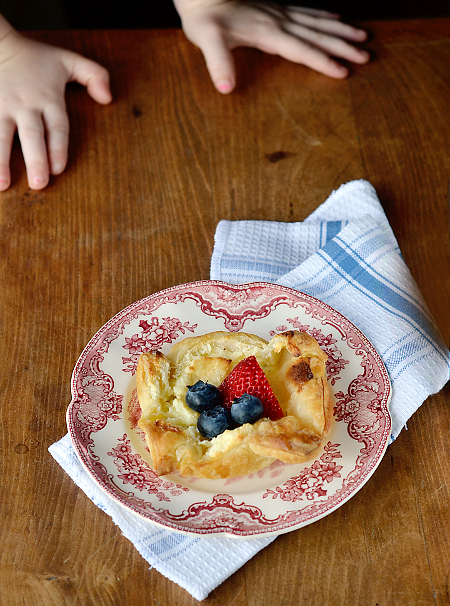 But later, after dinner, as they each gobbled up berries and lemon cream out of the center of their danishes ('cause of course they have to eat the center first instead of taking bites of the whole thing), Mr. Boy and the Little Lady agreed these were the best ever.
Probably because they had helped.  They had saved the day.
[print_this]
Lemon-Berry Cheese Danish
The simplest of treats to make — perfect for dessert, brunch or a coffee-break.  Makes 18.
Ingredients
2 sheets of Frozen Puff Pastry
1 8-ounce block of Cream Cheese, softened
1 Egg
1/3 cup of Sugar
2 teaspoons of Pure Lemon Extract*
Fresh Berries
Powdered Sugar (optional)
Instructions
Remove puff pastry from the package and allow to thaw following package instructions (about 40 minutes).
Once thawed, roll each sheet out on a floured surface until each is about twice it's original size.
Use a pizza cutter or sharp knife to cut each pastry sheet into 9 squares (for a total of 18 between the two sheets of puff pastry).
Using a stand or hand mixer, cream together the cream cheese, egg, sugar and lemon extract.
Place a tablespoon of the lemon cream mixture into the center of one pastry square.  Fold the sides up and over, creating a loose pouch.
Put the filled pastry pouches on a parchment-paper lined baking sheet and gently brush the sides of the exposed pastry with an egg wash (1 egg beaten with 1 tablespoon of water) to help the pastry get a rich color as it bakes.
Bake in pre-heated 400 degree oven for 15-20 minutes, or until the pastry is golden brown and the cream cheese mixture is beginning to turn golden as well.
Remove from the oven and allow to cool before serving with fresh berries.
Notes
*Lemon Extract can be found in your store's baking aisle.
Recipe by Rachel Lacy, copyright https://followinginmyshoes.com
[/print_this]