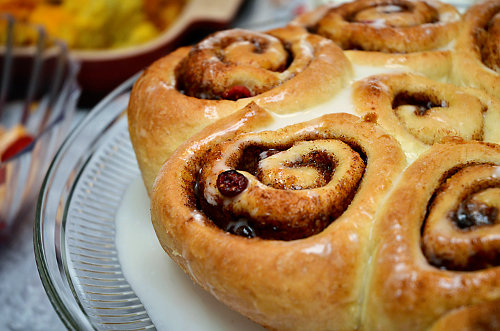 My husband asks for cinnamon rolls all the time.  Homemade cinnamon rolls.  The ones I made him our first year of marriage to show off my baking skills….my Mama's recipe.
Her recipe really is amazing — light, soft and that amazing roll texture.  Cinnamon.  Butter.  Oh, holy yum.
And, they are REALLY good with homemade caramel sauce instead of the traditional powdered sugar glaze.  Just in case you were wondering.
But … I haven't made THOSE cinnamon rolls in a couple of years.  Some little things called "Kidlets" have gotten in the way of time-intensive baking.  Poor Hubby feels so unloved because of this.  The poor man just wants some cinnamon rolls.
As I prepared for our Holiday Breakfast earlier this month, I took pity on the guy …. and told him I would include cinnamon rolls on our menu.  If he made them while I did everything else.
He went for it — the draw of his favorite breakfast treat was too strong.
All of this "story?"  Just trying to explain the pictures … so no one thinks I have "man-hands."  'Cause I don't.  Promise.
Orange-Cranberry Cinnamon Rolls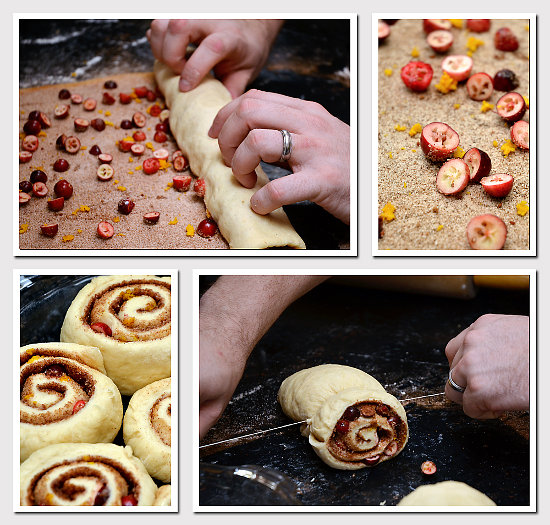 This year, I made a small change to my mom's standard recipe by adding fresh cranberries and orange zest.  I love the brightness of those flavors and, as I had hoped, they work beautifully with the cinnamon.
Really, you can't go wrong with cranberries at Christmas … at least not in my world.