Yesterday we celebrated Christmas with Hubby's family at our home.
In addition to the explosion of presents from their grandparents, the Kidlets also received their Christmas presents from Mommy and Daddy.
And, with the introduction of Mr. Boy's present … I became a REAL boy mommy.
Thomas and Company are in the house.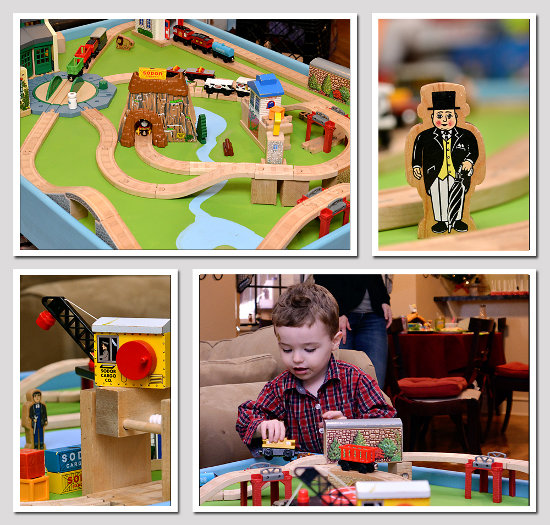 Thanks to Hubby's carpentry skills, a very good friend (who passed down all of her son's track and buildings), and awesome Thomas toy sales, Mr. Boy received an awesome Island of Sodor set-up.
All. Day. Long. (when he wasn't putting stickers on his face or flying around the house being "Super Boy" … his latest obsessions) he played and played with Thomas, Victor, Toby, James and Rosie (the Little Lady's train engine).  He even threw Lightening McQueen and Mater into the mix … 'cause why not?
Trains collided. Track and buildings were torn apart and rebuilt.
Chocolate (from Christmas goodies) was smeared everywhere.
He had the time of his life.
Just playing like little boys do.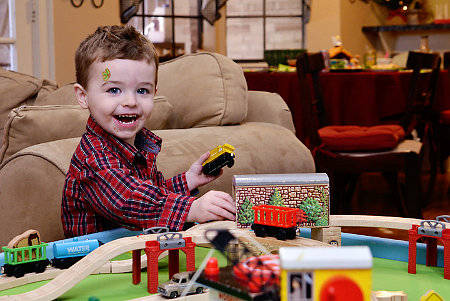 And late last night, as Mr. Boy fought sleepiness, trying desperately to just. keep. going., he introduced me to some of the engines — his little grubby boy fingers picking up each one . . .
"Biktor, Mommy."

"Dis one is Thomas, Mommy."

"See Toby, Mommy?"
Legs unable to stand, Mr. Boy — hands full of brightly colored wooden engines — climbed into my lap.  I wrapped my arms around his too quickly growing little body and breathed in the scent of snips and snails and puppy dog tails.
"I lub my choo choo nain's, Mommy."

"I know you do, Mr. Boy."
Quietly, I pried Victor, Thomas and Toby from his now sleeping hands and watched as Hubby carried my snoring little conductor to bed.
Then I rebuilt the dismantled track and placed each engine in the station house.
"Good night, Thomas… I think you're gonna do fine here."