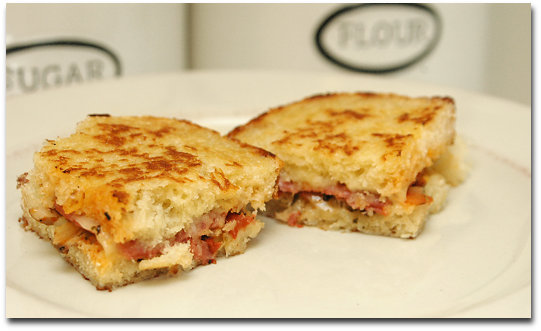 Even though heartburn rules during these last few weeks of my pregnancy, an intense craving will still rear its head from time to time.
Last week — I wanted a sandwich.  Not your pre-sliced bread and American cheese kind of sandwich.  Oh, no!  I wanted a warm, gooey, hearty sandwich with lots and lots of flavor.  I thought about my dream sandwich for DAYS.  I imagined each ingredient and cooked it over and over and over.
Then, I went to the grocery store about bought everything for my craving — I was GOING to stop dreaming and eat this sandwich.  The results of my efforts (and Barney Kneeknuckles taste-buds) was simply … to use a cliche … out. of. this. world.
Even Hubby — a very non-pregnant, not-ruled-by-cravings MAN — agreed with me.  This sandwich is nothing short of yummy.
The star is the vegetable/aromatic mixture of tomatoes, portabella mushrooms and onions; it MAKES this dish.  Coupled with hearty French bread (I made my own, but a bakery made French bread — or even ciabatta — would do just as well), Italian salami and provolone, this sandwich is the perfect pregnancy-craving treat.
Or, if you're my husband, a very scrumptious surprise.  After all,  not all pregnancy cravings are so delicious!
(Side note: I'm calling this a pressed sandwich but it probably really is a panini. . . but, I don't have a panini press, so I went with "pressed sandwich."  You'll see why in the recipe directions.)
[print_this]
[/print_this]
Linked with Eat At Home