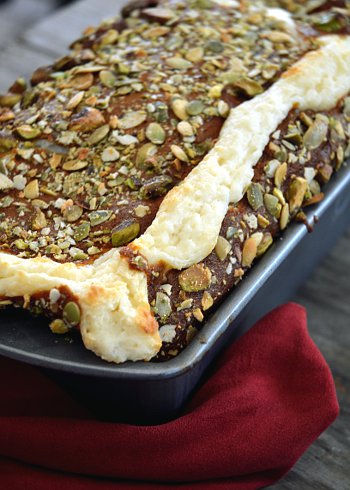 Like most Americans,the word Thanksgiving conjures a multitude of memories in this Mommy's head: watching the Macy's Thanksgiving Parade and squealing upon spotting the Snoopy balloon… jumping in our old Ford Aerostar (anyone remember those?) and heading to Grandma's house where we gorged on ham, turkey, cornbread dressing and hot rolls… Hearing the shouts of cousins as we played in our Grandpa's hay barn, scrambling over blonde bales of Oklahoma prairie grasses… Smelling pumpkin, baked nuts, and vanilla scented egg-nog in the evening as we tried to get one more sweet bite in our mouths.
It's been years since I sat at my Grandmother's table for Thanksgiving — marrying a Texas boy will do that to an Oklahoma girl — but I can still remember every sight, sound, smell and taste of my favorite holiday.
This Pumpkin Bread with Egg-Nog Cream Cheese Filling (which I adapted from a perfect Pumpkin Breadrecipe) revives everything I love about Thanksgiving. It's spice and pumpkin … vanilla and rum cream cheese … earthy pistachios and pumpkin seeds. Comfort food and memories with each bite.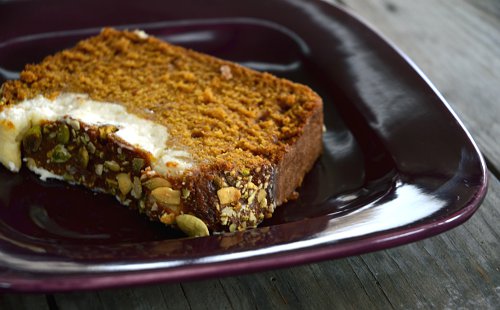 [print_this]
Pumpkin Bread with Egg-Nog Cream Cheese Filling
(adapted from Perfect Pumpkin Bread by Treat Yourself)
Pumpkin Bread Ingredients:
3¼ cups flour
1½ teaspoon baking soda
1 teaspoon salt
1½ tablespoon pumpkin pie spice
1/3 cup canola oil
1 1/3 cups granulated sugar
1 cup Turbinado sugar (commonly sold as "Sugar in the Raw")
2 cups pumpkin puree (1 15-ounce can)
4 eggs
1/3 cup water
1/3 cup almond milk
Cream Cheese Filling:
2- 8 ounce blocks of cream cheese
1 cup of International Delight Vanilla Spiced Rum Liquid Creamer
Topping (optional)
1/3 cup raw pistachios
1/3 cup raw pumpkin seeds
Directions:
Preheat your oven to 350 degrees; spray your loaf pans with baking/cooking oil spray and then lightly flour them. Using a food processor, roughly chop the pistachios and pumpkin seeds and then set aside.
Spoon flour into a 1 cup measuring cup until full and then level it off with the back of a knife. Pour the cup of flour into a large mixing bowl and repeat the process till you have 3 (and 1/4) cups of flour.
Add the baking soda, salt and pumpkin spice to the flour and stir till combined.
Pour in the oil and then add the sugars and pumpkin puree, mixing by hand until blended and smooth.
Add the eggs, stirring vigorously until incorporated into the pumpkin batter, and then gently pour in the water and almond milk. Mix well and set aside.
Using a stand mixer and a paddle attachment, cream two 8oz blocks of cream cheese. Once they are smooth like frosting, lower the mixer's speed and begin adding the International Delight Vanilla-Rum Spice Creamer, 1/4 cup at a time until fully incorporated.
Into each of your prepared loaf pans, pour roughly 1/4 to 1/3 of your pumpkin batter. Next, spread half of the cream cheese mixture on top of the batter in each pan. Cover the cream cheese layers with the remaining pumpkin batter and then gently pour the nut/seed mixture on top of each loaf.
Place the loaf pans in your oven (on the center rack) and bake for about 60 minutes, rotating the pans every twenty minutes to promote even baking. The loaves will be done when a long wooden skewer or knife can be inserted (into the pumpkin portion of the loaf – not the cream cheese) and comes out clean.
Place the loaf pans on a wire rack and allow to cool before removing the bread. Slice the loaves carefully and serve.
Store the bread in the refrigerator, in an air-tight container.
Makes two loaves (9×5 or 8×4).
[/print_this]
Tell International Delight what your favorite holiday treat is for a chance to win a $200 Walmart gift card.
Capture the flavors of the holidays in every cup of coffee with International Delight Creamers. Available in a variety of flavors, such as Pumpkin Pie Spice, Vanilla Spiced Rum and White Chocolate Raspberry.
This is a sponsored conversation written by me on behalf of International Delight. The opinions expressed by me do not necessarily reflect the view of the International Delight Brand.