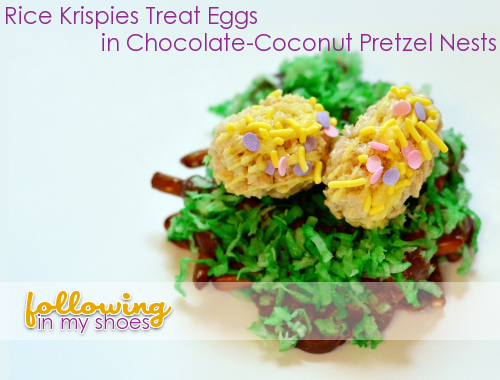 Only very rarely do the Kidlets get a lot of sugary treats; Halloween, Christmas, and Easter are the annual exceptions to my sugar rules.
(As expected, they don't like my rule.)
When it comes to those Holidays, I typically prepare the treats of my childhood: cookies, cake balls … and Rice Krispies Treats.
Rice Krispies Treats are my nemesis; every bit of the simple cereal-marshmallow concoction hearkens memories of church potlucks, family gatherings, and sleep-overs.  I. Adore. Them.
One of my younger sisters is the same — if we spy a platter of the cereal squares in my Mom's kitchen …. well, the plate doesn't stay filled very long.  It's become our "thing" (along with a love of S'mores, but we won't talk about how we inhale eat those.  Another time).
I found these Easter Rice Krispies Treat Eggs last year on Food Family Finds, one of my favorite family-foodie blogs.  She showed how to shape the treats (using plastic Easter eggs) and fill them with candy treats.
Ingenious.
This year, I wanted to make them with the kidlets (planning on eating the majority myself) but I wanted things to be a little different.  Hence, my M&M Filled Rice Krispies Miniature Eggs rested on Chocolate Covered Pretzel Easter Nests.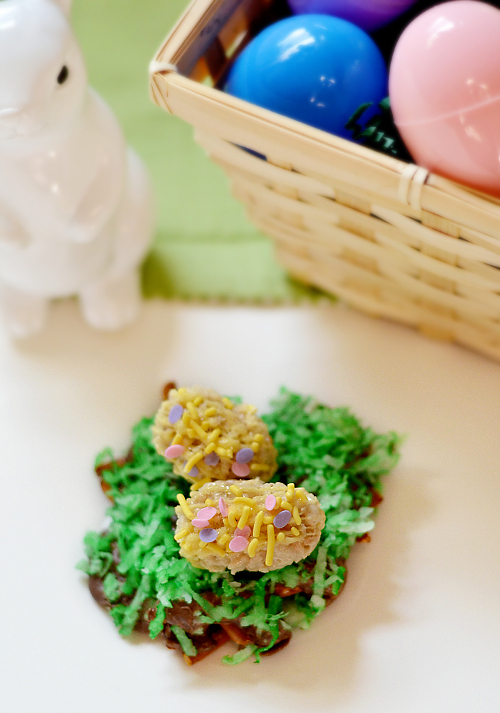 Just a little something extra to make the Easter treat all the more special.
Then, with the Little Lady's "Hello Kitty" birthday party only two months away, we decided to experiment with Hello Kitty Rice Krispies Treats.  This endeavor was a HUGE hit with the kidlet crowd.  Huge.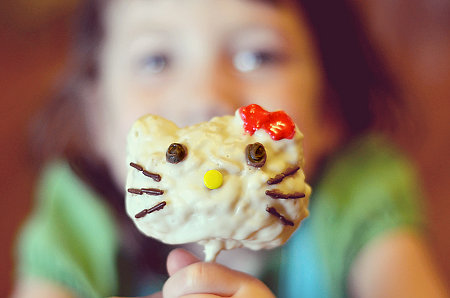 (I'll share the process for these later)
All in all, the Easter Eggs and Nests didn't disappoint:  they were fun to make and fun to eat.
And, I suspect, a new Easter tradition for our family.
(and, despite appearances, they really were simply and easy to fashion.  A win-win for Mommy)
p.s.  If you want try making similar treats, visit my Rice Krispies Treat Giveaway!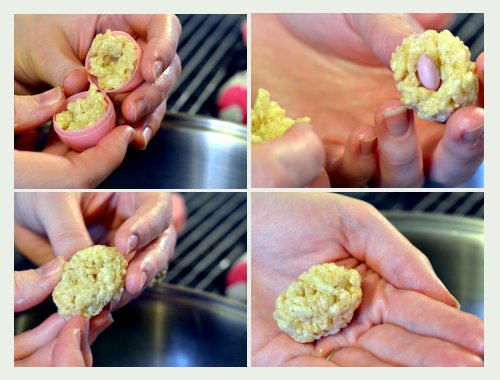 [print_this]
[/print_this]
[print_this]
[/print_this]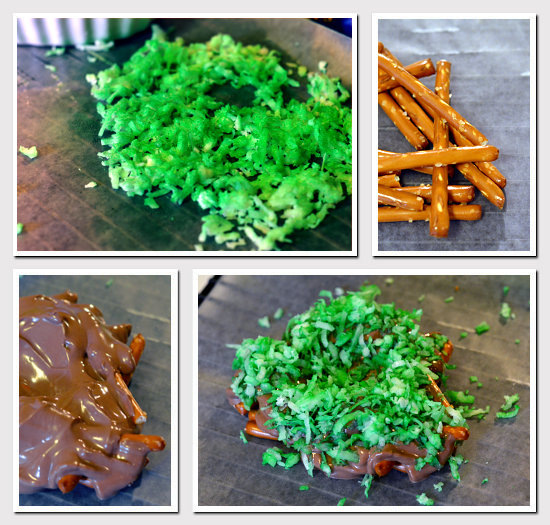 Disclosure:  The views and opinions expressed on this blog are purely that of the blog owners. Any product claim, statistic, quote or other representation about a product or service should be verified with the manufacturer or provider. Kellogg Company® has provided me with a Kellogg's® Rice Krispies® Hidden Surprise Easter Egg TreatsTM Basket  (all other supplies were purchased by me) to conduct a reader giveaway.
However, my opinions on the product are entirely my own and I have not been paid to publish positive sentiments towards Kellogg Company® or their products.