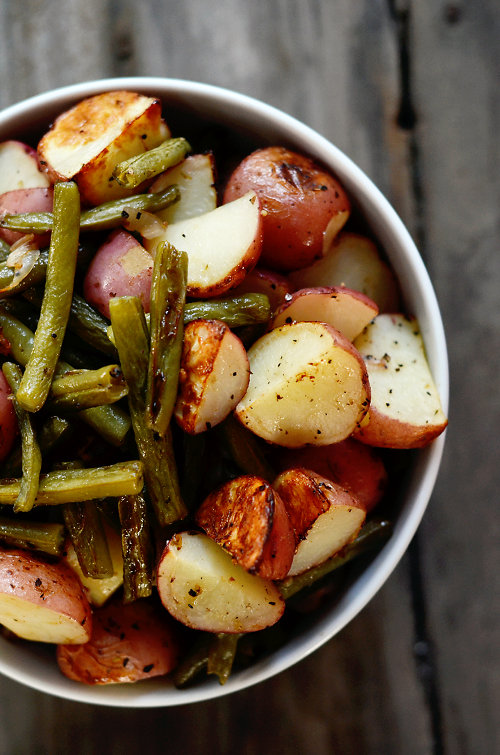 Tuesday night, some close friends and their children came to our house for a "Hello Summer" party; our Kidlets are out of school and in the mood to play, play, play.
As the sun set and all the big Kidlets chased each other in a Silly String fight, the Daddies grilled hot dogs, my friend Lori intermittently snuggled and wrestled a very active Barney Kneeknuckles, and I prepared my new favorite side-dish: Rustic New Potato and Bean Salad.
It's a simple recipe that uses Mediterranean seasonings, salt, pepper and roasting to bring out the most wonderful, homey flavors . . . perfect for a backyard gathering.  An unpretentious dish that goes well with everything — even kid-food (AKA grilled hot dogs).
As you can see in the recipe, I used one of Lawry's NEW marinades for this roasted salad.   The Mediterranean Herb and White Wine Marinade is full-bodied, featuring basil, oregano, garlic and sun-dried tomato blended with white wine and extra virgin olive oil.  The first whiff when I opened the bottle was very strong but it cooks beautifully with the vegetables and aromatics, creating the perfect Mediterranean flavor-profile.
Just delicious.
[print_this]
Rustic New Potato and Bean Salad
Ingredients
1 pound Green Beans, trimmed and cut
1 – 1.5 pounds Red New Potatoes, cubed
1/3 cup LAWRY'S Mediterranean Herb and White Wine Marinade
4 Shallots, sliced into thin rings
1 clove Garlic, minced
Instructions
In a large mixing bowl, toss the prepared green beans and new potatoes with the 1/3 cup of LAWRY'S Mediterranean Herb and White Wine Marinade.  Set aside.
Line a large baking or cooking sheet with foil and then spray it with oil.
Evenly spread the vegetables onto the sheet and season with salt and pepper.
Place the vegetables into a 400 degree oven for 30-35 minutes (tossing the vegetables at twice to ensure even cooking).  Remove from the oven with the potatoes are fork-tender.
Serve hot or room-temperature.
Recipe by Rachel Lacy; copyright http://followinignmyshoes.com
[/print_this]
disclosure: I created this recipe on behalf of TheMotherhood for LAWRY'S Dinnertising; any opinions expressed are purely my own.