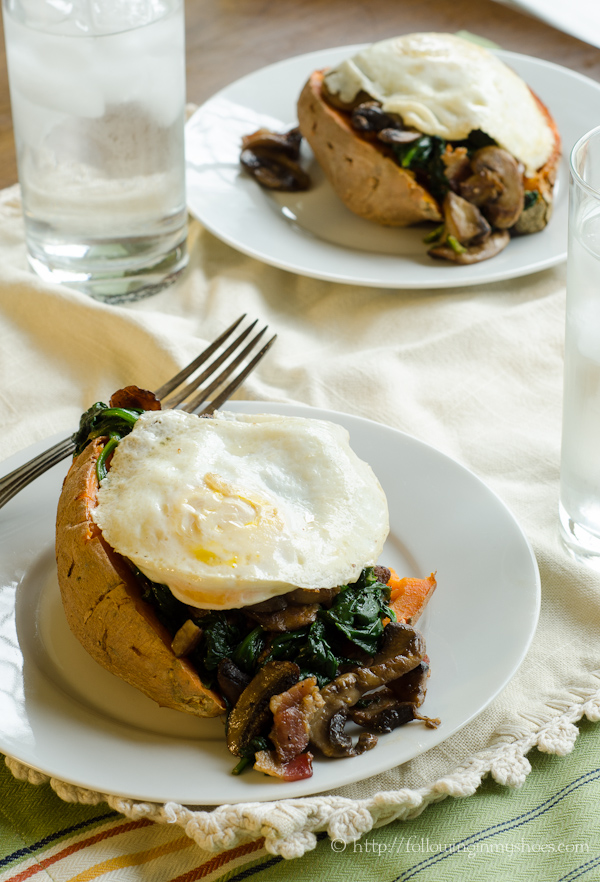 Before we started raising our backyard flock (forever known as Cluckton Abbey), I didn't get the "fried egg craze."  You know — trend where restaurants and food bloggers were topping everything with a bright and sunny fried egg.
I mean, sure — I liked eggs.  They were alright but to put them on everything?????
Then, I discovered the glory that is a free-range, deep yellow, perfect egg.
Cue the angels singing, playing their harps and trumpets and flying all over my kitchen.
If you have a good quality, rich, grass and bug fed egg …. oh, Mamacita.  There is nothing — NOTHING — like it.  And now I get it.  I understand why people top their savory burgers and salads and sandwiches with a deliciously fried egg.
And I find myself doing it too.  Because fried eggs just equal epicurean perfection, and if that egg is mixed with smoky bacon, caramelized onions, buttery and earthy mushrooms … and fresh baby spinach … well, honey, you've got yourself a concoction just begging to put into a potato.
Enter the Savory Loaded Sweet Potato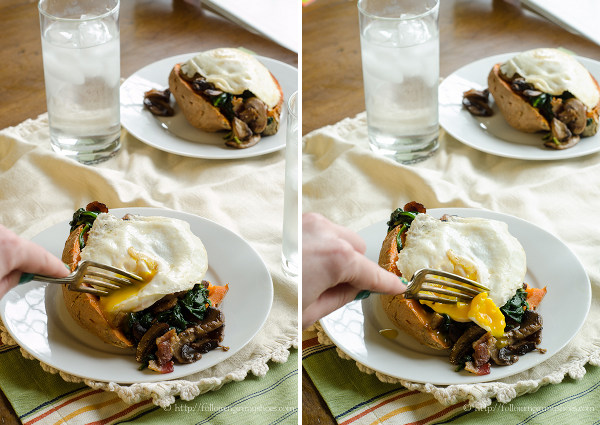 I prefer sweet potatoes and that's what I used, but you could totally use an Idaho baking potato.  Whatever floats your boat … or tongue.
(you know what I mean)
If you make it my way, when it's finished, you will have dinner full of healthy carbs from the sweet potato, protein and omega-3s from the egg, iron from the spinach, and vitamin D, potassium and the anti-oxidant selenium thanks to in the nutrient-rich mushroom*.
A healthy dinner and a happy belly.  You're welcome.

Loaded Sweet Potato
Ingredients
4 Sweet Potatoes
½ cup thinly sliced White Onion
3 slices thick cut Bacon, diced
8 ounces sliced Cremini Mushrooms
2-3 cups Baby Spinach
4 Eggs
Salt and Pepper to taste
Instructions
Preheat your oven to 400 degrees.
Pierce each sweet potato several times with a fork. Place the potatoes on a foil-lined baking sheet. Bake until tender (roughly 45 minutes). Remove from the oven.
While the potatoes are baking, you can prep and slice the remaining vegetables.
During the final 20 minutes of the potatoes' baking time, place the diced bacon into a 12-inch frying or saute pan and heat it over medium-high heat. Once the bacon begins to render its fat, add the sliced onion and stir to make sure it is coated with the rendered bacon. Cook until the onions are softened and beginning to turn golden.
Lower the heat to medium and add the sliced mushrooms, tossing with the bacon and onion slices. Let the mushrooms cook 5-7 minutes, until they have softened and their water has released and evaporated.
Add the raw baby spinach and then cover with a lid to speed up the cooking time. Once the spinach has begun to wilt, remove the lid and toss all of the vegetables and aromatics together. Season with salt and pepper to taste. Turn off the heat.
After the potatoes have cooked and you have removed them from the oven, plate each one and cut a slit into it.
Using a slotted spoon, top each potato with the mushroom mixture.
Heat an egg pan or non-stick skillet over medium heat. Prepare it with a dab of butter or a spray of non-stick spray.
Crack an egg into the pan, season it with salt and pepper, and let it cook 3-5 minutes (until the whites have set). Gently flip the egg with a spatula and let the other side cook 5-10 seconds.
Remove the egg from the pan and place it on top of the loaded baked potato. (repeat for each potato)
Serve immediately.
This post was created as part of the #MushroomMakeover 30 Day Weight Loss Challenge in which I am a financially compensated blogger ambassador for the Mushroom Council. The opinions are my own and based on my own experience.