August 18th, 2011, Baby Barney Kneeknuckles was born via c-section.  Exactly one week later, Mr. Boy turned two and I had the BRILLIANT idea of inviting family and close friends over for a small birthday party.
Yeah, I was hobbling all over the place, unable to laugh or cough without experiencing searing pain.
But this Mama was determined to have some type of birthday celebration for my (newly-made) middle child.
While deciding to host guests so soon after having a baby might not have been the brightest idea I've ever had, the meal I served was pure genius.
Slow Cooker French Dip Sandwiches have been my go-to meal for years now.   They're rich and delicious — can easily be stretched to feed a crowd — and thanks to the slow cooker, it can be made using cheaper cuts of roast.  That's right — yummy, cheap goodness that is perfect for company.
My. Kinda. Food.
It's one of my Husband's favorite meals (he was shocked when I revealed I had yet to blog this recipe even though I make it pretty frequently) and one that has him volunteering to clean the kitchen after we eat.
So, yeah, I guess you could say it's also a magical recipe to have in your back pocket.
(In case you're tired of kitchen duty.)
The onions just melt during the long hours of cooking, adding depth and comforting flavor to the broth.  By the time the meat is fully cooked, you have created the rich, warm flavor of French Onion soup … perfect for dipping your assembled sandwich.
Curious about the list of herbs and spices in the recipe?  That's my concoction for "homemade" French Onion Soup mix; at one time, I used a prepackaged soup mix in this recipe, but after looking at the ingredient list (and sodium amount), I decided to start making my own.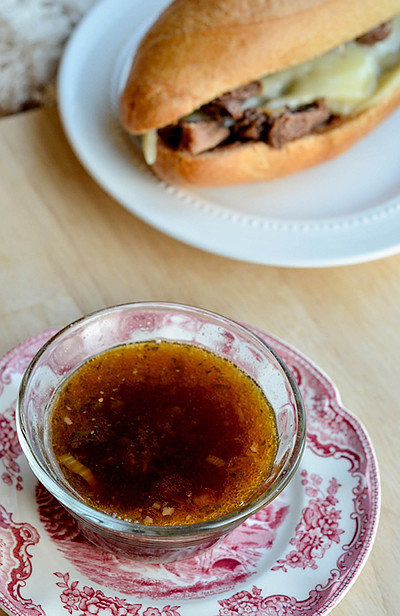 So, I guess one can say this recipe is even healthy without all of those crazy additives in pre-packaged soup mixes.
Yummy.  Frugal.  Crowd-Pleasing.  Magical.  Healthy.
And now you know all the reasons we love this recipe around here.
[print_this]
[/print_this]