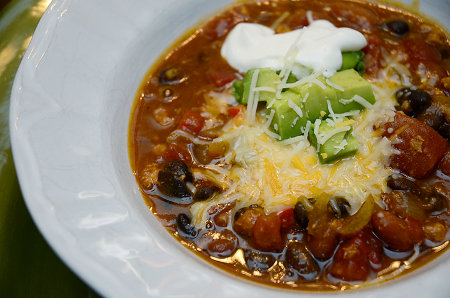 I have been craving chili in the WORST way the past couple of weeks.
Nevermind that we're still hovering around 159 degrees here in Houston — I need chili in my life.
Since I'm in a serious relationship with my crock-pot, I decided to tweak my normal pumpkin chili recipe and make a new slow-cooker version.
Pumpkin puree — NOT the pie filling — acts as a thickener, much like tomato paste would in a normal chili recipe.
The result was a perfectly spicy chili, full of protein and fiber (gotta stay healthy!), that my husband and kidlets lapped up.   This recipe makes enough for a crowd or for a couple of "freezer meals" for busy school nights when cooking is the LAST thing you want to do.
And — no — you can NOT tell there is pumpkin in it.  It just tastes like the yummiest chili ever.  With an earthy, spicy kick.
I promise. . . I didn't tell Hubby I had substituted pumpkin puree for tomato paste until after dinner.  His response?
"I would have never known — it tasted just like 'real' chili."
Mommy wins.

Slow Cooker Spicy Pumpkin Chili
Ingredients
1 pound ground Turkey (or chicken/beef)
1 TB Olive Oil
1 large Onion, diced
1 large Red Bell Pepper, diced
2 Jalapenos, seeded and finely diced
1 "15 oz" cans of Pumpkin Puree (NOT pumpkin pie filling)
2 cups of Beef Broth
2 "14.5 oz" cans Diced Tomatoes, do not drain
4 Cups (or 2 cans) cooked Black Beans, drained and rinsed
4 Cups (or 2 cans) cooked Kidney Beans, drained and rinsed
1 TB Cumin
1 TB Chili Powder
1 tsp Oregano
1 TB Balsamic Vinegar (to be added in the last hour of cooking)
½ Tsp Cayenne Pepper Powder* (to be added in the last hour of cooking)
Salt and Pepper (to taste)
Instructions
In a frying pan, over med-hi heat, brown the ground meat. Drain and put the meat in a 6-quart low cooker.
In the same pan, add the olive oil and the onion, bell pepper and jalapenos, sauteing over medium heat until the onions are translucent. Add these to the slow cooker.
Pour the beef broth and diced tomatoes (with their juice) into the slow cooker and then add all spices except the cayenne pepper. Next add the pumpkin puree and stir to combine.
Add the beans, cover the crock pot and turn it on low and cook it for 6-8 hours … or on high for 4-5 hours.
In the last hour of cooking, add the Balsamic Vinegar and the Cayenne Pepper, stirring well to incorporate both ingredients into the chili. Place the lid back on and allow the chili to continue cooking.
You may also add salt (if desired) at this point; I stole a bite from the crock-pot and ended up adding about 2 teaspoons of salt, as well as about a teaspoon of fresh cracked pepper. (More wouldn't hurt since this is a big batch of chili, but I'm trying to watch our sodium.)
Serve with cheese and sour cream … or your favorite chili toppings!
Notes
This recipe makes about 6 quarts of awesome chili…. perfect for when you have guests over OR for freezing.


I divided our remaining chili into two freezer bags, chilled it in the fridge and then placed the bags in my deep freeze. Thaw it in the fridge and then reheat on the stove whenever you need an easy dinner!


*The amount of cayenne pepper I added gave a great spicy kick without making the dish too spicy for my children. More can be added if desired.
Family Fresh Meals Recipe of the Week