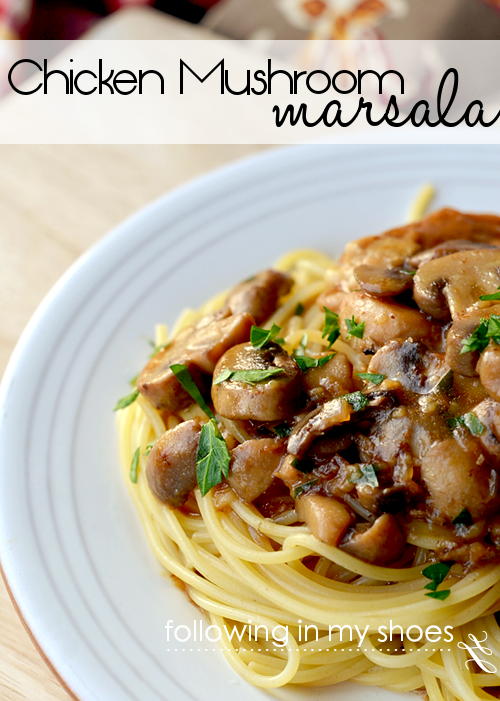 Regardless of what Italian restaurant we visit, my Husband nearly ALWAYS orders the same dish at each location: Chicken Marsala.  Forget the cheesy and tomato pasta dishes, for him, there is nothing that satisfies like the full, rich flavor of Chicken Marsala and Mushrooms.  He. Adores. It.
And, because I adore him, it's a recipe I fiddled around with until I had his smack of approval.
(I'm nice like that.  No, seriously.)
For all the depth of yumminess in this dish, it isn't a difficult meal to pull off.  Chicken.  Mushrooms.  Pasta.  Marsala.  That's really about it.  If you can cook chicken and simmer a sauce, you can make this.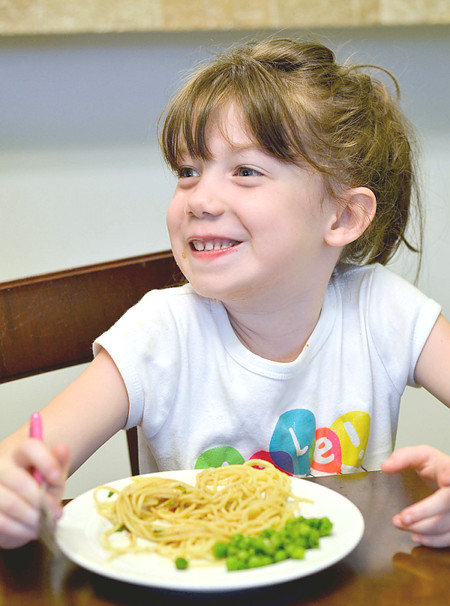 (this little mushroom lover ate her veggies (fungi?) first . . . sweet girl.)
Even if you think you're the incapable of cooking, reading is probably something you CAN do … so, bottom line, if you can read then you can follow this recipe and you CAN make this.  Does that long, convoluted sentence convince you?  It should.
When I made this particular version of the recipe, I used a "new to me" pasta: Heartland Hidden Vegetable Spaghetti.
Yup, you read correctly.  This pasta has an extra serving of veggies in it, making it chock-full of vitamins and nutrients.  Perfect for a certain 3-year-old I know who thinks vegetables are the abomination of the earth and can't pass his lips at any cost.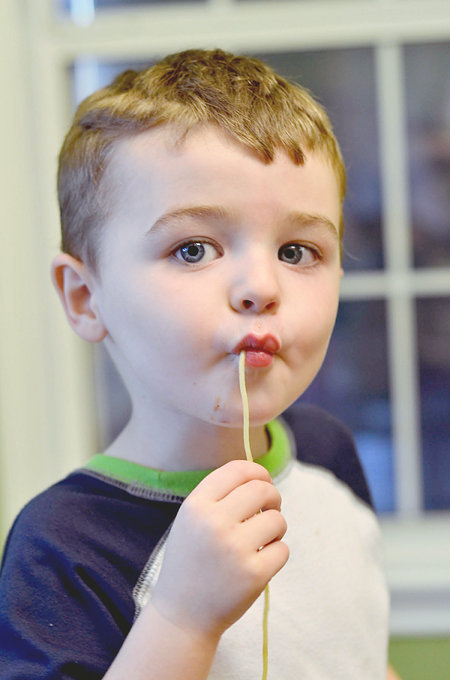 With this pasta, I'm one up on the child, filling his little body with food that is good for him.  Mwahahahahaha!
(he never realized it and just kept slurping his dinner down, strand by nutritious strand)
The rest of the family's verdict on the Hidden Vegetable Pasta?  No one batted an eye or noticed anything different.  It cooked beautifully — perfectly al dente — and was eaten with gusto by all.
By all, I tell you.
So, as you hunker down with the colder weather most are enjoying these days, you'll find this the *perfect* comfort food recipe … for the entire family.
(psssss…. Heartland also makes gluten-free pastas.  That's right  non-gmo, gluten-free spaghetti.  You can visit their Facebook Page to see what recipe (using both the Hidden Vegetable and the Gluten-free Pastas) were created by all the bloggers who got to try out Heartland products.  Have fun cooking!)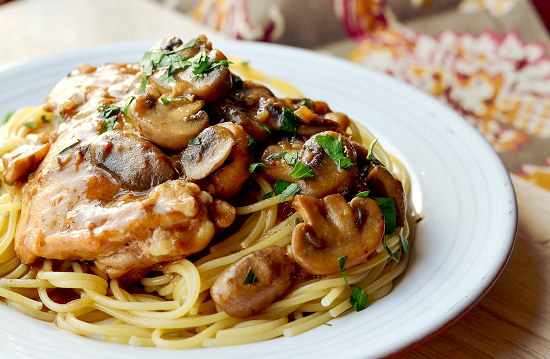 A Husband Favorite: Chicken Mushroom Marsala
Author:
Rachel Lacy https://followinginmyshoes.com
Ingredients
1 large shallot, minced
1 tablespoon Extra Virgin Olive Oil
2 pounds Boneless/Skinless Chicken Thighs
8.25 ounces (1 cup) Chicken Stock
1 tablespoon of White Flour
8-10 ounces sliced mushrooms (white or cremini)
½ cup Dry Marsala
2 Tb chopped Italian Parsley
Prepared Spaghetti
Salt/Pepper
Instructions
Rinse and pat dry the chicken thighs. Season each side with salt and pepper.
Heat a heavy duty skillet over medium heat. Add the olive oil, half of the minced shallot and the seasoned thighs.*
Reduce heat slightly and let the chicken cook five minutes. Flip and cook on the other side till cooked through.
Remove the chicken from the pan, place it on a large plate and cover with foil to rest while you make the pan sauce.

To Make The Pan Sauce:
Add half of the chicken stock to the skillet and bring to a small boil. Scrape the bottom of the pan to deglaze the pan.
Once deglazed, lower the heat to medium-low and whisk in 1 tablespoon of flour to thicken the pan-sauce. Whisk quickly until lump-free and smooth.
Next, add the remaining stock, minced shallot and all the mushrooms. Stir occasionally. Allow the mushrooms to cook till tender and darkened and the liquid has reduced slightly.
Raise the heat to high and stir in the Marsala. Cook 2-3 minutes to allow the alcohol to cook off. Season with additional salt and pepper if needed.
Return the chicken to the sauce, serve over cooked pasta and finish with parsley.
Notes
*While the chicken is cooking, you can start the processes of boiling water for your pasta, cooking it while the sauce cooks.
 *I was contracted to create a recipe using the Hidden Vegetable pasta; all product opinions and the recipe created are my own.