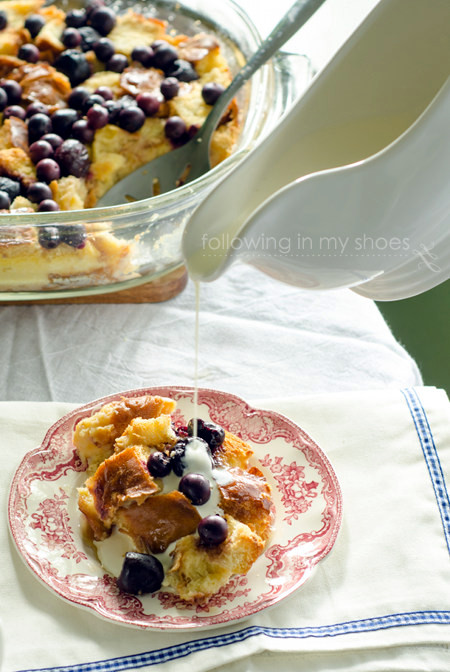 I have a weakness for Bread Pudding, which is funny considering this love affair started late in life.  When I was a child, I loathed … despised … hated (with every ounce in me) all things "Bread Pudding".
My mother learned to cook after she married and, while we were children running around our Oklahoma farm-house, she tried out new recipes and ideas and techniques on four picky girls and her husband.  Most everything she prepared, we scarfed down and then clamored for more.
But there were three things she loved to make that we grew to fear: Liver, Mashed Turnips and (sigh) a Bread Pudding she made from sandwich bread.
That's right — regular sliced bread.  Oh, people … if you learn nothing else in life, please understand this: sandwich bread is not — I repeat NOT — appropriate for liquids.  No matter how long the "pudding" baked in the oven, that bread simply couldn't absorb the eggs and milk.  It stayed soft.  Soggy.  Saturated.
And I thought it the most disgusting thing on the planet.
(for the record, my Mother knows this … and has since realized the mistake and now make some of the most amazing bread pudding ever.  Promise.  Isn't that right, Mom?)
I don't remember when, as a young woman out on my own, I decided to give Bread Pudding a second chance.  I don't even remember if it was a homemade version or from a restaurant.  All I know is that at some point in the past 10 years, I became hooked.  Addicted and obsessed.  If bread pudding is on a menu or dessert tray, I have to have it.
Creamy and rich and satisfying.  And those textural issues from the bread pudding of my childhood?  Gone.  If you make it right — use the best ingredients and the perfect types of bread — it's both cake and pudding at the same time.
When I come across a goooood bread pudding, I find myself savoring … prolonging every bite, and nearly sad to swallow and lose the luscious flavor on my tongue.
It's just amazing …. and even that word does not do it complete justice.
And this latest bread pudding variation is a gooooood bread pudding.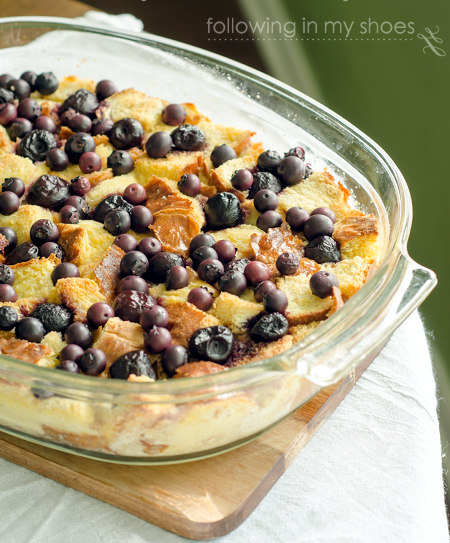 I served this for a Saturday family brunch, along with bacon (Always, always bacon. Amen.), fresh farm eggs, and topped the bread pudding with cream.  Cold cream (fresh or "whipping cream" from the store) is perfect atop any bread pudding but it takes this one the next level — providing a rich and nearly savory element to the custard and challah.  Fresh blueberries and frozen dark cherries add a sweet tartness that keeps everything in check.
Mr. Boy had two helpings and only stopped eating because I forced him to do so.  He was very, very upset with Mommy at that moment.
I won't tell you when I stopped eating.  But, like Mr. Boy, it was begrudgingly done.

Very Berry Bread Pudding
A red, white, and blue breakfast treat; rich custardy, bread-pudding topped with dark cherries and fresh blue berries. Perfect for a family breakfast or a holiday event.
Ingredients
7 cups of cubed Challah (or french bread), cut into 1-inch cubes
4 cups Whole Milk
1 cup Heavy Whipping Cream
1 cup Sugar
2 teaspoons Pure Vanilla Extract
4 large Eggs
4 large Yolks
Pinch of Salt
1.5 cups Frozen Dark Cherries
1 cup Fresh Blueberries
Instructions
Preheat your oven to 350 degrees.
In a cookie sheet, spread the bread cubes and then place the pan in the oven, toasting the bread cubes until they are golden brown (roughly 7-10 minutes).
Remove the pan from the oven but do not turn off the heat.
Prepare a 3-quart or 9x13 casserole pan with nonstick spray or butter. Pour the bread cubes into the pan, evenly spreading them.
Next, in a large, heavy-bottom saucepan, mix the milk, cream and sugar over medium heat. Bring it to a low simmer and stir to dissolve the sugar.
Once the sugar is completely dissolved, stir in the vanilla and remove the pan from heat and set aside.
In a medium to large bowl, whisk the eggs, yolks and salt together. VERY slowly, pour a half cup of the hot milk/cream into the eggs, whisking continuously.
While whisking the milk mixture, pour the tempered eggs into the saucepan and whisk to fully incorporate.
Pour the custard evenly into the casserole dish, covering the bread cubes. Let it all stand at room temperature for 5-7 minutes before using a spoon to push all the bread into the custard.
Next, sprinkle the frozen cherries and the fresh blueberries on top.
Put the casserole dish in large roasting pan. Place both pans in the oven (center rack), and then pour HOT water into the roasting pan to create a water bath. MAke sure the water comes about halfway up the sides of the baking dish.
Close the oven door and let the bread pudding back about 40-45 minutes, or until the pudding just appears set in the center when the casserole dish is gently iggled.
VERY CAREFULLY, remove the roasting pan from the oven and then remove the casserole dish from the roasting pan.
This bread pudding can be served at any temperature and, if desired, topped with cream.
Notes
*adapted from Wolfgang Puck's "White Chocolate Berry Bread Pudding", page 103 of the Macy's Culinary Council Thanksgiving & Holiday Cookbook.