I love planning parties and gatherings for our friends and family.  I love creating new recipes for special occasions.  I love fashioning DIY decorations for Christmas, birthdays, halloween and every other recognized (and unrecognized) holiday out there.
What I don't love?  Trying to pick out a present for someone else.  I am the WORST gift-giver EVER.
(I've even had family members mention how bad I am!)
I don't know what it is but I typically can't give a gift that someone will really love.  I will hunt and hunt and hunt, running all over town looking for (what I think will be) the perfect present … and then I see the person's face as they open it.  And I instantly know that I've failed again.  And knowing in advance that I'm probably going to fail???  Well, it just adds all the more stress and anxiety and pressure as I second-guess myself while shopping.
(Which is why a Starbucks run usually follows gift-shopping … Mama needs some coffee to recover!)
Then, last month, I was presented with something new.  Something that eliminated the stress of choosing the perfect gift.  Something that brought the Fun back into picking a present.  Something that eliminated the need for anxiety driven coffee trips.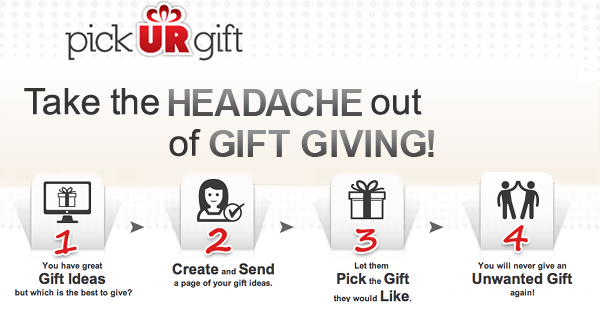 Pick Ur Gift.  It's new on the scene and completely changes the way you give gifts — and I love it.
(seriously — I don't know when I've ever had so much fun with picking a present!)
It's easy:
Create an account
Start a gift list with a specific person in mind
Begin saving gift ideas thanks to a bookmark app you can add to your browser.
Share those ideas with your intended recipient.
It's like pinning stuff you wanna buy … and instead of just having a gallery of ideas, the Pick Ur Gift site allows you to share the gift collection with the intended, get his or her feedback and then immediately purchase the PERFECT present for your loved one or friend.
What's that you say? "But that takes out all of the surprise in giving a gift?"  Absolutely not!  Your recipient still won't know which ONE gift you are going to choose.  There is still an element of surprise with PickUrGift!!!
I used it when I needed to pick something out for a blogging friend, Cat Davis of Food, Family, Finds.  I've known Cat for a few years but I don't know that I could just go out and buy the one ideal gift for her … not with my track record.  So, after I spent some time stalking Cat's blog, as well as her Pinterest and Instagram accounts for ideas of what she might like, PickURGift came my rescue and I breezed through Williams-Sonoma, Amazon, and Anthropologie, saving gifts left and right.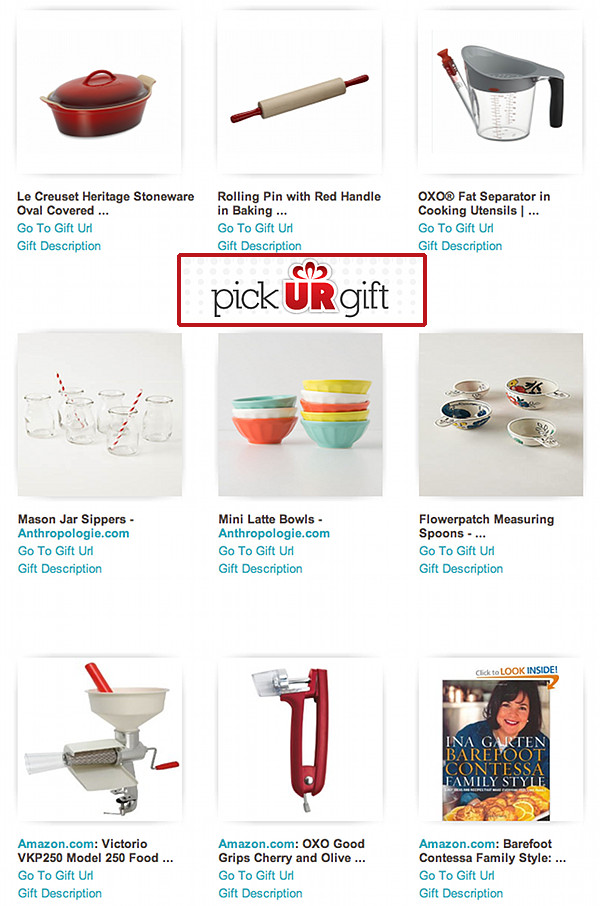 Cat whittled my suggestions down to three things she would love having in her kitchen, I chose and purchased one of the items (so excited to know she actually LIKED my options), and then, a few days later, she posted an Instagram picture of something that had arrived on her doorstep: her new love.


Folks … I had given the perfect gift. Perhaps my streak is finally over.
(finally!)
P.S.
Cat used PickURGift too and sent me the best possible presents: kitchen stuff!!!!!!! Whatcha' think?
disclosure: I was provided the funds used to purchase Cat's present and Cat also sent ME a gift (woo hoo). Opinions expressed in this post are my own.