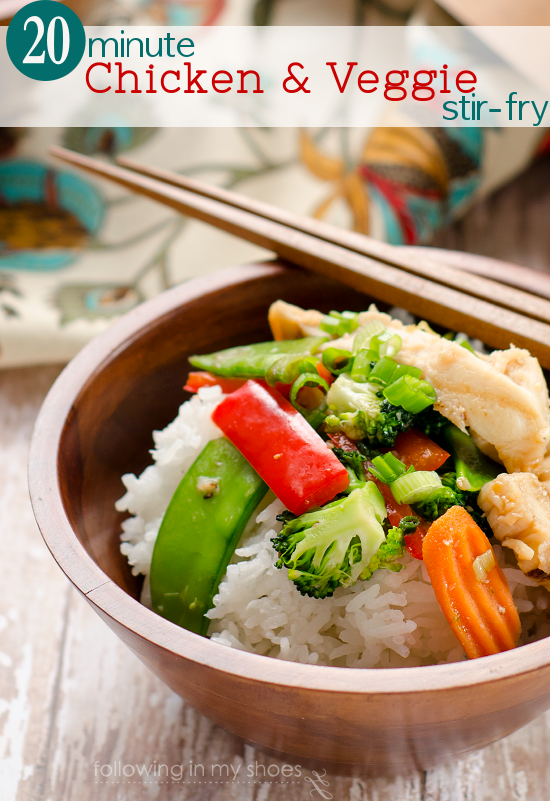 As a teenager, I remember my mom frequently preparing a very easy stir-fry.  Usually, it was based on cabbage, carrots, and broccoli and always had a bit of chicken.  It was so, so, so simple — as all stir-fry dishes should be — but the flavor was nothing short of homey goodness.  The kind of comfort-food flavor you yearn for once you're in college and you are having to cook for yourself.
Even now — nearly 20 years since I left the nest — I think about my favorite dishes that my Mom prepared and her stir-fry ranks right up there with her Brown Beans and Cornbread and her Pot-Roast.
You just can't beat comfort food.
Especially healthy comfort food like my spin on Mom's dish: 20-Minute Chicken and Veggie Stir Fry.
Honestly, if you are using a wok to cook this dish, the twenty minutes is a generous amount of time:  extra seconds here and there if you wanna check Facebook while you're chopping vegetables … a built-in time cushion if you find yourself tripping over a toddler who thinks the kitchen floor is the perfect spot for a tower of blocks.
(time for truth: both of those things happened the last time I made this recipe.  No comment as to whether or not I stayed upright after the tripping incident)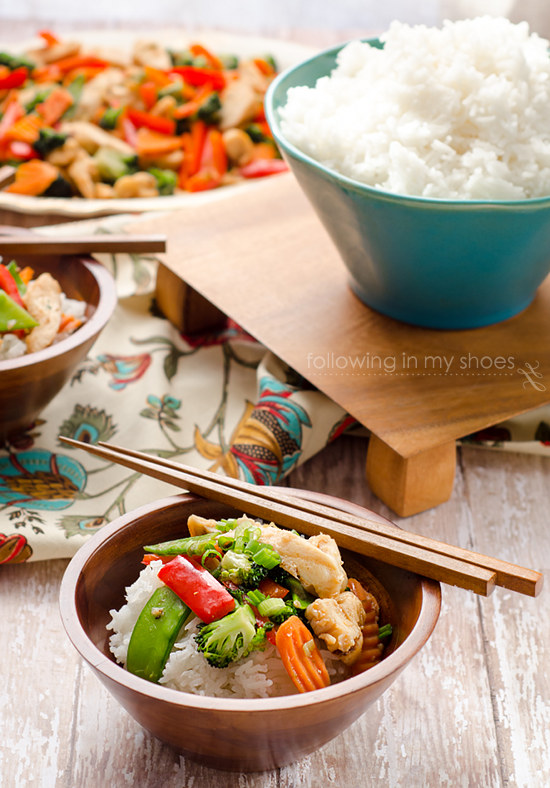 Instead of the heavy sauces you get when you order take-out, this Chicken and Veggie Stir Fry recipe focuses on the fresh flavor of crisp-tender vegetables and a light "marinade" of mirin and soy sauce to be the perfect accompaniment to pan-seared (or wok-seared) skinless chicken breasts (I used H-E-B's Natural Chicken Breasts — the featured ingredient this week in the Meal Maker Challenge).    As for how you serve the finished stir-fry, it's up to you!  Eat it "as-is" for a grain-free option … or use it atop brown rice, jasmine rice, or even udon noodles.
Regardless of the "starch or no starch" debate … it's a dish that's meant to be gobbled up.
Nope — you just can't beat (healthy) comfort food.

Easy Chicken and Veggie Stir-Fry
This healthy and simple meal, which takes less than 30 minutes to prepare, is the perfect "go-to" meal on a busy night. The light sauce brings out the flavor of crisp vegetables and chicken.
Ingredients
1 12-oz Package of Fresh Stir-fry Veggies*
Medium Red Bell Pepper
1 lb Package H-E-B Natural Chicken Breasts
2 Teaspoons Soy Sauce
2 Tablespoons Mirin
1 Tablespoon Sesame Oil
3 Teaspoons of Minced Garlic (if you are not using prepared garlic, mince approximately 3 cloves)
½ - 1 teaspoon of Black Pepper
3 Green Onions, finely chopped (optional)
Instructions
In a small bowl, mix the soy sauce and mirin. Set aside.
Pat dry the chicken breasts, slice each breast into 1-inch thick strips and then cut each strip in half.
Chop any large stir-fry vegetables to ensure all vegetables are uniformly sized. Chop the pepper into sizes similar to stir-fry vegetables. Mix the vegetables and pepper together and set aside.
Place a large wok or frying/saute pan over high heat. When water droplets evaporate within 1-2 seconds of contact, the pan is ready to stir-fry.
Remove the wok from the stove-top. Swirl the Sesame Oil in the wok to coat the interior surface. (NOTE: if the oil immediately begins to smoke, the pan is too hot. Wipe out the pan, allow to cool, then return to the stove and begin again.)
Put the oil-coated wok back over the heat and immediately add the garlic. Stir for a few seconds until fragrant and then push it up the sides of the wok where it is cooler.
Pour the soy sauce/mirin along the interior sides of the wok so the liquid doesn't lower the temp of the wok. Then, add the cut chicken to the bottom of the wok in a single layer to ensure even cooking. Let sit undisturbed for 1-2 minutes until the bottom of the chicken has a nice light golden sear. Quickly flip the pieces over and allow the chicken to finish cooking.
When the chicken is no longer pink, move it to the sides of the wok and add the chopped vegetables to the center of the wok. Add a dash of black pepper. Allow the vegetables to stir-fry for 1-2 minutes, gently stirring once or twice, until they are bright in color. Carefully push the chicken back into the center of the pan and quickly fold the vegetables and chicken together.
Remove the wok/pan from the heat source and pour the stir-fry into a serving dish. Serve immediately over white or brown rice, quinoa or udon noodles; may garnish with chopped green onion.
Notes
I use Mann's California Stir-Fry Vegetables.
p.s. Help a Girl Out … and (maybe) Win!

If you like my Third Recipe in the Meal Maker Challenge (or, you just like me!), you can "vote" for it in this challenge … simply by repinning it! Yes, it really is that easy and you don't have to live near an H-E-B to pin my recipe!


(if you don't want to enter the sweepstakes through the H-E-B site, you can repin the pin shown above simply by clicking on it)

[exceptional-citing quoted="rachel" template="bubble-gray-round" date="" ]Head over to the Meal Maker Challenge page to get all the details on voting for this recipe, to check out all of the H-E-B Natural Chicken recipes in this week's challenge, and to learn how — if you live in Texas — you can enter to win your share of $1500 in prizes.[/exceptional-citing]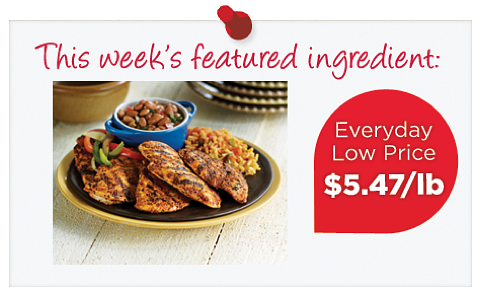 disclosure: I have been compensated for my participation in this Meal Maker Challenge for H-E-B.