For over six years, I have had "Kid-Safe" Clothing and "Don't You Dare Touch Me" Clothing.  Date-night attire, church dresses and a few other pieces fall into the latter category — clothes that I do NOT want touched by sticky, sappy Kidlet fingers or doused in drool or splattered by one of the myriad of slimy colds these children of mine seem to get every other week.
And, with surprising success, I've been able to keep my "Don't You Dare Touch Me" Clothes safe and sound.
'Till this Summer.
'Till Barney Kneeknuckles.
'Till an unfortunate event at Chic-Fil-A.
(sigh)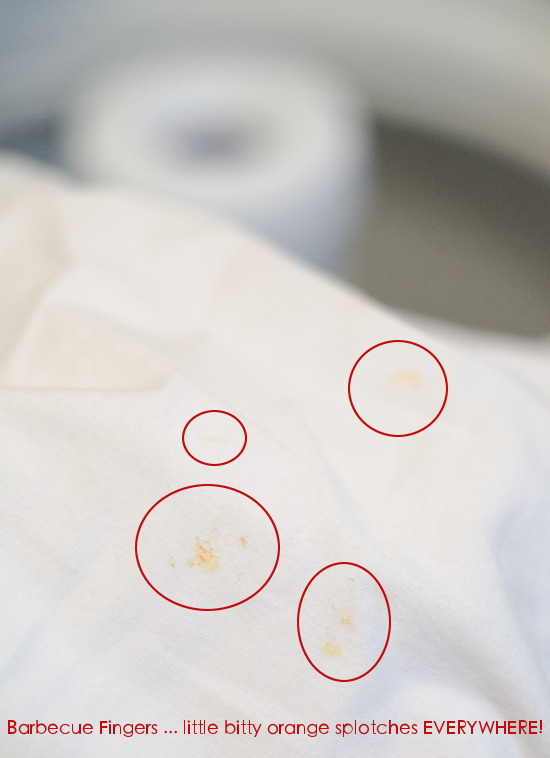 My two-year-old — after a week with Grandma and Grandpa — just wanted to give me a hug. He was blissfully unaware that his wee digits were slathered in red-orange barbecue sauce.
He just wanted to love on his Mama.
And, Mama let him.
Of course I did.
But, later, when I looked down at my favorite summer capris, I cried a little inside. Stark white no longer, there were little finger-tip sized stains all over the legs.
So, how do you treat Barbecue stains?
Well, I broke out a bottle of Resolve. We've always used it on our carpets (where it never let us down) … so, why not try it? It's not like the pants could get ruined anymore than they already were.
I sprayed and sprayed and sprayed and sprayed.  Hoping and praying my favorite carpet cleaner would save the day, I sprayed a little more onto the offending stains.
And then … I started cooking dinner and completely forgot I had pants waiting for the next steps of the Resolve treatment process.
GAH!!!!!!
What happened next?
Watch this cheesy, late-night, bleary-eyed blog where I share (as I try to pack for our little vacation) the outcome of failing to follow four simple steps.
Psssst…. This is a sponsored video for Resolve that I have been compensated for & received free product for through Burst Media. I have provided parental contest for my child being in this video, even though you only hear one of them in the background, making insane noises instead of slumbering quietly in bed. Sigh….