It was just a few weeks ago that we started using the GoodNites Bed Mats but I'm so very, very, very "sold" on the product.  Mr. Boy, on whose bed I have been using these, had more night time "accidents" this past week than normal.
(being sick just really messed with his routines, habits, and sleep)
It was harder than ever for his brain to wake him up when it was time to trek down the dark hall for a middle of the night potty break; his body was just tired. And so, our GoodNites Bed Mats were changed more frequently.  But, I didn't mind the few extra minutes it took each morning to deal with changing out the mats — those simple things were keeping my laundry load at bay.
Actually, I had to head out and buy a second pack before the week was up, but that was because I realized the GoodNites Bed Mats are good for more than just sheet protectors; yes, they saw double duty last week — protecting my couches as very sick Kidlets slept on them during the day.
(I will never again battle a tummy bug without having the GoodNites Bed Mats on hand… I completely understand why they were named 2013 Product of the Year in the Children's Products category by "Product of the Year USA".)
But, this post isn't just about using the GoodNites Bed Mats when your children are sick — it's about using the mats to help you and your child handle night time bedwetting occurances.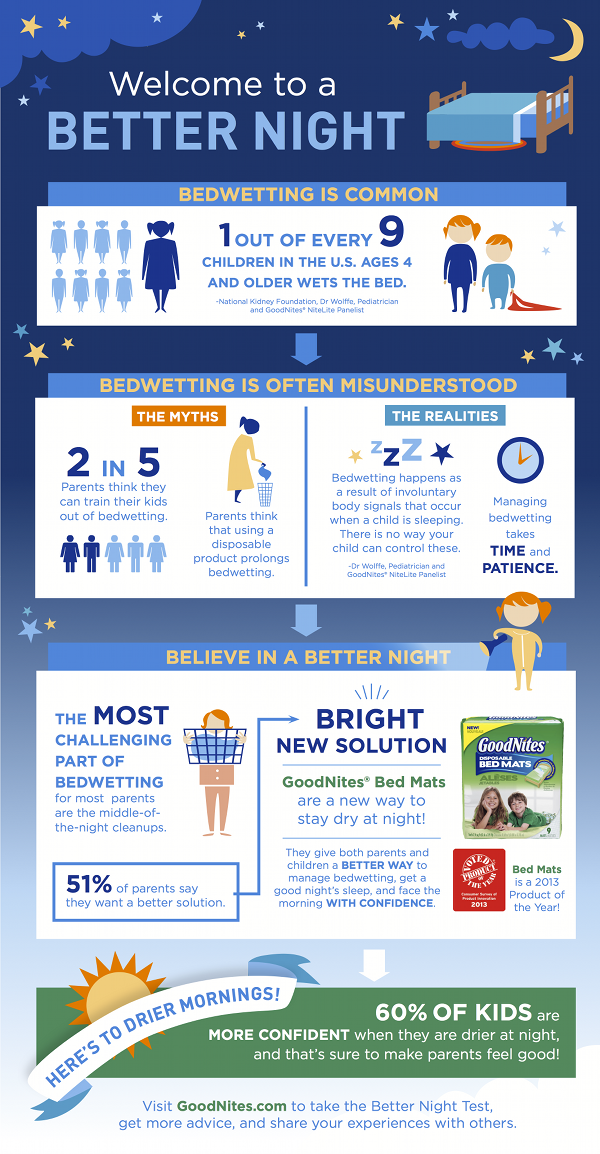 I was a "bedwetter" as a kid, well into my upper elementary years.  And, as my Mom learned years later from our family physician (as she sought help with my younger sister, who also dealt with night-time bedwetting), bedwetting isn't something you can "train out of a child."
This isn't potty-training, folks; we aren't talking the accidents that happen when your child is just learning to hold his or her bladder at night.  No, nocturnal enuresis is something that can occur for years past those early years and — as shown in the infographic above — has to with the child's brain not sending signals correctly during the night, keeping your child from awaking in time to avoid an accident.
I can STILL remember the mortification of having to take my wet sheets to the laundry room on those mornings after I'd had an accident.
If I can save Mr. Boy some of that shame as we get through these (potentially) years of bedwetting, I'm going to do it.
For additional information on bedwetting, please visit the GoodNites website to find additional educational material and to obtain a $2 off coupon for the mats.
I wrote this review while participating in a campaign by Mom Central Consulting on behalf of GoodNites. I received product samples to facilitate my review and a promotional item to thank me for my participation.