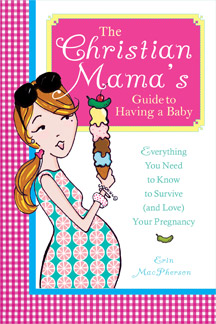 If I were to show you a picture of my nightstand, you'd see a mountain of books. . .  there are probably about 50-60 on there right now.
(but, I'm not going to show you a picture of my nightstand because you'd also see a bunch of empty wrappers — late night snacks (sweet and savory) that are my ONE vice and the one thing I can't seem to make fit into my "healthy eating" rules.  Sigh)
There are countless Agatha Christie mysteries — my answer to nightly bouts of preggo insomnia.
There are TWO giant "Every Name IS In This Book and If It's Not Here It Isn't A Real Name" baby name books.  Yes, two.  . . because I NEED two baby name books.
There's a book about breastfeeding, the Mayo Clinic pregnancy book, and a book on the history of childbirth (and, man, after reading it, I am sooooooo glad I live in the 21st century).
And there is my latest printed acquisition: The Christian Mama's Guide to Having a Baby. . . a book that's wayyyyyyy more enjoyable than the breastfeeding book, the Mayo Clinic book, and the history of childbirth books.  Hands down.
Did I laugh while reading any of my other pregnancy related books?  No.  Because they weren't written by Erin MacPherson.
When I recieved Erin's book, I'll admit I wasn't looking forward to reading it.  (and I'm ashamed by what I'm about to tell you)  You see . . . I'm not always a very Christ-like woman when it comes to pregnancy.
I get tired and complain . . . about my aching hips, my creaking lower back, my need to visit the restroom every time I breathe . . . and everything else that just goes "wrong."
My hormones go crazy and I go insane (like crying over Mr. Boy's diapers or getting angry that Hubby's littlest toe

touches

me while he's asleep).
I'm not one who maintains a joyful, calm spirit when I'm pregnant, and I was afraid of feeling bad — or convicted — by someone tritely telling me that everything in pregnancy is wonderful, planned by God and that I should be doing nothing but smiling and singing praises all day long.
It turns out Erin didn't write her book to make me feel convicted.  She wrote her book for a girlfriend . . . at least, that's what it felt like as I read each page.  Erin "talks" to you, honestly and humorously, about everything pregnancy related.
Talks to you on a "real", down to earth level.
About the stuff you WANT to ask your doctor but you're just too embarrassed to bring up.
The random stuff you didn't think anyone else wondered about.
And, all the normal stuff about hospitals, birthing centers, cravings, pregnancy sex (gasp, yes — this Christian mama talks about it!), morning sickness, sleep, and even pooping on the delivery table.
(the latter, incidentally, was my number one fear when I was pregnant with Mr. Boy.  Number One FEAR.)
With her first person, "I'm just gonna tell it like it is" writing style, Erin answers all the questions you have or brings in experts (like her nutritionist sister-in-law, natural/home-birthing friends and expectant FATHERS) to talk about different topics.
And, with each page, you. will. LAUGH. (seriously, this woman is FU-NNY)

As far as leaving you feeling convicted?  Well, Erin understands what we I have been feeling about the "joys" of pregnancy.  The woman has been there:

When I first got pregnant, I was giddy with excitement.  And who wouldn't be?  I was going to have a baby . . . .But then I got tired.  And sick.  And bloated.  And suddenly I wasn't so giddy anymore. . . I turned into a whiney, moaning, self-pitying mess.  I resented my baby for making me feel so bad and resented everyone else because they didn't feel as bad as I did. . . I resented my husband because he could sleep and I couldn't.

— The Christian Mama's Guide to Having a Baby, page 6

She gets it — and because of that first hand experience and the value of hindsight, Erin is able to acknowledge that pregnancy is hard and uses her anecdotes to remind the rest of us that, even though it's a "long, uphill battle," God is there.  There in the midst of puking, insomnia, delivery and breastfeeding.
He is there with mercy, grace, love and His strength.
Erin addresses this early in the book — reminding ME that pregnancy is a time to wrap myself in God's love.  A time to remain in Him.  My time to "cling to Christ: to pray, to trust and to steadfastly remain in Him." (Jude 1:21)
With Biblical passages, praise and worship lyrics and honest memories from her own struggles, Erin's words gave me a wake up call.
Even if you have a really, really good excuse to be acting crazy (and pregnancy is a really, really good excuse), it's still not okay to be grumpy, mean, nasty or moody…. In our maddest mommy moments, we tend to turn on the people who love us most.  Instead, turn to Him.  Jesus tells us, 'My grace is sufficient for you, for my power is made perfect in weakness' (2 Cor. 12:9)  How powerful is that?  When we are weak (read: acting crazy), God's power is even more perfect.  And God's perfect power is all you need to get through even the ugliest hormonal messes.

— The Christian Mama's Guide to Having a baby, page 119
I'm sure even Hubby knows I needed this wake-up call . . . but he'd never admit it because he's a smart boy.  This isn't his first "pregnant" rodeo, as the saying (somewhat) goes.  And, he's the one I've hurt the most . . . and the one to whom I owe many apologies, back rubs and hugs.
(and he owes Erin a few "thank you's" for her hand in bringing all of this to my attention)
Erin MacPherson's book is nothing short of honest, humorous, and heart-felt.  It's REAL, not trite.
It was "the" pregnancy book I needed to read. . . and reread (which I've done several times now).
It's the book God used to remind me of so much . . . and to assure me that I *can* do this pregnancy thing and that, despite being hormonal, moody, and insane. I *am* normal.
Well, somewhat normal.
*Erin blogs at Christian Mama's Guide and her book is available through Amazon, Barnes and Noble, and Christian Book.
**Disclosure: I received a free copy of this book in exchange for my honest, personal-opinion-and-hormone-filled review.