It seems I am the proud mother of a little He-Diva.  A high maintenance tyke.  An attention mongering little man.
In other words, Barney Kneeknuckles has very distinct likes and dislikes.
Likes: Mommy's arms, lap, shoulders and milk factory.
Dislikes: Anything that is NOT Mommy's arms, lap, shoulders, or milk factory.
Every moment in his car-seat is a screech fest.  Tummy time on the play-mat is torture (for everyone in the house).  Even Daddy can only provide so many seconds of entertainment and comfort before Barney is clamoring to be back in Mommy's arms.
Even the baby-swing — a futuristic looking, "next best thing to mom" machine — can only give me a break for a few minutes:

Stage One (0-7 minutes): All is well and Mommy gets a bathroom break.
Stage Two (8-10 minutes): Baby realizes Mommy is in the bathroom (or a few feet away taking pictures) and NOT holding him/her.

Stage Three (every second thereafter): I WANT MOMMY!!!!!
(But, those few moments?  Sigh … a chance to visit the restroom, grab another cup of coffee and rest my arms … priceless!)
The mamaRoo swing is the luxury car of the baby swing world.  Instead of imitating a vibrating chair or a standard "to and fro" style swing, the mamaRoo was designed to mimic what moms naturally do when holding  a baby (up to 25 pounds): gently bounce and sway.
Key Features of the mamaRoo Swing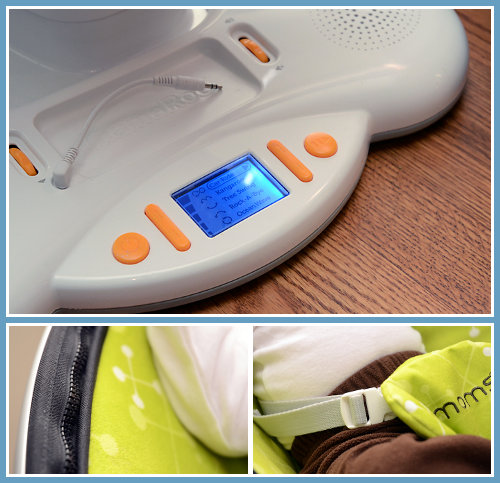 The "claim to fame" of this swing is the fact its movements are similar to the motions we parents make when trying to calm a baby.  We sway.  We bounce.  We move to a quiet, internal beat that slowly bring our children to a quiet state.  And that's what the people behind the mamaRoo were trying to do with this revolutionary swing, through the five movement settings — car-ride, kangaroo, tree swing, rock-a-bye, ocean wave:
Choose from Multiple Speeds
In addition to the variation of movement, you can alter how fast or how slow the mamaRoo moves your baby.  You can slow the swing down for to soothe your baby into rest, or speed it up to stimulate and entertain the baby.
White Noise and Music Device Docking Station
The mamaRoo swing offers five different nature sounds to act as "white noise" for your baby — just one more way to calm your baby's senses as he or she sways in the swing.  But, if your baby already has a distinct taste in music, you can hook up your mp3 player/iPod and play music through the speakers.
Removable Seat for Easy Cleaning
Whether you choose the original canvas mamaRoo or the new plush model, you'll see that it's easy to remove the seat and wash it as needed.  Both fabric seats zip in/out and are machine washable.  If you have the original canvas seat (like my swing — as shown in the first pic below) and want the newer plush fabric, you can do like I did … purchase it separately and then switch them right out.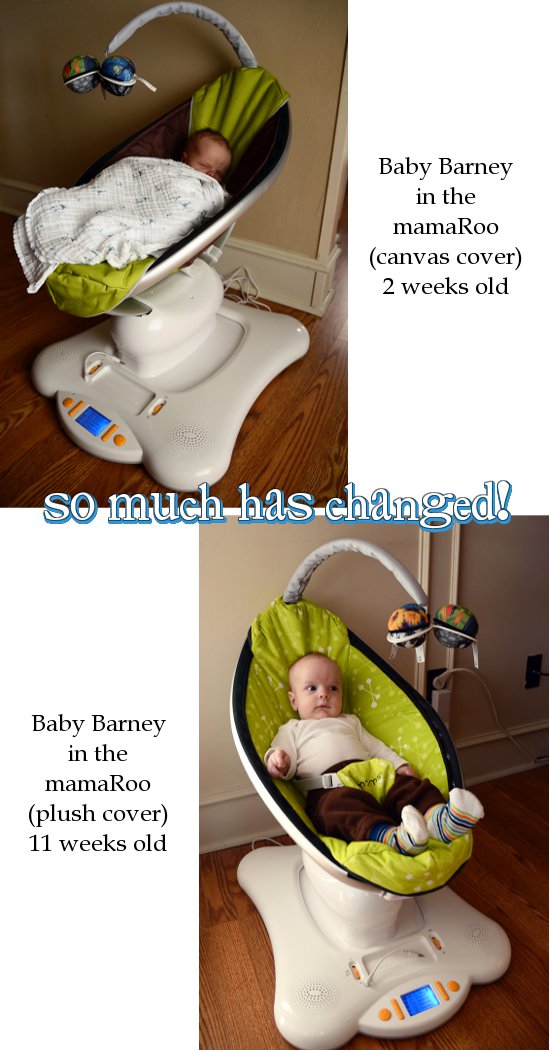 Note:  The button placement is different between the two seats and the new plush seat buttons will not line up with the older model, but the buttons aren't weight bearing — just there to hold the ends down — so this doesn't impact the safety or functionality.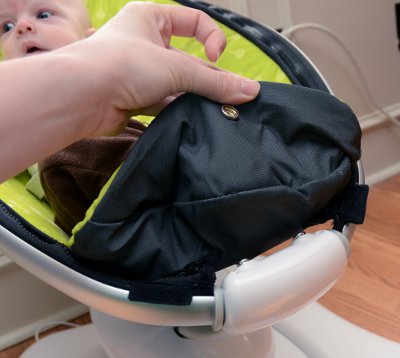 Retail Information:
All models of the mamaRoo, as well as extra bases, seats and toys, are available through the 4moms website.  The original model with a canvas seat sells for $199.99 and the new, plush seat model retails for $239.99.
You can find some mamaRoo swings at stores like Babies 'R Us but the in-store selection is limited.
This Mama's Feedback
Pros
Set-up:  This swing is crazy easy (is that clear enough phrase?) to assemble.  I gave the box to Hubby, went upstairs to get the camera for pictures showing the process, and when I came back downstairs a few minutes later … he was finished and staring at the swing.  We poured over the directions, trying to see if he had missed a step, but he hadn't.  In a matter of a few moments, this swing was assembled and ready for use.
Washable Seat: I love how easy it is to remove the seat and I adore the fact both seats (canvas and plush) are machine washable. Barney has reflux and we've had to wash both sets because of it.  Each one "zips" in and out very easily.
Movement: Even at the highest speed, each movement is still very gentle and a true "sway."  No little baby heads can get tossed around by too much or intense movement.
White-noise: I'm a huge fan of using white noise with babies (we use a tower fan in our room during naps and bedtime to help Barney sleep better).  The ocean sounds on the mamaRoo are my personal favorite and Barney seems to like that one the best too (possibly because it is similar to the noise generated by our fan).
Electric Connection: The cord on this swing is LONG — at least three feet.  I love this because it makes it so easy to move the swing closer to my chair (which isn't close to an outlet).
Cons
Obstruction of Movement: The movement of the swing is generated by the base, sliding the seat back and forth, up and down, etc.  Being so close to the floor, dust and the like (or big brother's "Lightening McQueen Cards") can block the sensor on the base which stops the swing.  Fortunately, the LED display will let you know when there is an obstruction, but it seems to happen frequently.  I dust and check the base a couple of times a day to make sure there is nothing there than can cause a blockage.  Two days ago the swing stopped working altogether after one of the "obstruction" warnings.  Hubby had to take it apart to remove the dust, etc., that had slid in.  That wasn't fun.
Original Model's Canvas Seat: the canvas is a very sturdy fabric and also

VERY

rough and scratchy … especially next to newborn skin.  I tried using a blanket over the seat before putting Barney K. in the swing, but it created a safety hazard because he could pull the blanket over his face.  If you have an original model like mine, you can purchase a single mamaRoo plush seat — which is what I did a few weeks ago.  It's much softer but pricey — the plush seat alone retails for $59.99 (but is currently on sale for $39.99).
The Mobile: The toy balls (on the original model) depict full color and black and white version of iconic artwork are soft and, according to my two year old, fun to play with.  But, they don't capture Barney K.'s attention at all and the overhead hook that holds them out in front of him won't stay put!  It appears that it is supposed to snap into place but ours doesn't.  It ends up falling out with the slightest movement, so the majority of the time I just keep it off.
Motor noise:  at the higher speeds, the motor is loud "hum".  It isn't necessarily distracting but you do have to crank the white noise up quite a bit to hear it over the motor.
For what little time Barney K. will tolerate being in the swing, I'm fairly pleased with it, especially now that I have purchased the plush fabric seat.  His tolerance of it has gotten better the closer we have gotten to the three month mark … heck, EVERYTHING is getting better now that we are so close to twelve weeks.  He's even letting me have a "few" minutes in the car without the glass-breaking screams he normally lets out the entire time we are driving.
I can handle these baby steps.
* As he ages, I will update this review to reflect his satisfaction and our use of it with an older infant.
Interested in trying the mamaRoo swing with your baby? Starting Thursday, November 10th, you can enter my giveaway where the winner will receive the mamaRoo swing of his or her choice!  (ends 11/30, at noon CST)
p.s.  Don't be too worried about the pics of Barney K. crying . . . it didn't last for long.  Daddy was standing by!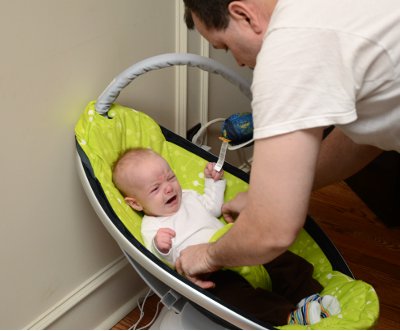 Disclosure: I received an original model mamaRoo swing to facilitate this review.  Opinions expressed are my own and not influenced by anyone else.