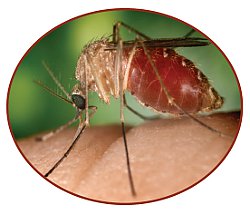 Over the past week, I've talked about mosquitoes.  A lot, right?
I know, I know — enough with the mosquito talk, but not… just … yet.
Why? 
Well, did you know that 2012 is predicted to have some of the largest numbers of mosquitoes in recent years?  Yep — and you can thank the nation-wide mild winter for that.  Fewer freezing temperatures in the winter mean more and more bugs in the spring and summer.
And, did you know that mosquitoes carry a whole host of diseases including West Nile, Lyme Disease, Malaria and many, many more?
Did you know that mosquitoes can detect an unprotected area of skin … even an area no larger than a dime?
Mosquitoes aren't just a nuisance; they are dangerous.  If you are willing to take the time to protect your family with sun-screen (and most are), then you have the time (and need to take it!) to protect your family from mosquitoes.
Over the past few years, we have tried countless measures to fight mosquitoes, including this giant, propane-run machine that sits in our backyard.  It catches a handful but it doesn't get them all and it does nothing to deter the bugs from entering our yard.  So, when the kidlets come in from playing, it isn't long before I notice them scratching.
(The Little Lady is especially attractive to mosquitoes and will have huge welts from the bites. )
The Cutter products we have been using the past few weeks have given us (without a doubt) the best protection against mosquitoes — in fact, right now, we are STILL mosquito free from using the yard & deck sprays and foggers.  STILL!
When it comes to personal protection against mosquitoes, the

CDC recommends

the following:
Use repellent and spray it on your skin and clothes, using your hands to spread it (ensuring good coverage).
Pay special attention to those "peak" biting hours around dusk and take more precautionary measures.
Eliminate any standing water (in old flower pots, toys, etc.) that isn't necessary.  Keeping your gutters cleaned and changing out bird bath water is also a good practice for mosquito prevention.
Make sure your window and door screens are in good working order to keep the pests out of your house.
How can Cutter protect you from mosquitoes?
Cutter has a 1-2-3 Approach to fully protect you, your family and your yards from mosquitoes.
Step 1– Blanket the backyard with Cutter sprays and foggers.
Mosquitoes are killed (as are fleas)
Offers mosquito control for up to t8 weeks
Treats up to 5,000 square feet.
Step 2 –Offer one more bit of outdoor protection with Cutter CitroGuard candles.
Perfect for entertaining
Easy to use and come in a various sizes and colors
Made with real citronella oil, which is proven to repel insects
Cutter CitroGuard candles are the only EPA-registered citronella candles.
Step 3 — Use one of Cutter's personal repellent options for complete protection
Cutter Natural Insencts Repellent uses essential oils from lemon eucalyptus and geraniums — natural mosquito repellents.  (The University of Florida has determined geranium oil to be a safe alternative to DEET for those who wish to avoid it)
Cutter Dry Repellent is a water-based, corn start formula that has less residue than traditional sprays.  It contains 10% DEET and repels for hours.
Both repellents are child-safe.
We used the 1,2,3 approach for our party and, as I have shared, we enjoyed a bite-free good time.  It was amazing . . . I mean, this is HOUSTON.   City of mosquito plagues!!!  And we didn't have any bites!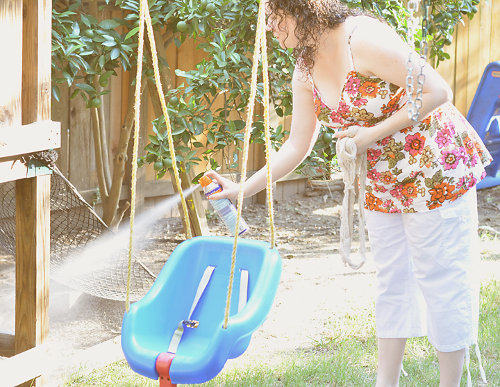 (using the Cutter Fogger — just before guests arrived — as one more layer of deterrent against mosquitoes)
I am wholeheartedly a Cutter brand fan now . . I have no other choice after seeing how well it is protecting my children this summer from the nuisance and pain of mosquitoes.
And, yes, Cutter is now a part of our daily regime . . . right up there with brushing teeth and applying sunscreen.  One more layer of defense to ensure my Kidlets have a safe, healthy and happy summer.
Disclosure: I am working on a Cutter campaign and was provided product to fascilitate my review; the opinions I have expressed in my posts are 100% honest and my own.  I truly love this brand!