Last week, for the first time in a loooong time, I let the Kidlets stay in the kitchen, "helping" me bake our Lemon-Berry Cheese Danishes.  I'll be honest — it wasn't an ideal, June Cleaver and Beaver kind of time every single second.  There were moments of laughter and silly faces . . . and there were moments of spilled flour and stress.
But, the frustration and stress were silly on my part; my kids NEED to be in the kitchen with me, learning how to read . . . learning math . . . learning how to be creative . . . learning how to be healthy . . . learning about food.
And I need to be learning how to show grace.

That was the missing ingredient that day for Mommy.  Grace.
(Did I mention it had been a bad day that day?  Ever get those?)
After talking with the Little Lady and Mr. Boy about our kitchen day, I discovered, despite my expressed frustration, they still had fun.  Fun with the food, each other and –yes, even with Grumpy Mommy.  We decided to have a little cooking session once a week . . . one on one.  Mommy and the Little Lady OR Mommy and Mr. Boy.
'Cause, as we discussed on my Facebook page — cooking one-on-one is a heck of a lot easier than adding all the kidlets into the mix.  It just is.  Plus, this will allow me some weekly, intentional moments with each Kidlet — something that has been missing since the arrival of Barney Kneeknuckles.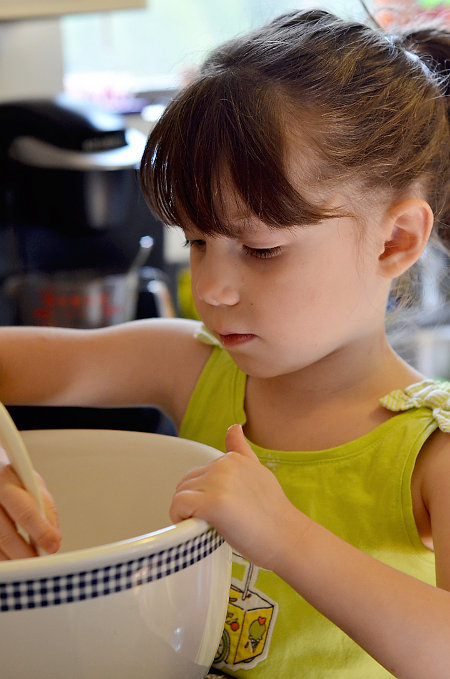 So, first up was the Little Lady and we made a new recipe from an old, kids-cookbook my Mother gave me.  It was one of those spiral bound, in-house kind of books she purchased when she was working at her local elementary school. Just like those great "church cookbooks" where everyone submits their favorite old recipe that was handed down from mother to child to grandchild.  Or, with like my family — from grandma to aunt to great-aunt to nephew to cousin to daughter.
We like to cook in my family.  We just can't help it.
The Little Lady's drop biscuits are incredibly simple and egg-free . . .  so if your child likes to sneak bites during the mixing process, you won't have to worry about salmonella or anything nasty like that.  Woo hoo for salmonella-free kidlets!!!!!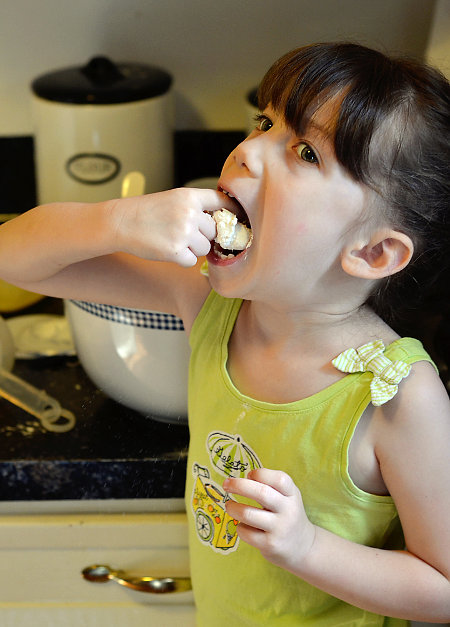 Since she can't type, the Little Lady decided to make a vlog explaining how to make her biscuits.  As you watch it, be kind … she's only four.  And hyper.  And silly.  And, yes, likes to climb and jump all over the furniture.  We're working on that.
[print_this]
3-Ingredient Drop Biscuits
Ingredients
1 Cup Self-Rising Flour (see notes)
1 Cup (8 ounces) Sour Cream
1/2 Cup (1 stick) Melted Butter
Directions
Preheat your oven to 450 degrees and spray a mini-muffin tin with oil.  Set aside,
In a large bowl, mix together the three ingredients, stirring well.
Place about a tablespoon of dough into each of the cup in the muffin tin.  If you need a little more dough to completely fill the cup, adding more is ok.
When you have filled the pan, place it in the preheated oven and bake for 10-15 minutes or until the biscuits are golden brown.
Serve hot and enjoy!
Variations:
Prior to baking, sprinkle cheddar or asiago cheese on top of the dough.  Bake as directed.
Frozen blueberries are also good; they can be placed in the dough or on top.  Bake as directed.
Notes:
Don't have self-rising flour?  Make your own!  For every 1 cup of Flour, add 1 and 1/4 teaspoons of baking powder and 1/4 teaspoon of salt.
https://followinginmyshoes.com
[/print_this]
(recipe linked with Kids in the Kitchen)