Before I was a Stay at Home Mom, I was an English Teacher.  A silly, silly English teacher who went all out for Spirit week . . . becoming the ultimate geek and the fiercest pirate.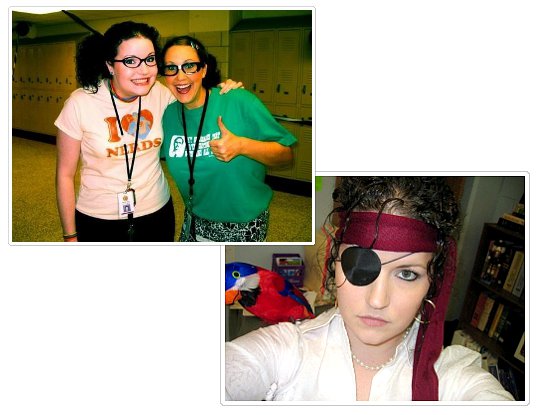 But, before those teacher-days, I was something else.
I was a ghost.  A teapot.  A preacher's wife.  An unwed mother.  A resident of London's White-Chapel district.  A bossy, Jewish mother.  A milliner.  An angel.
I . . . was in . . . community theater.
Years and years ago — wayyyy back in college — I started out as a musical theater major.  A singer with the lights of Broadway in her eyes.  But, I lacked the confidence to see those dreams to the end.  And so, after awkward moments of self-doubt, I decided to change my major for my other love: English Literature.
Writing was safe.  As a writer, I could put distance between me and the world.  No more living on a stage and under a spotlight. I was done.  My years as a song-bird were over — so I thought.  And, while I missed singing and missed the dreams of a musical career, I was too timid to change.  I gave into my fear of failure and accepted a new life.  A new path.
After graduation, I packed up my college kid life and moved to College Station, Texas, ready to take on being an adult with a real job.  It was hard being on my own, hours and hours away from friends and family.  I was lonely and more than a little homesick.  I belonged to no one in this new town.
It was a coworker who told me about their Community Theater, assuring me it would be a great way to meet people and a way to fill my time.  But, theater?  I was done with that life — I wasn't good enough or strong enough or confident enough for a life on the stage.  I had decided I wasn't!
But . . . part of me wondered. Was curious.  Wanted to know if I really had made the right choice to change my major (and, by extension, life plan).  So, a few weeks later, I walked out on the black painted stage of an old movie theater and I began to sing my audition piece.  Instantly, I was hooked and back in the life I thought I had left.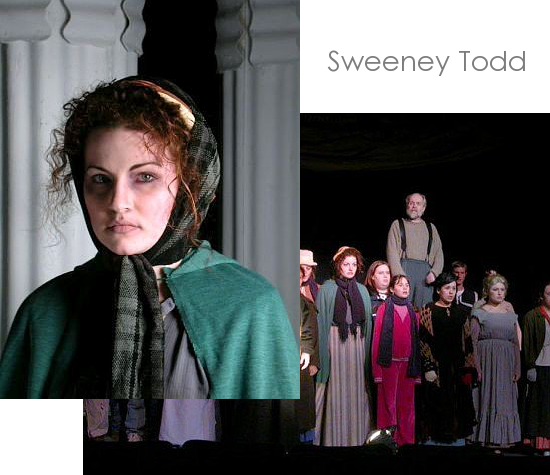 Night after night I warmed up my vocal cords, coaxing them out of retirement and back in the four-octave range they had once possessed.  I dusted off my box-step and reminded myself that stage-right was really left and up was down.  I joined other wannabe actors and actresses, putting in my hours painting sets and organizing costumes for the end result of presenting a show to our little community.  Performances where we would take the stage, whispering and trying to peak around the curtain for glimpses of what the house (audience) looked like.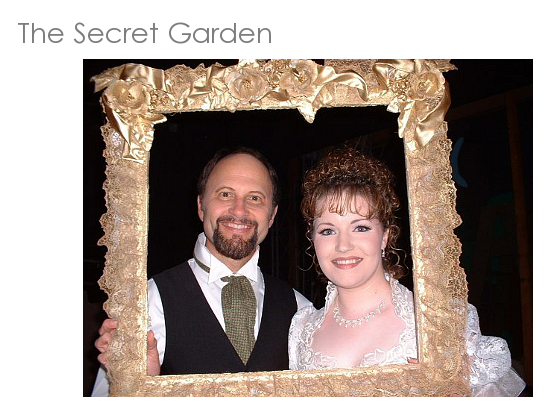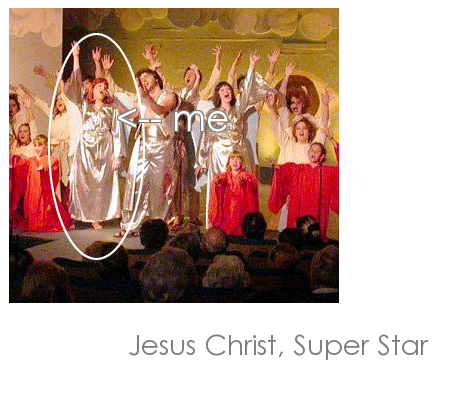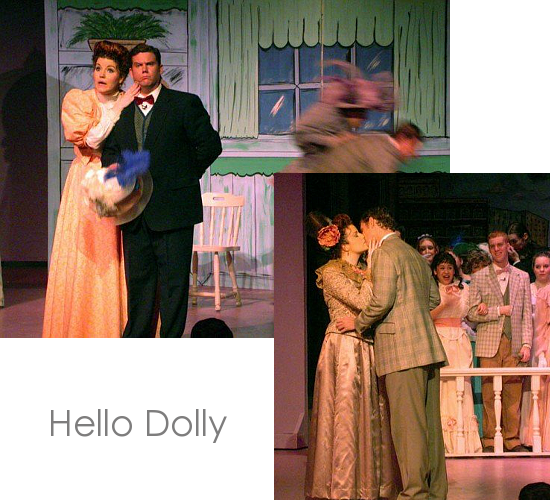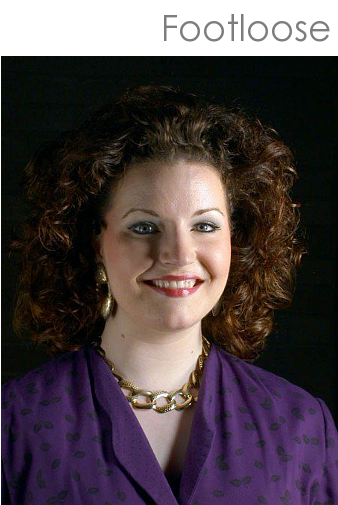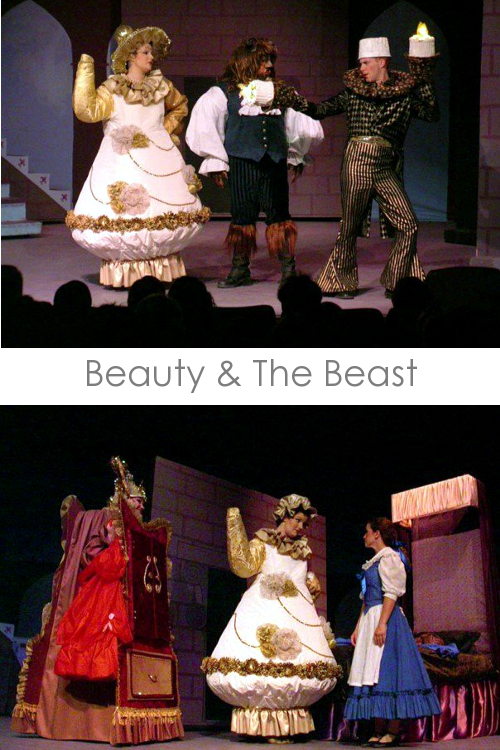 With each show, a little more confidence anchored my feet to the stage.  I was able to handle roles that had once been the "if-only" roles.  If only I had stayed a music major.  If only I hadn't been intimidated.  If only I had gone on to New York . . . if only I had kept singing, I might have had these roles as a professional.
Little did I know, I was on my way to gaining more than confidence and about to acquire more than the next plum role.  I was just a few moments in time away from seeing a West Texas boy take the stage.  A boy with sky-blue eyes and a quirky smile.  He was "Dancing Waiter #2″ in Hello Dolly.
And the first time he winked at me when he was supposed to be concentrating on dance steps — I fell in love.
F-I-V-E months later, we were married.
It was only then, after walking down the aisle with my boy, that I realized the truth.  I wasn't destined for a life under the neon-lights of Broadway.  I was destined for this life — a life with my winking West Texas Boy.  And, a few more years down the road, a life with little blue and green-eyed people.  Kidlets who now listen to me sing lullabies and nursery rhymes.  My new captive audience.
 * * * * * * * * * * * * * * * *
And that, folks, is my story.  My "betcha didn't know that" tale.  We all have those stories — those secrets or unknown facts we don't parade about.  They're just the little pieces of us.  No biggie, right?
I recently learned that GoDaddy (yes, THAT GoDaddy) has its own "betcha didn't know that" aspect to its company.
Did you know . . .
Did you know Go Daddy works around the clock to keep children safe online? Cyberbullying and illegal online pharmacies are just a few of the issues Go Daddy works to combat. Driven by the belief that the Internet should be safe for everyone including children, Go Daddy has helped pass both the Ryan Haight Online Pharmacy Consumer Protection Act and the Protect Our Children Act of 2008.
I'm sure there's a lot you don't know about Go Daddy, including all the tools they have for bloggers! Check out www.godaddy.com to learn more!
Now . . . join the conversation for your chance to win 3 year Unlimited 4GH Hosting from Go Daddy!
This is a sponsored conversation written by me on behalf of Go Daddy. The opinions and text are all mine.