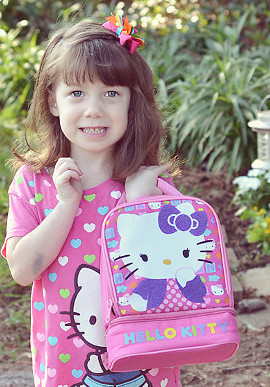 All of the Back-to-School talk flying around everywhere has done nothing but ramp up the excitement in this house and make Mama a little nervous.
We are still holding with our decision to let the Little Lady wait another year before starting Kindergarten but, lately, I have been fighting with myself over whether or not it is a good decision.
(Does she really need more time?)
When I was teaching here in Houston, I took my students' education very, very seriously but I never understood the stress of education from a parent's point of view.  I taught ninth grade English and Pre-AP English — the parents with whom I interacted were well past the "worrying about Kindergarten" stage  . . . they had their heads burdened with math tutoring and GPA ranking.  These parents had to worry about how to support their students' needs for sleep and rest while juggling all of the clubs and extra-curricular activities that look good on a transcript.
And here I am just trying to decide whether or not Kindergarten is the way to go. . . trying to crack the secret to making my own "Nutra-Grain" bars . . . and attempting to find the best back-pack for little shoulders.  Trivial?  Perhaps but still stressful.
It is so crazy how different the educational arena is on the parental side of the stadium, even here in the preschool and kindergarten stage.  It is fun looking for the perfect First Day of School outfit, but choosing the perfect preschool program feels as daunting as picking the best tutors in Houston.
Houston Tutoring

If you are dealing with the older student crowd and in need of highly rated and credentialed tutors in our area, consider looking into Varsity Tutors, a nationwide company whose Houston branch was deemed "Best Tutoring Company" two years ago by our Houston Press.
Their tutors are highly educated or, in some cases, in the midst of working on advanced degrees
They are available to provide private tutoring on any subject and for any college admission test.
There is no need to drive all over Houston trying to make a tutoring session.  Varsity Tutors will come to you (your home or the location of your choosing)!
Wonder if there is someone there who can help me solve my Kindergarten-Or-Not dilemma. . . or anyone who covers Sharing?  Mr. Boy could use some extra help on that subject.
disclosure: This post was sponsored on behalf of Varsity Tutors.  Any opinions expressed (and not directly quoted from an outside source) are my own.