A favorite around here since I first placed mango slices in the Little Lady's mesh "baby" fruit feeder, mangoes are a year round staple in my kitchen.  They're cheap and versatile, easily added to smoothies or diced for a quick, palate-cooling salsa to pair with a spicy Chipotle Quinoa.
But there is more to mango than sweet soft fruit.  At only 100 calories per cup, mangoes are a diet-friendly way to get 100% of your daily recommended vitamin C, 35% of your daily recommended vitamin A and 12% of your daily recommended fiber!
That's right — this could nearly be called a power fruit!
As I gear up for the back-to-school season, brainstorming lunch and snack ideas, I love turning to mangoes for a healthy, whole-foods way to get vitamins into the Kidlets.  Last week, I handed the kitchen tools over to the Husband and let him and the Little Lady whip up Turkey and Mango Skewers.

(as this video proves, ANYONE can cut up a Mango! For tips or video how, along with recipes, visit the official Mango website. Yup — this fruit has its own site!)
Is there a recipe for these?  Um, no — it is simply cubed mango and deli-turkey on child-safe skewers.  I think everyone can figure that out without a recipe.
But, I DO have something else for you.  I used the leftover diced mango from our snack to bake some Spiced Mango Muffins for breakfast the next day.  THESE were a HUGE hit with the kidlets.  I think Mr. Boy ate three.  But, then again, he is a bottom-less pit in the mornings and nearly eats me out of house and home by 9 am each day.
(sigh … and he's only 2!)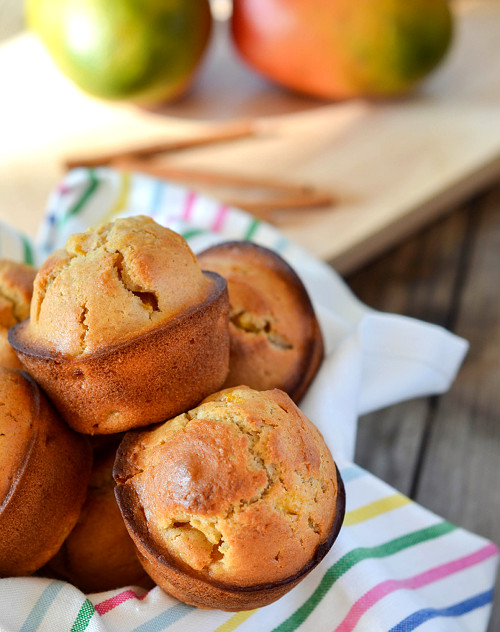 I pulled some of my favorite fragrant spices for this muffin: cinnamon, cardamom, and nutmeg.  I had my fingers crossed they would work well with the sweet mango, without overpowering the fruit.  And work well they did!
A Word to the Wise: don't get stuck in a Facebook warp while baking … or you might end up with slightly over-done edges like my muffins have.  Thankfully, I remembered I was supposed to be cooking — just in time — and pulled them before the rest of the baked good darkened.  But, no worries — they were still amazing and gobbled up by Mr. Boy.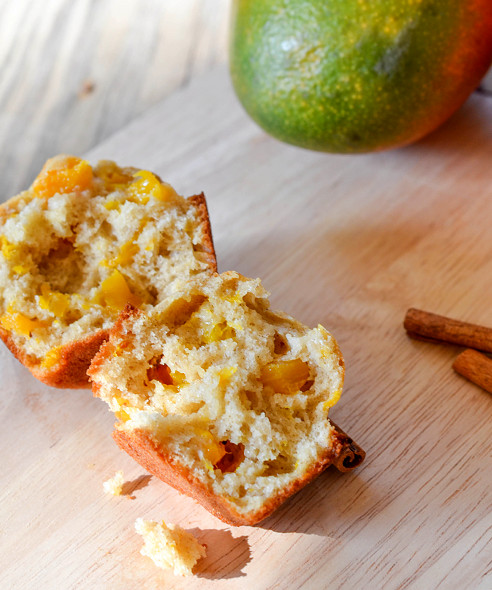 Spiced Mango Muffins
Fresh Produce and YOU
Interested in receiving a cookbook of family-friendly Mango recipes?  How about a case of Mangoes and a $200 gift card to Williams Sonoma?
Then, share how YOU and YOUR family find ways to enjoy fruits and veggies.
The National Mango Board challenged me to spend a week creating healthier eating and snacking habits for my family. Join the conversation and one of my readers will receive a cookbook and a chance to win a shipment of mangos and $200 gift card to Williams-Sonoma.
This is a sponsored conversation written by me on behalf of National Mango Board. The opinions and text are all mine. Official Sweepstakes Rules.