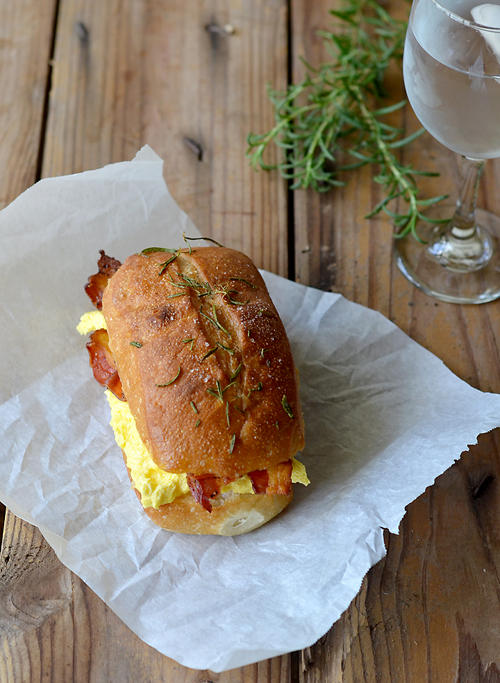 A few months ago, our family had a horrible, no-good, very bad day.  ALL of us, individually and collectively, were grumpy and completely over everything that had happened that day.
As night time drew near, my Husband and I made an executive decision: the Kidlets were going to bed early.  There were no ifs, ands, or buts — they were all bathed and tucked in an hour early that night.
Very drained, the Husband and I fell back onto the couch, silent and spent . . . and realized a few moments later, thanks to a couple of grumbling tummies, that we had not taken time to eat.
Neither of us was in the mood to cook but I dragged myself to the kitchen — and this sandwich recipe was born a few short minutes later.
It's the easiest of easy recipes that packs a punch of flavor: crisp bacon, fluffy eggs, crusty bread topped with sea salt, freshly cracked black pepper, olive oil and rosemary.  Simple, simple flavors but they are my favorites.  Comfort food in minutes.
And, one of the best aspects of this recipe is that the bacon is cooked in the oven — which, if you haven't tried it, is a SURE-FIRE way to get perfectly crisped bacon without all the grease and smell hovering in your home.
Bacon in the oven?  Oh, yeah.  It's doable and awesome.

When I was presented with this year's H-E-B and Con Agra Meal Maker Challenge, I knew my egg sandwich recipe would be perfect for the Egg Beaters Challenge.  Aside from salt, pepper and cooking spray (which are "freebie" ingredients in the challenge), there are fewer than 7 ingredients and you can make the sandwiches in under 30 minutes.
PERFECT for those busy school nights when you just want to quickly feed your family, put your kids to bed and pick up what fragments of your sanity you can find . . . oh, wait.  Is that just me?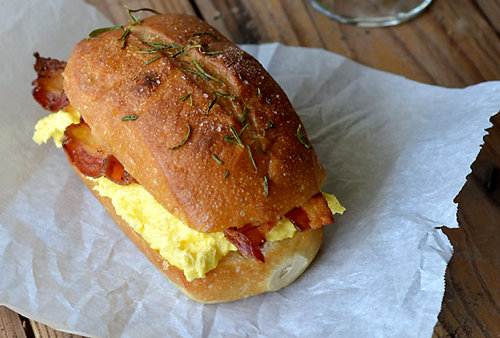 With this first recipe, the H-E-B and ConAgra Meal Maker Challenge is officially LIVE — it's time to VOTE for your FAVORITE (ahem … we all know which one, right?) challenge recipe.
At the end of the month long challenge, the two bloggers with the most votes will face each other in a live cook-off. Squeal!
As you can see, this week's featured ingredient is Egg Beaters, so all ten of the bloggers participating have created recipes around this item.  Lots of scrumptious recipes, I'm sure!  And, for even more recipes and meal ideas, you can follow H-E-B on Facebook or check out Ready, Set, Eat! on Facebook, a site dedicated to family-friendly recipes that can be made in 30 minutes or less.
After you pick some recipes to add to your Back to School menu rotation, head over to H-E-B and grab their latest in-store coupon:
Buy Egg Beaters, get tortillas FREE with in-store coupon (now through August 14)
disclosure: I have received promotional items and compensation for my participation in the challenge and to assist in the creation of my recipes.  Any opinions expressed are my own.