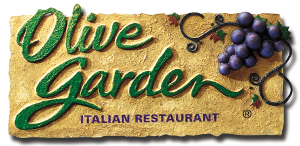 Sometimes, when you're pregnant, you get cravings.
(we've talked about this before, remember?)
Sometimes, no matter what you tell yourself, nothing will satisfy those cravings like hot, garlicky breadsticks, crisp salad, and Tirimisu.
I'd include Manicotti in that list but, alas, the last time I checked, you can no longer get that particular dish at one of my favorite, family-friendly Italian restaurants.
Of COURSE, I'm talking about Olive Garden — an Italian restaurant that's pretty much an American institution these days.
Even my younger sisters, none of whom are currently pregnant, get Olive Garden cravings; it was the first "real food" my sister ate after giving birth to her daughter a few weeks ago. She HAD to have it.
Hmmm … maybe it's not necessarily a pregnancy craving but a sisterly thing?
Olive Garden Celebrates a New Tuscan Design
Here in Houston, three Olive Garden restaurants are giving locals the chance to experience something new: complimentary wine tasting events in honor of the new "Tuscan" inspired designs of these restaurants.
During the wine tastings, guests will get a chance to experience the restaurant's design refresh, inspired by the timeless warmth of farmhouses in Tuscany, Italy. Although design changes differ from restaurant-to-restaurant, some updates include new décor around the restaurant and in the bar area, including tables, chairs and booths that emanate the warm, rustic tones of a Tuscan farmhouse.
Houston Olive Garden Wine Tastings
Led by Olive Garden's wine specialists, the wine tasting events will further educate guests about Italian wines, including their origin, body style, aroma, flavor/finish and foods that pair well with them. The wine tasting events are for patrons 21 years of age and older.
(The way Mr. Boy is acting these days, I'm jealous of everyone who isn't pregnant and can enjoy a little wine.  We're in the middle of two year molars here.  Ugh – there are days I neeeeeed wine… or, at least, chocolate.)
On June 7th and June 8th (from 6 p.m. to 8 p.m.), you can visit one of three locations for dinner and the wine tasting:
10830 N.W. Freeway, Houston, TX, 77092
7525 FM 1960 W., Houston, TX, 77070
10212 Emmett F. Lowry Expressway, Texas City, TX, 77591
Olive Garden Giveaway — now closed

Whether you're in Houston or elsewhere, YOU can enjoy some yummy food courtesy of Olive Garden!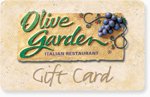 One reader will win a $25 Olive Garden gift card . . . perfect for a date night, girls night, family night . . . or to treat yourself to a few of your favorites at your local Olive Garden.
To Enter:
Leave a comment sharing your favorite Olive Garden menu item, whether it's a new or old selection.  I love hearing about food!
Bonus Entries:
(complete any or all of the bonus entry options for more chances to win — please leave ONE comment PER bonus entry)
Subscribe to Following In My Shoes by reader or email.
"Like" Olive Garden on Facebook (they offer coupons and specials through their Facebook page!)
Follow Following In My Shoes on Google Friend Connect.
Follow me on Twitter AND tweet about the giveaway. Please leave the URL to the Tweet in your comment. You can tweet up to twice a day but

remember to leave the URL to each tweet

.  Feel free to use my "Tweet Button," found at the top of this post, to send a quick and easy tweet.
Giveaway ends at noon on June 16th, 2011.  Winner will be chosen using the random winner generator, "And The Winner Is."  I will notify the winner by email and he/she will have 48 hours from the date the email is sent to confirm his or her win.  In the event I do not receive a confirmation by the deadline, another winner will be chosen.
Disclosure: The views and opinions expressed on this blog are purely that of the blog owners. Any product claim, statistic, quote or other representation about a product or service should be verified with the manufacturer or provider. I was given an Olive Garden gift card to thank me for my time.  Yep, I get to eat too!