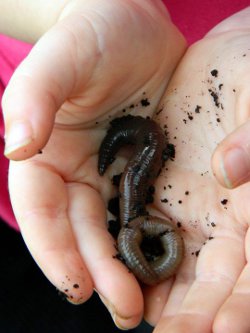 If you have a child like mine, worms are fascinating and fishing is the best. thing. ever.
While we were in Oklahoma with my family, my youngest sister (a former tomboy herself) and the Little Lady talked my dad and grandfather into a fishing trip.
And, being good dads/grandpas/great-grandpas, they obliged.
Now, back home in Oklahoma, we have three choices for fishing: ponds, rivers, and lakes.  My grandfather, who seems to have bred a family that loves to fish, keeps his ponds stocked with catfish and bass.  Whenever we want to fish, that's where we go.  It's easy and a fishing license isn't required.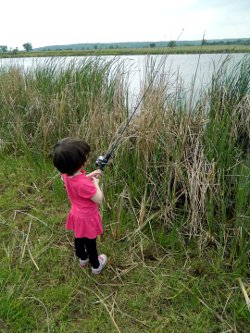 Here in Houston, there are also lots of local fishing locations: bayous, ponds, lakes, and of course the gulf.
Normally, you need a fishing license to fish from any of those waters . . .but not this Saturday!!!!
June 4-12 is National Fishing and Boating Week . . . also known as TAKE ME FISHING WEEK.
(and we're just a wee bit excited about it!)
Starting Saturday, June 4th,  37 states will hold free fishing days through June 12th; on your state's free fishing day(s),  anyone can get out on the water and fish without needing to purchase a license!
In addition to the fishing, many locations will be hosting fun events like regattas, fishing competitions and more to celebrate National Fishing and Boating Week.
Never taken your family fishing?  Check out TakeMeFishing.org.  Not only can you look up your state and see what days will have free fishing, you'll also find a ton of info, tips and tricks for boating and fishing.  They also have a mobile site you can access WHILE you're on your fishing trip.
If it turns out you and your crew love fishing, the license you buy (or boat registration, fuel, or bait & tackle) puts money back into local conservation efforts . . . helping ensure EVERYONE continues to enjoy the fun and our natural resources don't suffer.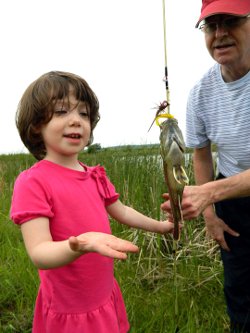 We'll be heading out this Saturday (Texas's free fishing day) toward Galveston to try our hand at gulf fishing. . . and, since this preggo mama is in the 3rd trimester and feeling just a bit hot (ALL DAY LONG), we'll take some time to splash in the salt water.
BUT . . . just so you know, if you're in Texas and already have plans this Saturday, you can STILL fish for free in our State Parks.  Yup . . . I didn't know it either, but it turns out that State Park fishing is free all year long,  Woo hoo!
(if you're not a Texan, check with your state's Parks and Wildlife Department to see if they offer free fishing in your state parks)
I'll let you know how our fishing adventure goes . . . I'm sure it will be a piece of cake to take a 3 year old and a 1 year old out with live bait and poles.
Yeah . . . piece. of. cake.
P.S. Starting Friday, June 3rd, you can enter a video contest on the Take Me Fishing Facebook page.  The grand prize winner receives an all-expenses paid vacation for four to one of four amazing locations!
Disclosure: I received no monetary compensation for sharing this info, but I did receive a fishing pole set and other equipment to help my kidlets enjoy Take Me Fishing Week.  Any opinions or stories shared in this post are completely my own.