We switched the kidlets' rooms this weekend.  The Little Lady moved into our guest room and Mr. Boy moved into the Little Lady's old room.
In addition to the new rooms, the kidlets received new color schemes and new "big kid" beds.  And the ol' crib stands alone.
Now we have to figure out "what next" for this crib.  We inherited it from a sweet friend after we found out we had been matched with the Little Lady's birth mother.  It was a solid crib in good condition.  Eighteen months later, when we found out there was a BIG surprise in my belly (called "Mr. Boy"), we got the crib ready for the new baby brother.
B-U-T, since then, drop-side cribs have been recalled.
I'd say it's time to splurge for a new crib.  Well, not exactly SPLURGE — we're talking about our 3rd child here.  Numero Three means (more than ever) we need to be budget-conscious.
We've talked with friends who will let us use their newer, safer crib and we have also looked online for cheap cribs.  And, as is par for the course, I have too many choices.

Yeah, after browsing all the main baby furniture sites, including a new one for me — babycribstation.com — I'm left torn.
It doesn't help that we STILL don't know the gender of Numero Three; it's hard to choose a baby bed when you don't know if you need something more masculine or more feminine.
Although, this one is cool enough I could probably use it for boy or girl, depending on what bedding set I chose.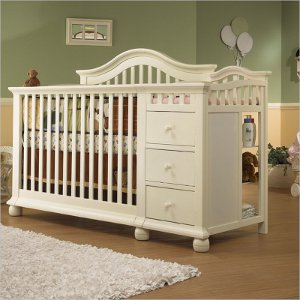 Sigh . . .
I really need to get another ultrasound and figure out what the heck kind of baby I'm growing.