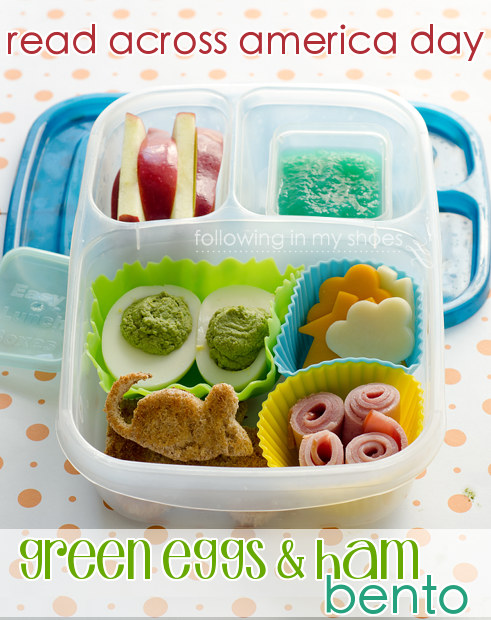 Simple Green Eggs & Ham Bento (in an Easy Lunchbox System):

Pesto Deviled Eggs, Tree and House Shaped Cheese, Black Forest Ham, Train and Mouse Toast, Blue Ocean Applesauce, Striped Apples.
March 2nd was the day Dr. Theodor Geisel was born — the man we all know as Dr. Seuss and who is responsible for bringing the Cat in the Hat, Thing 1 and Thing 2, the Lorax, Star-Bellied Sneetches, and innumerable other characters whose colorful and precocious faces pop in and out of over 46 children's books.
Hop on Pop was the Little Lady's first "favorite book" when she was a wee mite.  We read it over and over and over and over … and over again.  It was the first book she memorized and the first book we couldn't skip around in an attempt to shorten story time.  The Little Lady caught us each and every time, reminding what word or sentence was supposed to have come next.
Green Eggs and Ham is her second favorite but Mr. Boy's VERY favorite.  And, for three years in a row now, I've had to make a "Green Eggs and Ham" bento.  Regardless of other suggestions I throw their way, the Kidlets think the idea of eating green eggs and ham to be the most HILARIOUS idea ever.
So … for the 3rd year … I had to make a Green Eggs and Ham Bento for our celebration of Dr. Seuss and Read Across America Day. This, year, instead of just focusing on the green eggs, I tried to include edible images from the book — just a few of the phrases that make my Kidlets giggle.
Would you like them in a house? Would you like them with a mouse?

You may like them, you will see.  You may like them in a tree!

A train!  A train!  A train!  A train!  Could you, would on a train?
As we all know, Sam I Am and all the characters end up in the blue ocean, where finally Dr. Seuss's critter agrees to try the Green Eggs & Ham … and to his surprise, he discovers he likes Green Eggs and Ham.
(Rather ironic that the book about a picky eater is Mr. Boy's favorite book.)
If you want to find a few ways to celebrate National Read Across America Day this weekend, you can check out my Dr. Seuss/Read Across America Pinterest board for printables, games, activities, and edible creations. And, this Friday, Bento Bloggers & Friends will be hosting a ginormous Seuss linky for all Seuss-tastic bentos and Kid Food.
What's your family's favorite Dr. Seuss book?
I Heart Lunch!!
I adore getting inspiration and ideas (and even "THAT'S how you do that" moments) from others out there … so let's share with one another with the "I Heart Lunch Weekly Link-up."
You can link to any kid-lunch/bento or family-friendly recipe on a blog post or via flickr photos — this linky is for any kind of healthy school lunch and kid-food, regardless if it is Bento-style or not. I want to celebrate our efforts to provide good and enjoyable school lunches for our families!
My only request is that you either add a link back to this post or include the Lunch Graphic (which links back) to your post so others can get here to view the linked lunches too!
Link up your school lunches and bentos!  Please use a permalink for your post rather than linking your general blog/flickr account URL — this will help people go directly to your fabulous lunch!
Now — link 'em up!