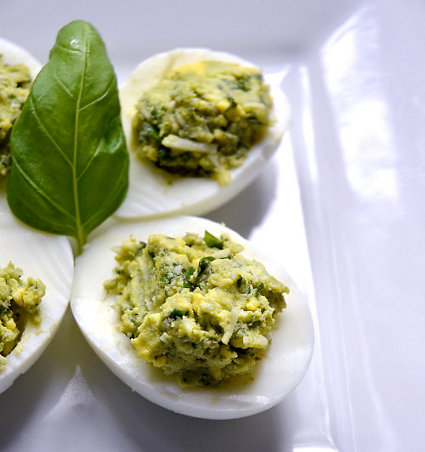 If you haven't noticed from recent pics of the kidlets in their matching "Cat in the Hat" shirts … or from our fan-TAS-tic Halloween costumes this past year …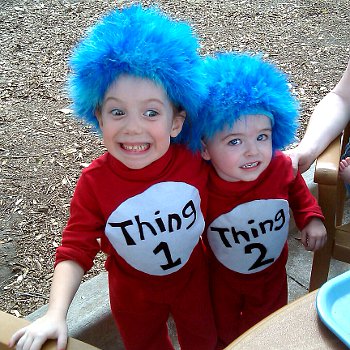 We are fans of Dr. Seuss.
March 2nd, in celebration of Theodor Geisel (also known as Dr. Seuss), is Read Across America Day.  Not coincidentally, the movie version of Dr. Seuss' book, The Lorax, is also set to come out that day.
And we're ready with a Green Eggs and Ham Bento.
Last year for Read Across America Day, I tried my best to make a  bento representing several of Dr. Seuss' books … and failed miserably thanks to the most disgustingly green meal ever.  EV-ER!  I used probably a gallon of green food coloring to dye hard boiled eggs and a slice of ham… into a very unnatural shade of forest green.
Unappetizing and heavy on the unhealthy side thanks to all of the food coloring.
This year, I knew I still wanted to make a themed bento for the kidlets … but I wanted to to be MUCH healthier.
Enter: Pesto Deviled Eggs
The inspiration for these eggs came from a bunch of fresh basil that I needed to use quickly before it crossed over to the other side.  As I worked the Little Lady's lunch last week, it dawned on me that a pesto could naturally color an egg yolk.
People — I swear there were angels singing (in my head, at least) as I reached that revelation.
Pesto Deviled Eggs … why, oh why hadn't I thought of this before?  And, in place of ham, I grabbed some nitrate-free bacon from the fridge and baked it in the oven (my new favorite way to prepare crispy bacon).
Badda Bing, Badda Boom — I had my Green Eggs and Ham, albeit a somewhat loose translation.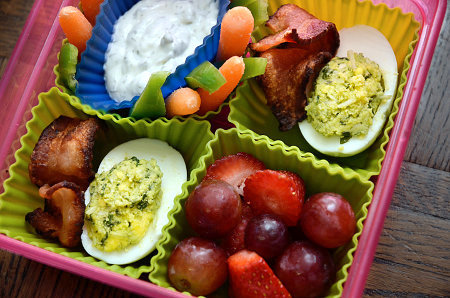 But, would the eggs taste good?  Being a good mama means you are THE taste-tester, so I gingerly sunk my teeth into one.
The angels sang again.
The perfect ratio of pesto to eggy goodness.
Sigh...
[print_this]
[/print_this]