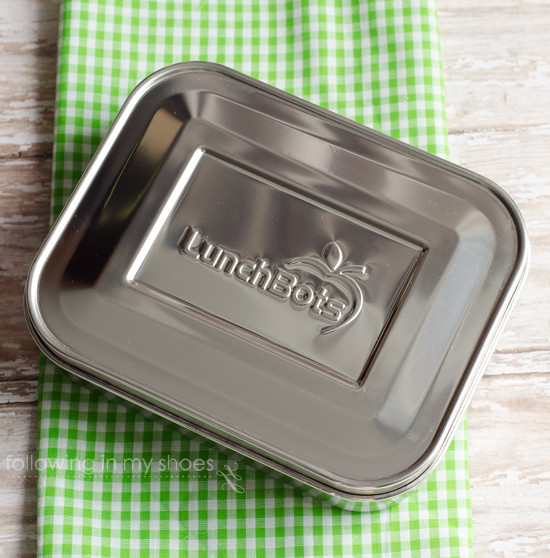 It's nearly time for bleating school bells and the woody, slightly charred smell of freshly shaved pencils and — of course — school lunches.
I'm not the only mother in the United States concerned with the state of the modern "school lunch."  And, because of this, I'm not the only mom who chooses to prepare each and every meal for her children — even school-day lunches.
Many also worry about having safe containers for those packed foods … which is why Jacqueline Linder launched Lunchbots.
"Concerned about chemicals in plastic containers leaching into our food, I went on a search for alternatives. Stainless steel was the perfect material; it's safe, lightweight, and non-breakable.

After a year or so of searching for stainless steel food containers and not finding what I needed, I built it. In 2008, I launched LunchBots from the garage of my home in Northern California.

LunchBots is a family-owned business and our mission is simple: to provide the highest quality, best-looking, healthiest food containers on the planet."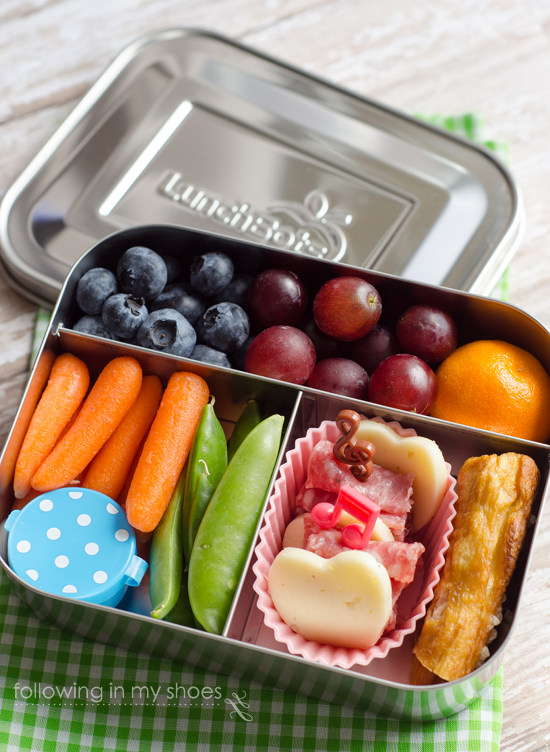 [exceptional-citing quoted="featured-bento" template="bubble-green-round" date="" ]Pretzel sticks, Applegate Salami & Havarti Cheese Skewers, Baby Carrots & Sugar Snap Peas, Homemade Ranch Dressing, Mandarin Orange, Grapes, Blueberries.[/exceptional-citing]
We have used Lunchbots for just about a year in our rotation of bento boxes.  I wish I could say I chose it because I am as environmentally concerned as some … but … ummmm … I just loved the box.  That shiny metal just makes food pop!!!
(yes, I'm a sucker for shiny.  It's true.)
Mr. Boy also loved his shiny box last year, so when I was approached by the Lunchbots company to share my thoughts on the Trio (and given the chance to try out the all-stainless version of the Trio), I didn't hesitate!
The Pros
The Lunchbots are durable; our original Trio is over a year old and that box is still as spotless and shiny as when I first purchased it.
The material used in the Lunchbots is extremely safe, formed from food-grade, Type 304 stainless steel, which resists stains and rust.
While the size appears small at first glance, these containers can pack plenty of healthy, filling, energy-filled foods.
I love, love, love that our new all-stainless trio is completely dishwasher-safe.  This Mama doesn't like hand-washing anything.
Every Lunchbot product comes with a 1-year warranty against defects.
There are a variety of Lunchbot products; the four different types of boxes are able to hold a variety of foods from sandwiches to pasta to eggies to nuts… while the leakproof  Lunchbot Thermos tackles hot foods such as soup.
The Cons
The Lunchbot boxes are not leak-proof, so you won't be able to pack runny foods such as yogurt in them.  A Lunchbot Thermos or Lunchbot Sauce Container would be better suited.
If you opt for a powder-coated container, you will get to choose from a variety of fun colored lids … BUT those lids are NOT dishwasher-safe.  I learned this the hard (and sad) way with our original Trio from last year.  After a few washes, the powdered paint began to chip.  Now, very little of the original blue is left on the lid.  It's still completely usable and food-safe but it no longer has Mr. Boy's favorite color to compliment the shiny metal.
The price isn't the same as the plastic boxes you can find in retail stores like Wal-Mart or Target.  The Lunchbot containers range in price from $16.99 – $20.99.  But, the Lunchbot boxes last.
Where To Buy
Lunchbots can be purchased directly from the Lunchbots website or you can find Lunchbots on Amazon
.
(Giveaway Closed)
The Lunchbots company has offered to give one of my readers an Lunchbots Trio All-Stainless lunch container — identical to our newest box (shown in this post).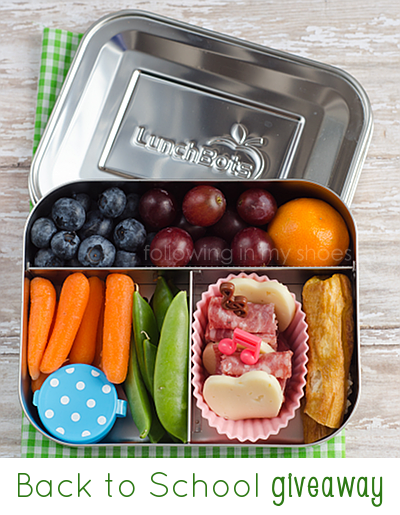 To Enter (both steps are mandatory)
Step One:  Like the Lunchbots Facebook Page
Step Two: Come back to this post and leave a comment to confirm you have completed this mandatory step.
Bonus Entries (completely, 100% optional!)
*Please note — please leave a separate comment for any/all bonus entries you choose to complete.*
Leave a comment sharing what you or your child would like to pack for lunch on the first day of school.
Follow FIMS on Twitter.
Follow FIMS on Pinterest.
Tweet this giveaway.  (for your convenience, you may use the "tweet" button located at the top of this post; this post may be tweeted a max of 2 times daily — please leave the URL of your tweet in your comments below)
This giveaway is open to U.S. residents only, and it will end August 13, 2013, at 10:00 am CMT.  Entries will be checked to ensure the contest guidelines were followed.  The Winner will be notified by email and will have 48 hours (from the time the email is sent) to confirm his/her win.  If I do not hear back from the winner by that time, a new name will be drawn.
I was provided the Lunchbots Trio All-Stainless container in order to facilitate this review.  Any and all opinions expressed are my own.