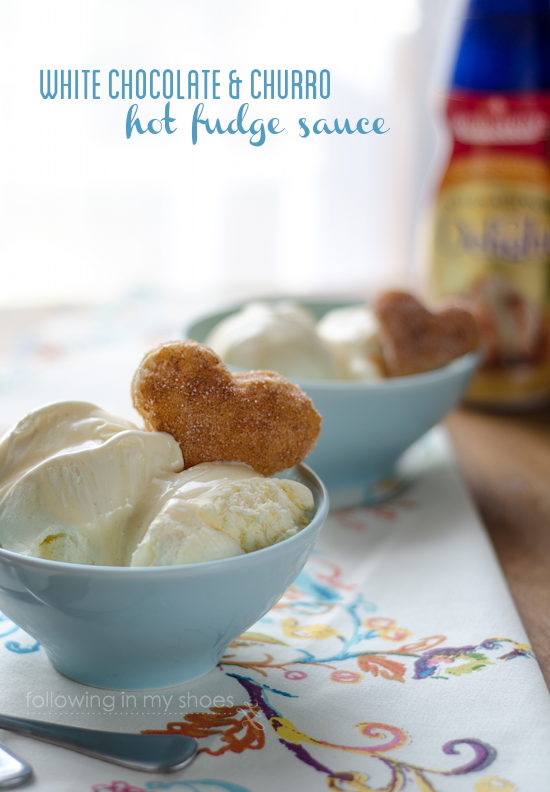 Once upon a time, I dreamed a dream … that I would become a marvelous scientist in my kitchen.  I would wield measuring cups and tablespoons and because of my brilliance, I would present the world with a new "Magic Shell" recipe.  A recipe that would instantly harden over achingly cold vanilla ice-cream and then melt away into creamy goodness as it was eaten.
I was ambitious.  I was determined.  I was … not successful.
Magic Shell?  I didn't have it.  It seems I don't know enough about science to turn three ingredients (coconut oil, liquid creamer, and white chocolate chips) into that rock-hard, easily shattered but edible substance we all know.
But, that's ok … 'cause know what?  I ended up with a white chocolate hot fudge sauce.  And for those of us who adore the decadence of white chocolate?  This is a happy, happy day.
White Chocolate & Churro Hot Fudge Sauce.
It turns out that creating a two-ingredient hot fudge sauce is — as my Little Lady likes to shout — EASY PEASY.  The coconut oil?  After I realized my Magic Shell dreams weren't happening, I cut it out of my life.  It was worthless to me.
(yes, I might still be a wee bit bitter over some things.  I'm working on it)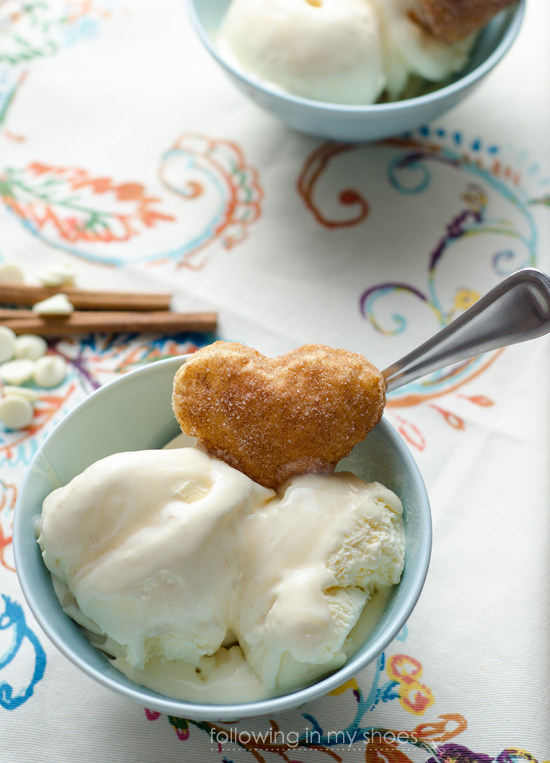 For this White Chocolate & Churro Hot Fudge Sauce, it's simply a matter of carefully melting high-quality white chocolate into one of International Delight's newest creamers: Cold Stone Creamer Churro Caramel.
With the perfect balance of cinnamon and dulce de leche, the creamer transforms your every-day white chocolate into something just a little more special.   And if you add a baked churro to your bowl?  Well, you'll soon be lost … oblivious to the  children pulling on your shirt, clamoring for a bite.  Not that you'd want to share even if you were aware of their begging.  This is just for you.

White Chocolate-Churro Hot Fudge Sauce
Ingredients
½ Cup White Chocolate Chips
½ Cup International Delight Cold Stone Creamery Churro Caramel
dash of Ground Cinnamon (optional)
Instructions
In the microwave-wave safe bowl, combine the white chocolate chips and the Churro Caramel creamer.
Microwave at 20 second intervals, stirring at the end of each interval until the chocolate has melted and incorporated with the creamer.
If desired, add a dash of ground cinnamon and stir to combine.
Serve over ice-cream, with a baked churro.
Baked Churro
This is for a "cheater" churro -- one that requires no mixing of dough thanks to frozen Puff Pastry.
Ingredients
1 box of frozen Puff Pastry.
2-3 tablespoons of melted Unsalted Butter
½ cup Table Sugar
2-3 tablespoons Cinnamon (to taste)
Instructions
Follow the package directions to thaw the Puff Pastry.
Mix the table sugar and cinnamon in a mixing bowl and set aside.
Once the Puff Pastry is thawed, preheat your oven to 450 degrees and then remove the two sheets of Puff Pastry from the box. Carefully unfold each one onto a piece of parchment paper or a Silpat Mat.
Using a sharp knife or cookie cutter, cut out your desired churro shape. Place the cut pastry dough onto a parchment lined baking pan or cookie sheet.
Place the pan in the oven and bake for 15-18 minutes or until golden brown.
Remove the pan from the oven and immediately brush the front and back sides of the churros with the melted butter.
One at a time, put the buttered churros into the bowl of cinnamon-sugar, tossing till the churro is coated. Place on a wire wrack to continue cooling.
Eat them as they are made or eat them with Ice-Cream.
I Scream For ID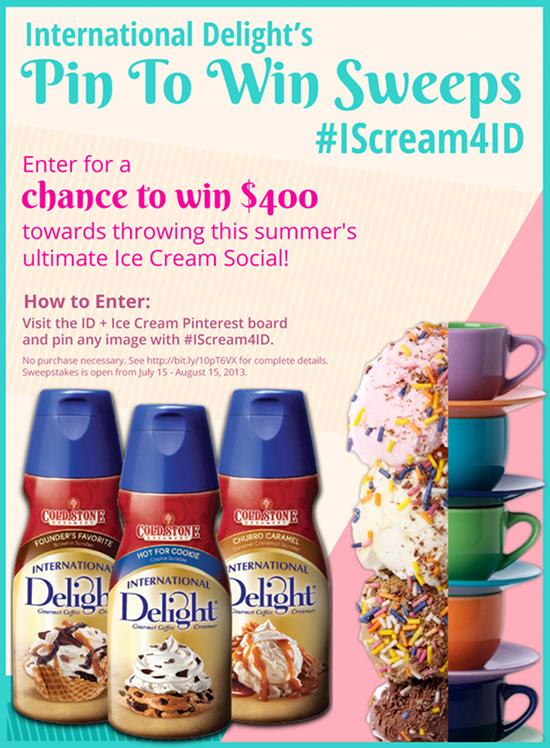 Love ice cream + coffee? This summer, International Delight is bringing your favorite Cold Stone Creamery ice cream flavors to coffee and they're celebrating by giving away five $400 grand prizes to throw this summer's ultimate Ice Cream Social!  To enter, visit the ID + Ice Cream Pinterest board and pin your favorite image using the #IScream4ID hashtag. Good luck! 
 
This is a sponsored conversation written by me on behalf of International Delight. The opinions and text are all mine.