Forget the princesses.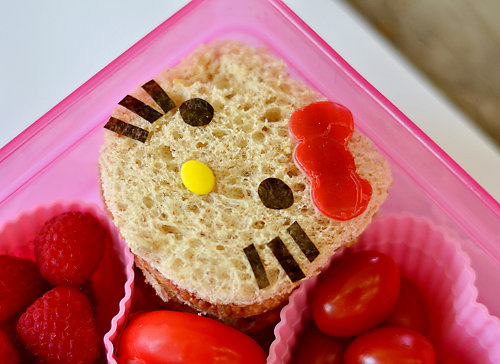 The Little Lady is a Hello Kitty girl … all. the. way.
All throughout the school year, she has been begging for a Hello Kitty bento lunch to match her Hello Kitty lunch-bag, water bottle, finger-nail polish, lip-gloss, t-shirts, and sandals.
She's a wee bit obsessed.
Last week, while wasting time in Hobby Lobby, I came across a set of Hello Kitty cookie cutters.
(they're in the party supply aisle, if you need your own set; I'm sure you can also find them on Amazon)
$3… and done.  I had them.  WE had them.  And, yes, WE were both excited.
Making a Hello Kitty Bento
Well, excited until this morning came … way, way, way too soon.  But, knowing I had promised the Little Lady a Hello Kitty Bento, I got my grouchy self out of bed and stumbled bleary eyed into the kitchen.
After grabbing a few piece of whole wheat bread, a smear of sugar-free peanut butter and organic raspberry preserves, I had the basic sandwich to go with the "brown" and pink/red color scheme.
Then, it was time to decorate.
Bow: hand-carved from the wax coating of a Baby Bel Cheese
Eyes and Whiskers: cut from a sheet of Nori (dried seaweed which can be found in the Asian food aisle of your grocery store)
Nose: a little yellow candy from a cake decor kit (Wilton brand)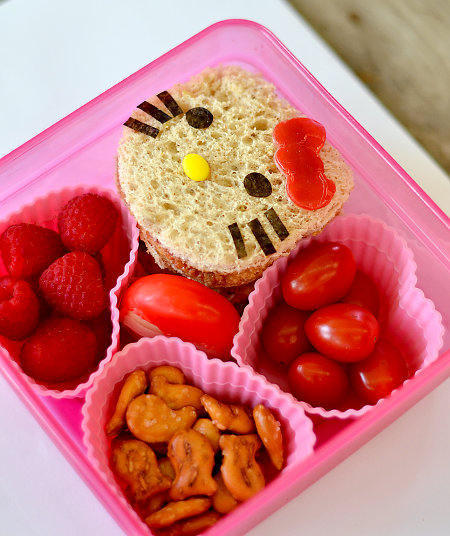 The rest of her lunch was much simpler:
Fresh organic raspberries
Pretzel fish
Baby Bel cheese
Organic grape tomatoes
Just before I wrapped everything up and placed her lunch in the fridge, I called my daughter over.  She skipped to me with all the glory and energy a four year old has.
And then SQUEALED.
Twice.
The Little Lady wrapped her arms around my legs and, looking up with her big green eyes dancing, yelled, "YOU'RE THE BEST MOM EVER!"
Not too shabby of a title …. considering I was accused of being the WORST mom ever just 24 hours earlier (after making her take a nap).
Four year olds.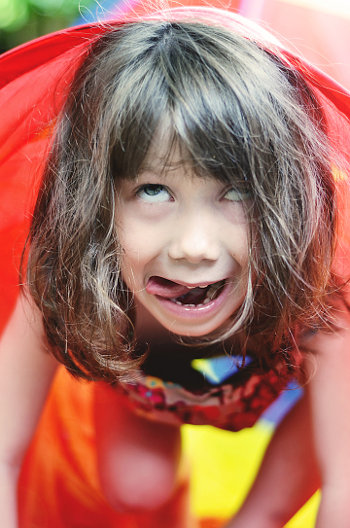 Drama and Hello Kitty Lovin' little terrors.
(linked with: What's For Lunch At Our House)