Everywhere you turn, people are changing the way they eat, what they do, and what they wear simply because the weather is changing and getting warmer.
Well, in the case of Houston . . . scorching hot!
(oy)
Ice cream and Popsicle recipes are popping up all over Pinterest and on Facebook, I have seen a lot of people talking about the produce they are enjoying in the form of berries, peaches, and fresh corn.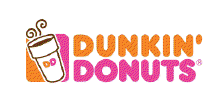 The folks at Dunkin Donuts have gotten in on this yearning for new, spring and summer-time flavors with their new seasonal Dunkin Donuts Coffee at Grocery flavors: Strawberry Shortcake Coffee and Toasted Almond Coffee.
Available only for a limited time, these brighter flavored joes have been carefully crafted to "put a spring" in your step.
Dunkin' Donuts® Strawberry Shortcake
Just one sip of our strawberry-flavored blend, and you'll agree: Dessert should come first.
Available in 11 oz packages for a MSRP of $8.79

Dunkin' Donuts® Toasted Almond
Try a taste of this rich, creamy and irresistibly sweet almond blend. Believe us — you'll go nuts.
Available in 11 oz packages for a MSRP of $8.79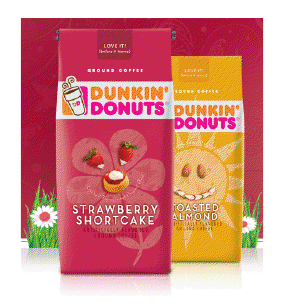 How do they taste?
I have to admit, I was a bit leery of my first sip of the Strawberry Shortcake.  Don't mistake me — I. adore. strawberries.  And strawberries with ice cream is my absolute favorite summertime dessert.  Love it.
But, when it comes to coffee, I'm a traditionalist and the aroma of strawberries wafted upward to greet to my nose after I opened the package . .. well, I found myself scared.  Intimidated.  Wanting the husband to take the first sip.
When I finally got around to letting some of the dark, fragrant liquid pass my lips, I was very surprised to find the strawberry essence was more about the aroma rather than flavor.  It was definitely a balanced, "spring-time" coffee.
The Toasted Almond's flavor was much stronger when I tasted it; but, it was still a yummy treat on a summer afternoon.
Try it Yourself
These new seasonal coffees are only found in your grocery stores and not in the "freestanding" donut shops.  So, visit the store locator to see which stores close to you carry the new flavors.  You can also visit Dunkin at Home for more info, coupons, and special offers.
Giveaway
One lucky reader is going to win two bags of coffee (one in the Strawberry Shortcake flavor and one in the Toasted Almond variety) and two coffee mugs.
Yay for coffee!
To enter:
Answer the following question in a comment below:

"What is your favorite, seasonal food during the spring/summer months?
Extra-Entries:
Any of the following options may be completed for any extra entries into the giveaway.  These additional entries are completely optional and not required.  Please leave a separate comment for any completed extra entry.
Giveaway ends July 5th at noon CMT.  Winner will be notified by email and will have 48 hours (from the time the email is sent) to confirm his/her win.
disclosure: I was compensated for sharing the news about these new seasonal Dunkin Donuts Coffee at Home flavors.  All opinions expressed are my own.