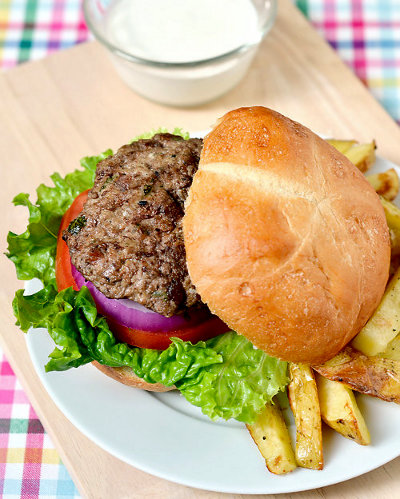 Hamburgers will forever hold a very special place in my heart.  And in my stomach of course, but we'll get into that a bit later.
No, if there is "one" food that can conjure more memories of childhood, it is the hamburger.
Pan-seared: the smell of beef and pepper and salt wafting through our farm-house, rousing me from whatever book my nose was in.
Char-grilled: the voices of my Grandpa, uncles, and Dad discussing the price of cattle while my cousins and I ran races under the Oklahoma sun at my grandparents' house.
Growing up as a member of an agricultural family, beef was our protein.  It was "cheap" since every animal was raised, fed, and watered by us.  And, once a year, a sacrificial bovine would become our meals for the next 12 months.
My mom could make amazing hamburgers in her kitchen, while the men of my family created masterpieces on the grill.  The sizzle and smells of frying burgers takes me back to that time — childhood.  When life was easy with only the questions of "what book to read" and "what game to play" bouncing around my brain.
These days, I have two favorite grilled burgers: my dad's smoke-grilled burger (oh, holy yum) and the "Bacon and Blue" Burger from one of our Houston eateries.
N-O-W . . . in any other instance, I am a firm "no blue cheese" kind of girl.  Just no, no, no.  But this burger is the exception.  There is just something too delectable … too addictive … too right about good, grass-fed beef, smokey bacon, and the unmistakeable flavor of blue cheese.  Add the aroma and depth provided by the heat of a grill and you have a meal that is just down right yummy.
So, for this burger, I break my "no blue cheese rule."   Sometimes you just gotta be a rebel.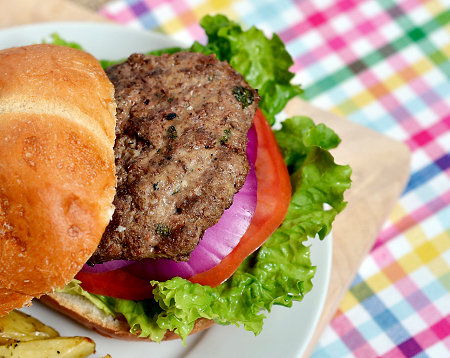 The recipe for this burger is simple: ground meat (beef for me), cooked bacon, blue cheese and italian parsley.  That's it.  Mix it all up and slap it on the grill.
To raise it to next level, I made a Blue-Cheese Aioli . . . sounds so fancy, doesn't it?  Yeah, it's just blue cheese and mayo.  So uncomplicated and drool-worthy.   Just a schmear of it on the bun and you're golden.  It's also fantastic as a dipping sauce for your fries.
Seriously, y'all — good food doesn't get any easier.

Grilled Bacon and Blue Burgers
Ingredients
1 pound of Ground Meat (beef, chicken or turkey)
½ cup of Crumbled Blue Cheese
¼ cup of Cooked and Crumbled Bacon (about six slices)
2 Tablespoons of Chopped Italian Parsley
Salt and Pepper
Instructions
In a bowl, mix the raw, ground meat, blue cheese, bacon and parsley.
Divide the meat into 4 portions and shape each into patties. Season each side with salt and pepper.
Prepare your heated grill (medium heat) by oiling the grate. Place the patties on the grate, gently, and do NOT flatten them with a spatula (you will lose internal juices).
Cook the burgers 3-5 minutes on each side till you reach your desired level of "doneness."
Remove from heat and serve on hamburger buns with desired vegetables and, if desired, Blue Cheese Aioli.
Notes
The USDA recommends using a meat thermometer to check the cooking temp to ensure the cooked meat reaches at least 160 degrees.
Blue Cheese Aioli
Fantastic on burgers or served with homemade french fries.
Ingredients
¼ cup of Mayonnaise
3 tablespoons of Blue Cheese
3-4 tablespoons of Milk
Instructions
Using a blender or mini food processor, blend the mayo and blue cheese.
Slowly add the milk in, a little at a time, until you reach your desired consistency for spreading or dipping.
Chill till ready to serve.