That's right — I'm talking about all things sexy today. So, get the Ricardo Montalban voice going in your head. What? You need to practice a bit first? Ok, say it with me . . . Carrrrrne Asada. No, no, more sexy like Ricardo. Carrrrrrrrrrrrne, carrrrrrrrrrne.. . .
Ok, ok – I'm done. Let's get back to my sexy post.
I bought something for the FIRST time yesterday. And, after the experience I had with it, I can't figure out why in the world I didn't make this purchase sooner in my life.
It took me awhile to find the perfect one — I stared at the selection, trying and trying to find one not too big, not too small. It was like I was Goldilocks — just a little less blonde and a little less naive. And, definitely not in a Bear's house.
Then, I spotted it — one the shelf, seemingly winking under the garish store lights and seductively purring, "Come over and pick ME. That's right, baby — I'm the one for YOU."
So, I did it. I reached out and grabbed it. Ready for a new experience.
And that luscious piece of Fennel did NOT disappoint.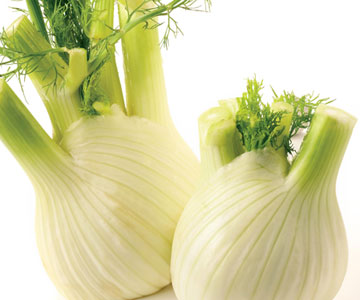 Yes! I cooked with fennel last night! FENNEL! An exotic piece of vegetation that I've watched all the good Food Network stars use in their picture perfect, gourmet dishes. I couldn't believe the citrusy-licorice aroma that wafted up to my nose as I cut into the white bulb. I instantly rushed over to my lazy Hubby, who was lounging on the couch, oblivious to the heavenly rapture in the kitchen.
"SMELL THIS!"
He was impressed, albeit not as much as I was. Silly boy.
Ahh, say it with me now: Fennnnnnnnnel. Fennnnnnnnel. Don't you just want let it roll around your mouth? It's joined my favorite word list, right under "Cacaphony." Lol, that word makes me laugh everytime I see it! If you want to laugh as well, try showing Cacaphony to a bunch of 9th grade students. Oh, and then throw out the word "Asinine." Good times.
Anyway, I used fennel last night. With crisp basil and a seductive piece of salmon . . . and freshly squeezed lemon. Ahhhh. Bellisimo.
Fennel rocks and so do I.