Yesterday marked the official beginning of the Omron Fitness Challenge.
The official first day of constantly wearing my pedometer (and realizing I failed MISERABLY at reaching 10,000 steps just with normal activity).
The first official day of measuring portion sizes and tracking water intake.
The first official day of constantly thinking about ways to be healthy every. single. day.
And then . . . I tried brainstorming new recipe ideas.  Valentine's Day breakfast ideas and Asian inspired recipes and cookie bar recipes.
The harder I tried to focus on my protein and fiber and water logged world, the more I wanted to cram bread and sweet things in my mouth.
Blah.  BLAH, I say!!!!!
It will get easier, I know.  I've been down this road before and as I get through this next week, life will be easier.  I'll develop a fitness routine and my body will adjust to healthy food combinations.
(and I'll get my craving fix on Sundays when I have my one "cheat" meal)
It's all about getting back in the groove.
Results So Far
The good news is that I have managed to lose weight since I first applied for this challenge!  WOO HOO!
My application weight: 210

1/13 weight: 203.8

Loss to date: -6.2 lbs
Sadly, the majority of that weight loss has litle to do with my efforts and more to do with several weeks of the flu and sinus infections.  Two weeks of a nearly wholly liquid diet whittles one down in a miserable way.
I hope that I don't see an increase as I add more food back to my diet in the coming weeks; surely, my strength training workouts and daily cardio will keep that in check!!!
Before Pics and Measurements
And, now, we come to the part I've dreaded.  And dreaded.  And dreaded.
The "coming clean" of where I am with my weight and physique.  Technically, I'm not required to show this pictures and info now, but I decided I wanted the public scrutiny and accountability.  So, here you go … in all my overweight glory.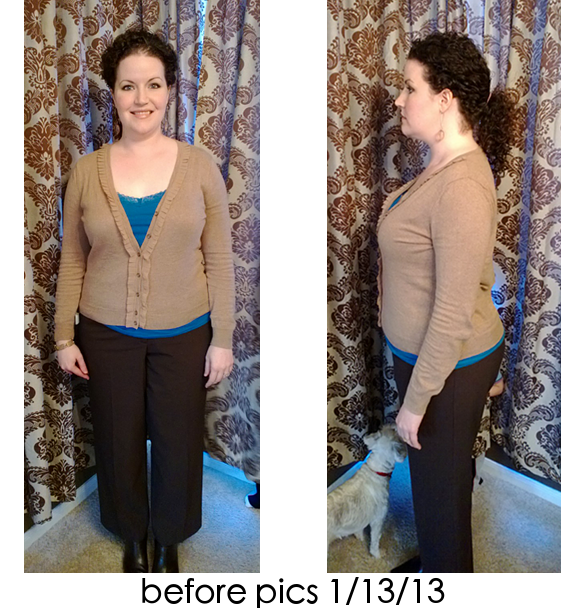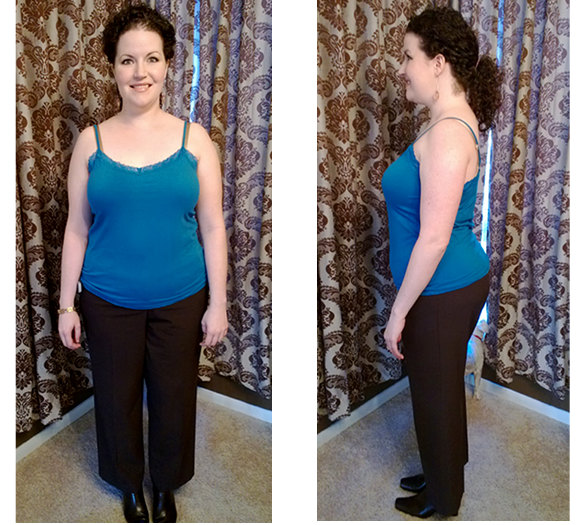 (I think the pics are a bit distorted — not sure the Husband was standing in the exact spot each time!)
Beginning Measurements
Bust: 43.25
Waist: 36
Hips: 48.5
Left Arm: 12.5
Right Arm: 12
Left Thigh: 27
Right Thigh: 27.75
So, there we have it.  What I'm trying to do (get back in the groove), what I'm working against (cravings), and where I'm starting from (in very raw pics).
Despite some trepidation, I am looking forward to seeing the results in five weeks.  Any change will be much welcomed!!!!
What hurdles do you encounter when trying to lose weight/get healthy?
p.s. Check out Bob Greene in this video … he had some special words for all of us participating in this challenge!
This post is sponsored Omron Fitness as a collaboration with Bookieboo Blogging Network and Mamavation – a community dedicated to weight loss for women and obesity prevention for families. I was provided with product and compensation for my time and honest opinions.