Copy-Cat "Starbucks" Protein Box:

(in the larger section) Triscuit Crackers, Cucumber Slices (not in Starbucks' box, but I was craving some!), White Cheddar and Monterray Jack Cheese, freshly ground Organic Peanut Butter.

(in the smaller sections) Hard Boiled Egg (pre-seasoned with salt/pepper), Apples and Blueberries. (stored in an Easy Lunchbox)
It's hard going from just eating "whenever" and making the conscious decision to regularly feed your body through out the day … and with healthy food choices.  But, to keep my metabolism burning, I have to ensure I am staying fueled.  It was a hard concept to embrace, but it is true: frequent, small (and healthy) meals through out the day do MORE to help you lose weight than just consuming three meals a day.
To help me, I decided to start "packing" lunches and snacks for myself.  Yes, yes, yes, I am home nearly all day, but I can easily get caught up in work, chasing Barney Kneeknuckles (who has found a new love of crawling under beds … and getting stuck).
Having snacks and lunches ready to go in the fridge — perfectly portioned — makes it SO much simpler to stay on top of eating.
Since we have enough bento boxes for an army, I pulled from those and made a few Copy-Cat Starbucks Protein Boxes (as seen above), pulled together some simple salads, and sliced and measured out snack boxes (using my favorite protein and fiber combinations!).
Need more healthy lunch ideas?  Here's a list I've compiled from bloggers and food websites.  Some can be thrown together in the morning before you head out for your day …. and some might work better made the night before.
Psssst — don't forget: leftovers from your healthy dinner recipes can be turned into healthy lunches. Just watch your portions!
Sandwiches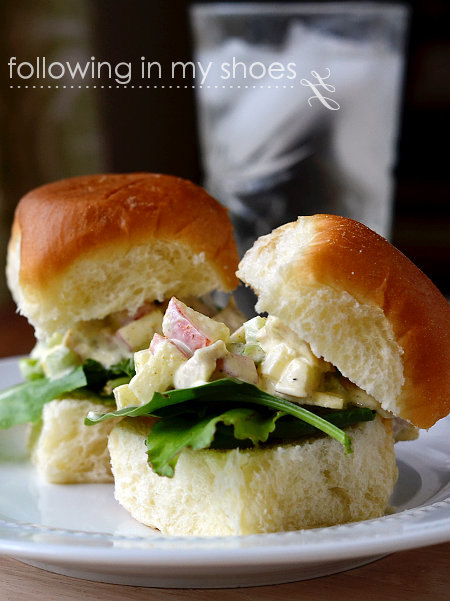 Salads
Soups
*Soup is an easy thing to take to work (or send with your child to school); use a thermos to hold the soup.  And, to make sure the soup will still be warm by lunchtime, follow the following steps: (1) Heat your soup; (2) Pour boiling water in the thermos and leave it there 1-3 minutes; (3) Carefully pour out the water and add your soup to the thermos; (4) Seal and pack in your lunch bag!
Pasta
Add-Ins
(Dips, Salsas and more!)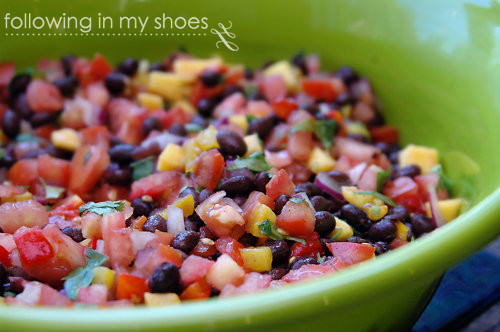 Whole Lunch Ideas
(entree and sides … everything is here if you need a little help planning!)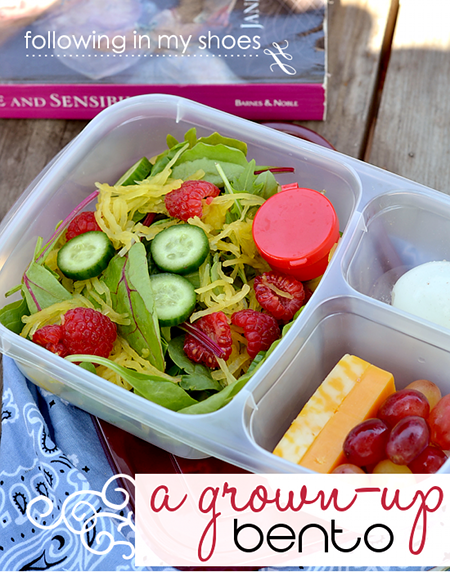 What do you like to eat for a healthy lunch?
I Heart Lunch!!
I adore getting inspiration and ideas (and even "THAT'S how you do that" moments) from others out there … so let's share with one another with the "I Heart Lunch Weekly Link-up."
You can link to any kid-lunch/bento or family-friendly recipe on a blog post or via flickr photos — this linky is for any kind of healthy school lunch and kid-food, regardless if it is Bento-style or not. I want to celebrate our efforts to provide good and enjoyable school lunches for our families!
My only request is that you either add a link back to this post or include the Lunch Graphic (which links back) to your post so others can get here to view the linked lunches too!
Link up your school lunches and bentos!  Please use a permalink for your post rather than linking your general blog/flickr account URL — this will help people go directly to your fabulous lunch!
Now — link 'em up!

');