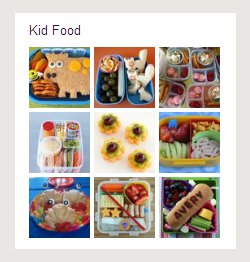 Ever the planner, I have begun mapping out the Little Lady's first few weeks of school lunches.
(yes, I'm that ridiculous)
And, since I'm still enamored with Bento lunches, I have been pinning new ideas for Bento boxes left and right.  (pinning refers to Pinterest, in case you didn't know, where I have an entire board dedicated to Kid Food Recipes and Ideas)
Several people, who have seen the ideas I've pinned, have asked me where to find the supplies for making Bento lunches.  The great thing about making Bento lunches is that they can be as elaborate (and pricey) or as simple (and inexpensive) as you want.
Bento Boxes
Any food-safe container (that seals well) will make a great Bento box, regardless if it's "labeled" as a Bento lunchbox.
Sandwich boxes and even "Gladware" (and other such food storage containers) work very well for Bentos.  And, they can be found anywhere and are VERY inexpensive.  Since the kidlets are little and don't eat a ton of food, I use sandwich boxes more than anything else when preparing a Bento lunch.
Most of our boxes were purchased from the $1 aisles at Target; for this school year, I did pick up a new one that was a bit pricier (I think around $4-5) but it comes with a cold pack built into it.
Traditional Bento Boxes are another fairly inexpensive option but they can be a little harder to find.  Japanese import stores and websites are your best bet for purchasing these containers.  All Things For Sale is my favorite online Bento supply site — great prices and fast shipping.
The boxes are typically multi-tiered and NOT dishwasher safe, so you will need to be prepared to handwash.  But, they can be packed to the brim with food and are small enough to fit in a purse, diaper bag, preschool backpack, or even your older student's bag.
Other Bento Box Options include Bright Bins (which we use), Goodbyns, Planet Lunchbox, My Square Meal, Lock and Lock, Easy Lunchboxes and a whole SLEW of other lunch box brands that have popped up over recent years.  These are all great, food-safe options (most of which have built-in dividers for easy food separation) but are widely varied in price . . . some are as high as $45.  Amazon is probably the best way to find them cheaper.
Melissa from Another Lunch (a great Bento blog) has a fantastic post showing the differences among the most popular Bento containers.
Cutters, Picks, and Food Molds
Now, the most fun aspect of a Bento Lunch is its potential for being "cute."  Do you have to invest in cookie cutters, food picks, etc., to make a good Bento lunch?  Absolutely not — you can see from some of my examples that I don't spend always spend a ton of time on "cute."
But . . . .it really is fun from time to time!  (and, the kidlets LOVE a fun lunch)
Sandwich Cutters can nearly be anything —simple cookie cutters work very well for cutting out sandwiches, cheese, fruit, or anything else you want to be a particular shape.  And, you don't need "Bento-Approved" cutters — head to Walmart, Target, Hobby Lobby, or even Ebay to find a great assortment of cookie cutters!  (that's what I did)
But, if you want a REAL sandwich cutter, those aren't difficult to find.  We have a butterfly cutter, a dinosaur cutter, and a couple of others that were all picked up at our grocery store.
BUT . . . if you want a really COOL sandwich cutter . . . you can find those on Amazon, Ebay or from All Things for Sale.  I purchased two different cutters this month and I ADORE them.
The Lunch Punch company has a bunch of differently shaped cutters and my favorite is the "Puzzle Cutter."
Our other new cutter, the Krustbuster,  not only removes the crust from a sandwich . . . it SEALS it as well.  Absolutely PERFECT for sending a peanut butter and jelly sandwich to school.
Picks and Molds
Picks are awesome for Bento Lunches; they can be used as little forks for fruit or used to "kebab" veggies, fruit, meat, cheese . . . the possibilities are endless.
Most of our picks are Cupcake Picks found at Hobby Lobby, Target, or purchased off of Ebay/Amazon.  My smaller, pronged picks were picked up from a local Japanese import store — they can also be found on Amazon or at the All Things For Sale site.
Rice and Egg Molds are one more fun way to add interest to a Bento Lunch.  We have 6 different egg molds that we use for both rice and hard boiled eggs.
The Little Lady is a big fan of hard boiled eggs and loves when I shape them with the mold.  Again, these can be found on Amazon, Ebay and Japanese Import sites.
Final Thoughts
This only touches on a FEW of the "supplies" one can use for Bento lunches — there are also food safe pens (for decorating food), Nori punches, silicone dividers and other implements that will suck you in and leave your husband shaking his head.
Again — Bento lunches can be as simple or as elaborate as you want them to be.  Personally . . . I'm a fan of simple, but that's mainly because I am NOT creative.  Just look at my pictures and you'll see how uncomplicated these lunches are!
For more Bento ideas (and to learn from the masters), visit:
 AND … for a GREAT (printable) list of balanced, healthy options for your school lunches/bentos, check out this Lunch Box Idea List from Wendolonia.  LOVE IT!
Disclosure: there are no affiliate links (or anything of that nature) in this post …. I'm sharing the info because so many people have been asking me questions about Bentos!