Bento lunches have become the norm around here; fortunately, I have moved beyond creating sad lions and learned tips and techniques to make lunch time fun for my kidlets.  With two kidlets that love to hover on the "underweight" side of  life, I have to work hard to make healthy food appealing.
(Otherwise, I hear about it from our Pediatrician at every visit.  Sigh.)
The Bright Bin New Generation Lunchbox makes it easy to pack plenty of food for both of my kidlets, without having to pack multiple bento boxes or use plastic baggies.  Seriously, this was the EASIEST way to make a bento style lunch.  Thanks to the multiple compartments, I was able to offer the kidlets some of their favorite foods for a "Around the Town" bento lunch.
(yep, that's what we call it when my kids have to eat their lunch while in a shopping cart…. sometimes Mommy has to multi-task.)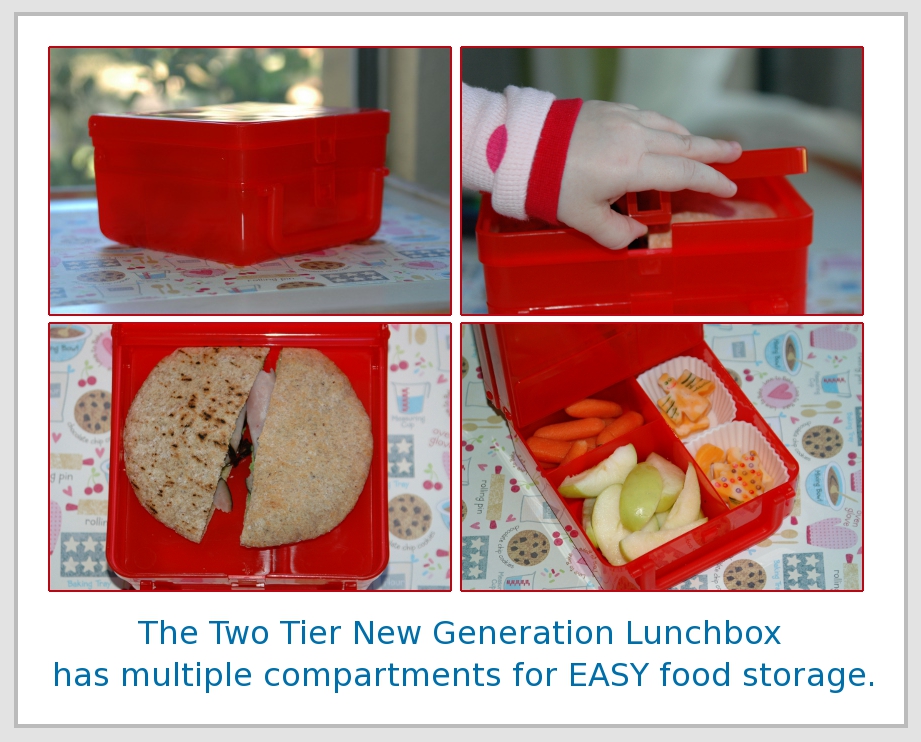 This handy-dandy lunchbox is the brain child of another busy mom, Stephanie Stiller, who created the New Generation Lunchbox after becoming "fed up with all the waste generated by the 'traditional' way of using plastic bags to pack a school lunch."  Sure, she could have turned to small food containers, but her children kept losing the lids.
(Been there, sister — only it's Hubby that loses lids around here)
Her concept offers a greener and easier way to pack lunches for children and adults.
Top section can hold a sandwich or entree, meaning you can send last night's Mac-n-cheese or Meatloaf for your child's lunch
Bottom tier offers perfectly sized compartments for healthy portions
Comes with a handle allowing it to be used on its own or packed in an insulated carrier.
All-in-one box eliminates the need to keep up with multiple containers and lids
Offers a green lunch 100% free of packaging waste
100% free from BPA, lead, phthalates, and PVC
Dishwasher safe (top-rack use only)
Microwave safe
Another product offered by Bright Bin (and the Little Lady's "favoritest thing EVER") is the L'Artiste Insulated Lunch Bag.  This bag is a washable bag, designed to be used with washable markers.
Get it? Your kidlet has PERMISSION to draw all over this lunch bag.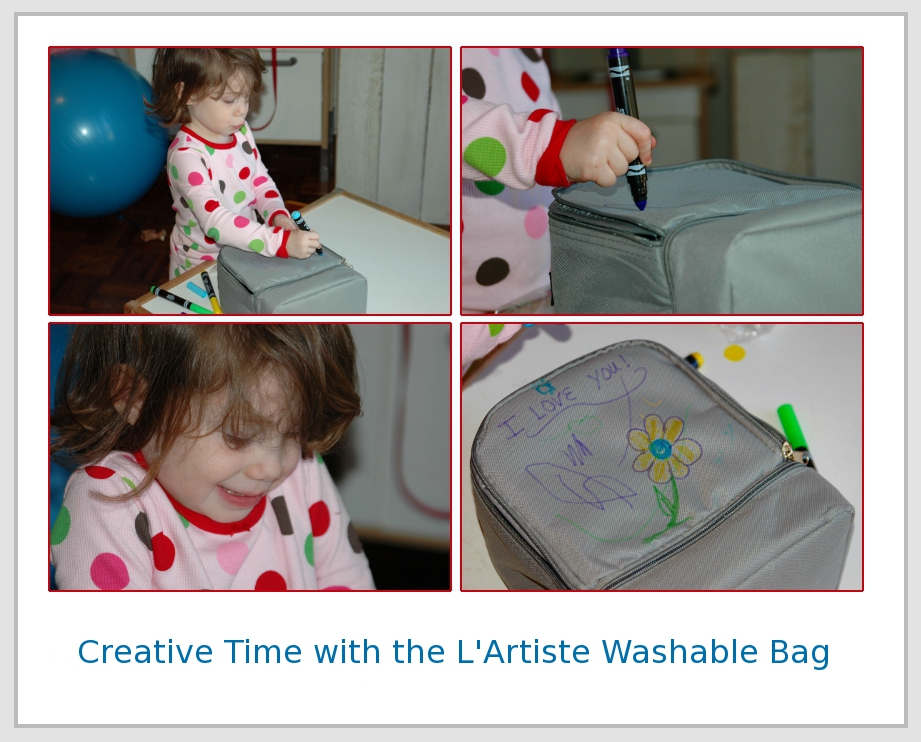 (or, you can be like this Mommy and leave a message on your Kidlet's bag)
The L'Artiste bag offers a large compartment for the Bright Bin New Generation and a second zippered compartment that's perfect for a water bottle or a cooling-pack.
Washing off the artwork was just as easy as packing the lunch; a little detergent, water, and some sponge action and the L'Artiste bag was ready for another creative lunch.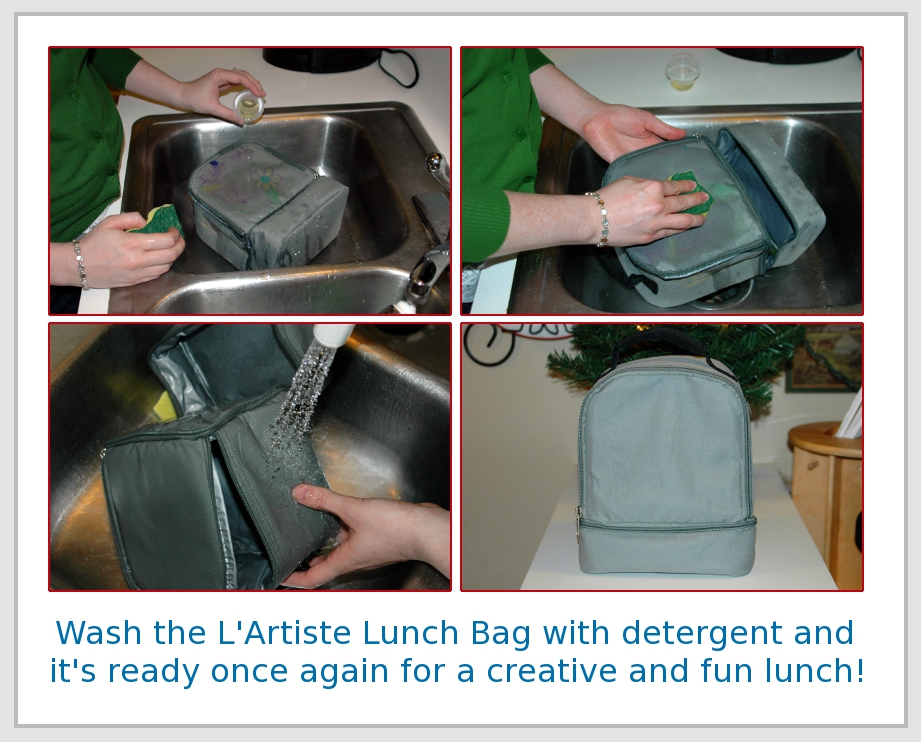 (I actually forgot to wash off the artwork the first day . . . I finally remembered four days later and it still washed off beautifully!)
Final thoughts? The New Generation lunchbox worked perfectly for us, allowing me to create an easy bento lunch without my usual hunt for food containers and matching lids.  The box was easy for my Little Lady (who is three) to carry and open.  The fact that it's dishwasher safe is a HUGE plus for me; several of my bento boxes aren't and I hate, hate, hate having to hand-wash them.
(in case you missed that, I hate hand-washing dishes)
The Little Lady loved coloring all over the bag and thought the box itself, with the two-tiers and little handle, was fun.  That girl ate the entire lunch without her usual tendency to whine.
(Score One for Mommy and getting a picky eater to EAT!)
Visit the Bright Bin website to view their collection of lunchboxes and insulated bags.   The New Generation Lunchboxes come in Blueberry and Cherry and are $18.95.
Readers of this blog can use the code followinginmyshoes11 to receive 20% off The New Generation Lunch Boxes. (through December 31st)

And, just in time for Holiday shopping, the L'Artiste Bags (which come with a New Generation Lunch Box and a set of washable markers) are currently 35% on the Bright Bin site!
With this lunchbox set, there's NO excuse for not making an earth-friendly and healthy lunch for your kidlets!
Disclosure: I received a New Generation Lunchbox and a L'Artiste bag for review; the opinions expressed in this post are my own and not influenced by anyone else.