A friend from an online mom's group shared the following recipe a few weeks ago; since I adore quinoa, I quickly added it to my meal plan and prepared it last Wednesday.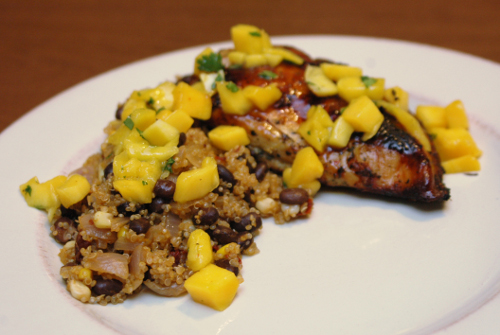 Oh. My. Word.
This may be one of my all-time favorite recipes.
Seriously, folks — it's that good.
I ended up making it just a week bit spicy for the kidlets. . . my crazy preggo tastebuds got in the way of common sense and I kept adding and adding chipotles.  I kinda like things hot these days.
(Hmmm — wonder what that says about the baby's gender. . . )
Hubby was uber impressed with it and was happy the kidlets couldn't eat it . . . more for him (and Mommy)!
You could easily make this a meatless meal by serving it with a simple salad.  Since I live with a "meat guy," I purchased some really nice, thick chicken breasts, and marinated them in a simple mixture of fresh lime juice, cracked black pepper, salt, and cilantro.  Then, like the genius I am, I made the Hubby grill the meat.
Oh, YUM.  It was a great accompaniment to the spicy quinoa . . . and speaking of accompaniments, if you can get fresh mango . . . USE IT as a topping.  The sweetness of this fruit is the perfect compliment to the heat of the chipotles.  I tossed my diced mango with fresh lime juice and chopped cilantro  . . . really, really really, really, really good.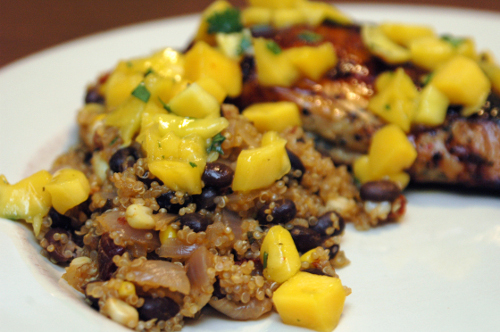 [print_this]
Recipe: Chipotle Quinoa with Corn and Black Beans
Ingredients
1 red onion, chopped
2 cloves garlic, minced
2 or more canned chipotle chiles, minced with some of their sauce
1 TB fresh, chopped oregano, or 1 tsp dried
¾ cup dry quinoa
salt and pepper
15 oz can black beans, rinsed and drained or about 2 cups of prepared black beans
½ cup frozen corn
1 ½ cup vegetable broth or chicken broth
mango- diced (optional)
cilantro, chopped (optional)
lime wedges, (optional)
Instructions
Coat large skillet with cooking spray and place over medium heat. Add onion and garlic. Cook, stirring until the onion is soft (about 5 minutes).
Add chipotles and oregano and continue stirring for about one minute.
Turn up the heat to medium-high, add the quinoa, and sprinkle with salt and pepper. Continue to cook, stirring frequently for 3-5 minutes.
Add beans, corn, stock and bring to a boil. Stir, cover and reduce heat to low. Cook, undisturbed for 15 minutes.
Uncover and test quinoa. If the kernels are still crunchy, add a little more liquid and cook for another 5 minutes or so. (you can also judge by sight; when fully cooked, the germ of the grain is exposed while the rest of the grain turns opaque)
Serve warm or at room temperature.
Top with mango, cilantro or lime, if desired.
Quick Notes
*Chipotle chilies are found in the ethnic aisle, next to other canned peppers. They can be HOT!  I used three chipotles and about 3 tsp of the sauce — it was VERY spicy.  I blame my pregnant tastebuds for the extra heat.  Start with one or two and see how the spice level is for you. . . it's always easy to add more if you need it.
**Quinoa is found by the rice/cous-cous. It has a nice nutty flavor and is packed with protein- which helps make this a filling meal. Brown rice is a nice substitute.
[/print_this]